ULTA Salon, Cosmetics & Fragrance, Inc. (NASDAQ:ULTA)
Keep a close eye on ULTA. The company reported strong growth on its financial results, with better than expected top line performance, and raised its previously announced fiscal 2014 guidance
For the second quarter fiscal 2014, ULTA posted net sales of $734.2 million, a 22.2% increase year over year, and net income of $60.8 million, representing a 35.4% increase compared to the same period the prior year, while its income per diluted share increased 34.3% to $0.94 versus $0.70 in the second quarter fiscal 2013.
ULTA is raising its previously reported business outlook for the full year fiscal 2014, and the company now plans to, among other expectations, achieve comparable store sales growth of approximately 7% to 8%, deliver earnings per share growth in the 20% range and generate free cash flow in excess of $100 million.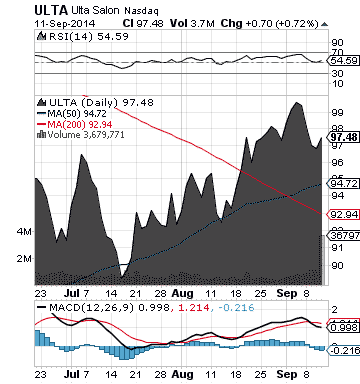 ULTA Beauty is the largest beauty retailer that provides one-stop shopping for prestige, mass and salon products, and salon services in the United States.
More about ULTA Salon, Cosmetics & Fragrance, Inc. (ULTA) at www.ulta.com.
**

Autobytel Inc. (ABTL)
Based on solid July and August business trends, and a strong start to September, ABTL said that it expects 2014 third quarter revenue growth at the high end of its previously reported guidance, or a revenue increase in the range of 25% to 26% versus the same period the prior year.
ABTL also reiterated its 2014 third quarter guidance for non-GAAP adjusted EBITDA per diluted share in the range of $0.22 to $0.25 per share.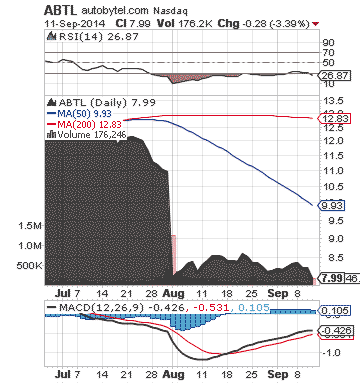 ABTL provides high quality consumer leads and associated marketing services to automotive dealers and manufacturers throughout the United States and offers consumers robust and original online automotive content to help them make informed car-buying decisions.
More about Autobytel Inc. (ABTL) at www.autobytel.com
**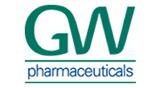 GW Pharmaceuticals plc (NASDAQ:GWPH)
GWPH will present at the Bank of America Merrill Lynch Global Healthcare Conference at the Bank of America Merrill Lynch Financial Centre in London on Wednesday, 17 September at 11:25 a.m. BST.
GWPH commercialized the world's first plant-derived cannabinoid prescription drug, Sativex(NYSE:R), which is approved for the treatment of spasticity due to multiple sclerosis in 26 countries outside the United States.
Last month, GWPH reported on its operational results that the company is progressing towards the conclusion of its U.S. Phase 3 cancer pain trials for Sativex and looks forward to reporting initial top-line data from the first trial around the end of 2014.
This Phase 3 program has received Fast Track Designation from the U.S. Food and Drug Administration (FDA) for Sativex in the treatment of chronic cancer pain in patients with advanced cancer who have failed to respond adequately to optimized opioid therapy, and is intended to support the submission of a New Drug Application for GWPH's Sativex in cancer pain with the FDA and in other markets around the world.
GWPH has a deep pipeline of additional cannabinoid product candidates, including Epidiolex(R) in the treatment of childhood epilepsy, which has received Fast Track Designation from the FDA for Dravet syndrome as well as Orphan Drug Designations from the FDA in both the treatment of Dravet syndrome and Lennox-Gastaut syndrome.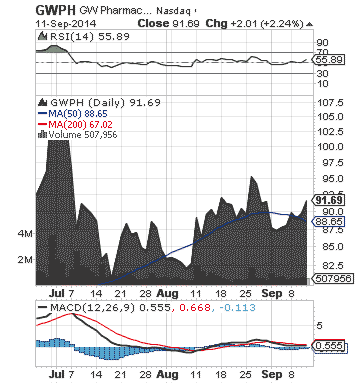 GWPH is a biopharmaceutical company focused on discovering, developing and commercializing novel therapeutics from its proprietary cannabinoid product platform in a broad range of disease areas.
More about GW Pharmaceuticals plc (GWPH) at www.gwpharm.com
**
Read Full Disclaimer at www.finance.crwe-pr.com/disclaimer
Disclosure: The author has no positions in any stocks mentioned, and no plans to initiate any positions within the next 72 hours.