Crown Equity Holdings Inc. (OTCPK:CRWE)
CRWE provides marketing solutions that boost customer awareness and merchant visibility on the Internet.
The company is currently developing its CRWE Network ( www.CRWE-PR.com ), a growing network of website communities which business model is based on selling advertising to businesses targeting both locally and nationally.
Crown Equity Holdings has completed the entire State of California with its CRWE network. Crown Equity Holdings is presently in the process of developing additional sites for communities within the State of New York, a major marketplace where the company believes that its CRWE network will flourish.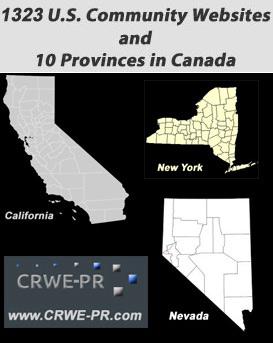 The CRWE Network has reached the 1323rd community website in the U.S., associated with 3147 ZIP Codes, and includes coverage of the greater state of California, Northern and Southern Nevada, New York State, Wellington in Florida, Hattiesburg in Mississippi and 10 provinces in Canada.

The CRWE Network, based on the momentum the industry has taken in positioning itself for additional grow in the future, is in the process of building an online medical marijuana informational and directory search platform.
The purpose of the site Medical Marijuana CRWE-PR ( www.medicalmarijuana.crwe-pr.com ) is to connect people with information in reference to the industry and patients to a network of physicians, dispensaries and more in reference to States with approved Medical Marijuana usage.
CRWE Network's goal is to facilitate exchanges of goods and services in a manner similar to Craigslist, a classified advertisements website with sections devoted to jobs, housing, personals, for sale, items wanted, services, community, gigs, résumés, and discussion forums, while providing micro community news, information and business directory content.
More about Crown Equity Holdings Inc. (OTCPK:CRWE) at www.crownequityholdings.com
**

22nd Century Group, Inc. (NYSEMKT:XXII)
XXII reported that it has closed a private placement with Crede CG III, Ltd, pursuant to which XXII sold 3,871,767 shares of restricted stock for the purchase price of $10,000,000. Proceeds of the financing will be used to conduct exposure studies, product launches, acquisitions, potential joint ventures, and for general working capital purposes.
Furthermore, XXII said that its wholly-owned subsidiary, Botanical Genetics, LLC, has entered into a worldwide license agreement with Anandia Laboratories Inc., a plant biotechnology company based in Vancouver, granting XXII exclusive rights in the U.S. to four genes required for cannabinoid production in the cannabis plant.
The proprietary technology licensed from Anandia allows the modification of cannabinoid levels in cannabis providing XXII an exclusive competitive advantage in the burgeoning area of cannabis biotechnology. In brief, the proprietary technology allows for the:
(i) increase in the production and content of all or certain subsets of cannabinoids in the cannabis plant,
(ii) elimination of cannabinoids in hemp varieties, and
(iii) modification of the cannabinoid profile (percentage content of each cannabinoid to the total content of all cannabinoids) for the production of unique cannabis plant varieties for the medical marijuana industry.
The license also grants XXII co-exclusive rights with Anandia to this proprietary technology in all countries outside of the U.S. and Canada. Anandia retains exclusive rights in Canada. The technology includes 23 patent applications filed between August 2010 and June 2014, one of which recently received a Notice of Allowance by the U.S. Patent and Trademark Office.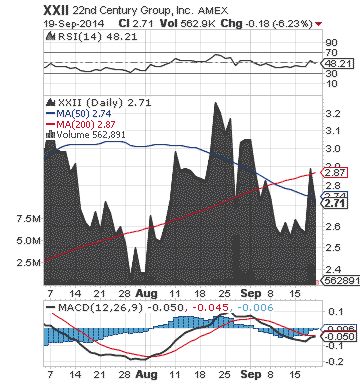 XXII is a plant biotechnology company whose proprietary technology through genetic engineering and plant breeding allows (i) the level of nicotine (and other nicotinic alkaloids) in the tobacco plant to be decreased or increased and (ii) the levels of cannabinoids to be decreased or increased in addition to the cannabinoid profile being tailored. XXII owns or is the exclusive licensee of 129 issued patents in 78 countries plus an additional 51 pending patent applications, and 22nd Century has co-exclusive rights to another 16 patent applications.
More about 22nd Century Group, Inc. (XXII) at www.xxiicentury.com
**
Read Full Disclaimer at www.drstockpick.com/disclaimer
Disclosure: The author has no positions in any stocks mentioned, and no plans to initiate any positions within the next 72 hours.