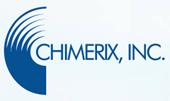 Chimerix, Inc. (NASDAQ:CMRX)
CMRX reported preliminary data for its investigational antiviral brincidofovir (BCV, CMX001) showing improved survival for patients with adenovirus in the open-label pilot portion of the Phase 3 AdVise Trial.
The preliminary survival analysis data, based on 48 evaluable patients from the ongoing AdVise Trial, showed a mortality rate of 35% compared with the historic rates of up to 80% mortality in the first month after diagnosis. A majority of subjects also had suppression or clearance of adenovirus from the blood.
There is currently no approved treatment for adenovirus, an infection that can progress rapidly in patients with a weakened immune system due to disease or medications.
CMRX's brincidofovir (BCV, CMX001), is an oral nucleotide analog that has shown broad-spectrum in vitro antiviral activity against all five families of DNA viruses that affect humans, including viruses in the herpes virus family and adenovirus. Brincidofovir has shown no evidence of kidney or bone marrow toxicity in nearly 900 patients treated to date.
Furthermore, CMRX brincidofovir has been provided for potential use in patients with Ebola Virus Disease. These requests were made by treating physicians. Emergency Investigational New Drug Applications (EIND) were granted by the U.S. Food and Drug Administration (FDA).
CMRX is working closely with the FDA to finalize a clinical trial protocol early this week to assess the safety, tolerability, and efficacy of brincidofovir in patients who are confirmed to have an infection with the Ebola virus.
Testing at the Viral Special Pathogens Branch of the CDC and the NIH revealed in vitro (test tube) activity of brincidofovir against the Ebola virus that was similar to that seen in test tube assessments of brincidofovir against other viral diseases, such as adenovirus and smallpox. Additional tests of brincidofovir in in vivo (animal) models of Ebola virus infection are currently underway.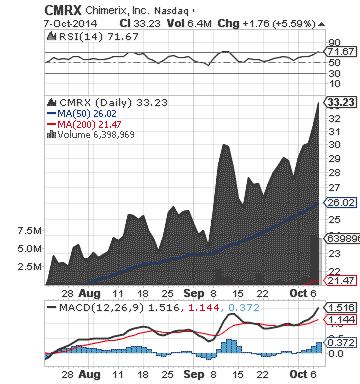 CMRX is a biopharmaceutical company dedicated to discovering, developing and commercializing novel, oral antivirals in areas of high unmet medical need.
More about Chimerix, Inc. (CMRX) at www.chimerix.com.
**
TASER International Inc. (TASR)
Keep a close eye on TASR. The company reported multiple large orders of its AXON body-worn video cameras and EVIDENCE.com solution, a back-end digital evidence management system.
Significant orders were received from the local Police Departments of Anaheim (NASDAQ:CA), Fullerton (CA), Topeka (NYSE:KS), Upland (CA), Meridian (NYSE:ID) and Daytona Beach (NYSE:FL).
TASR's AXON cameras are small, yet highly visible, and can be attached securely to sunglasses, a cap, a shirt collar, or a head mount. They are powered by a pocketsize battery pack, which ensures recording capability during an entire shift. When recording, the cameras capture a wide-angle, full-color view of what an officer is facing. The video automatically uploads via a docking station to EVIDENCE.com. The video files stored online or on the AXON video camera are secure and cannot be tampered with.
TASR's EVIDENCE.com helps police capture, manage, and share their digital evidence without the complexity or cost of installing in-house servers. It enables greater transparency through seamless integration with the AXON cameras. EVIDENCE.com is the most secure, scalable, and cost-effective solution for managing all types of digital evidence. EVIDENCE.com automates the upload process to ensure security and integrity while keeping officers in the field rather than sitting at computers.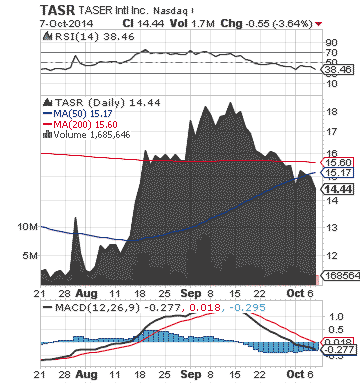 TASR makes communities safer with innovative public safety technologies.
More about TASER International Inc. (TASR) at www.TASER.com
**

BioAmber Inc. (BIOA)
Brokerage firm Canaccord Genuity has initiated coverage on shares of BIOA with a "Buy" rating and a price target of $16.00 on the stock
BIOA recently said that it has signed an exclusive supply agreement for bio-based succinic acid with Xuchuan. Under the terms of the 5-year contract, which runs from 2015 to the end of 2019, BioAmber Sarnia, a joint venture with Mitsui & Co., will ship to Xuchuan's Chinese facilities bio-based succinic acid it has produced in Sarnia, Canada.
By replacing adipic acid with succinic acid, Xuchuan has produced CPUs that offer better properties: they are more abrasion/scratch resistant and more resistant to solvents. The forecasted succinic acid volumes in the contract for this initial application are 300 to 500 tons per year. Xuchuan is broadening its line of sustainable, bio-succinic acid based polyester polyols to other applications, including resins for shoe soles, coating and synthetic leathers.
BIOA projects the long-term sales potential to Xuchuan for these applications could be several thousand tons of succinic acid per year.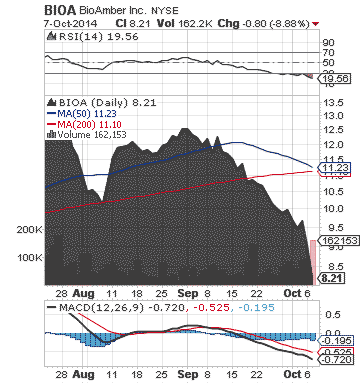 BIOA is an industrial biotechnology company producing sustainable chemicals. Its proprietary technology platform combines industrial biotechnology and chemical catalysis to convert renewable feedstock into sustainable chemicals for use in a wide variety of everyday products including plastics, resins, food additives and personal care products.
More about BioAmber Inc. (BIOA) at www.bio-amber.com
**
Read Full Disclaimer at www.finance.crwe-pr.com/disclaimer
Disclosure: The author has no positions in any stocks mentioned, and no plans to initiate any positions within the next 72 hours.