A global health problem, implies a global economic problem. There is no precise way to measure the impact of Ebola concerns on the stock market, but industry groups have certainly felt it.
Ebola is a viral illness of which the initial symptoms can include a sudden fever, intense weakness, muscle pain and a sore throat. And that is just the beginning: subsequent stages are vomiting, diarrhoea and - in some cases - both internal and external bleeding.
The World Health Organization (WHO) said in its latest report that the number of cases in the Ebola outbreak has exceeded 10,000, with 4,922 deaths.
Liberia remains the worst affected country, with 2,705 deaths. Sierra Leone has had 1,281 fatalities and there have been 926 in Guinea.
Nigeria has recorded eight deaths and there has been one in Mali and one in the United States.
In the U.S., two nurses infected while caring for dying Dallas patient Thomas Eric Duncan have been declared free of the virus.
President Barack Obama said the U.S. healthcare system is proving to be well capable of handling those Americans who have contracted Ebola.
The Centers for Disease Control and Prevention (NASDAQ:CDC) is working with other U.S. government agencies, the World Health Organization (WHO), and other domestic and international partners and has activated its Emergency Operations Center to help coordinate technical assistance and control activities with partners. CDC has also deployed teams of public health experts to West Africa and will continue to send experts to the affected countries.
CDC and partners are taking precautions to prevent spread of Ebola within the United States.
**
According to the WHO, a total of 450 health-care workers are known to have been infected with Ebola virus disease up to the end of 23 October: 80 in Guinea; 228 in Liberia; 11 in Nigeria; 127 in Sierra Leone; one in Spain; and three in the United States of America. A total of 244 health-care workers have died.

Lakeland Industries Inc. (NASDAQ:LAKE)
LAKE reported that it has dramatically increased manufacturing capacity for specialty protective suits to be worn by healthcare workers and others being exposed to Ebola.
According to LAKE, the Company has been experiencing significant interest globally for its ChemMAX(NYSE:R) and MicroMAX(R) protective suit lines. Manufacturing of select lines of these garments involves proprietary processes for specialized seam sealing, a far superior technology for protecting against viral hazards including infected body fluids than non-sealed products.
Through its direct sales force and numerous distribution partners throughout the world, LAKE has secured new orders relating to the fight against the spread of Ebola. Orders have been received from government agencies around the world as well as other public and private sector customers. Certain of these contracts require weekly delivery guarantees or shipments through the first calendar quarter of 2015.
The aggregate of orders won by LAKE that are believed to have resulted from the Ebola crisis amount to approximately 1 million suits with additional orders for other products, such as hoods, foot coverings and gloves.
The expanded capacity is necessary in order to meet obligations for both traditional customers as well as for protection against the spread of Ebola.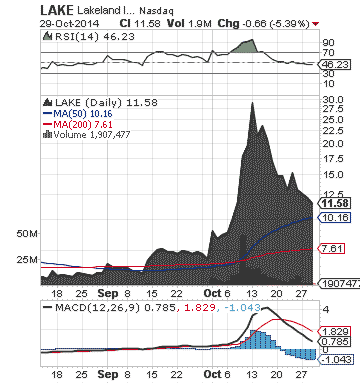 LAKE manufactures and sells a comprehensive line of safety garments and accessories for the industrial protective clothing market.
More about Lakeland Industries Inc. (LAKE) at www.lakeland.com
*

Alpha Pro Tech Ltd. (NYSEMKT:APT)
APT's Infection Control and Disposable Protective Apparel segments offer personal protective equipment that the Centers for Disease Control and Prevention currently recommend as guidelines for healthcare workers in relation to the Ebola virus.
For the third quarter ended September 30, 2014, APT posted net sales of $13.2 million, a 4.1% increase year over year, and net income of $1.0 million, a 6.7% increase compared to the same period the prior year.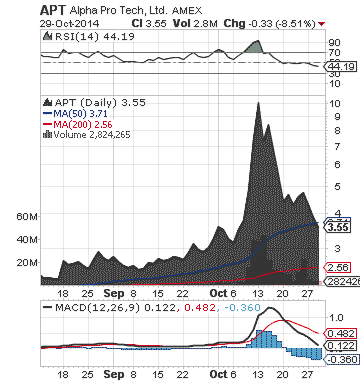 APT is the parent company of Alpha Pro Tech, Inc. and Alpha ProTech Engineered Products, Inc.
APT's Alpha Pro Tech, Inc. develops, manufactures and markets innovative disposable and limited-use protective apparel products for the industrial, clean room, medical and dental markets. APT's Alpha ProTech Engineered Products, Inc. manufactures and markets a line of construction weatherization products, including building wrap and roof underlayment.
More about Alpha Pro Tech Ltd. (APT) at www.alphaprotech.com
**
Crown Equity Holdings Inc. (OTCPK:CRWE)
CRWE provides marketing solutions that boost customer awareness and merchant visibility on the Internet.
CRWE is currently developing its CRWE Network ( www.CRWE-PR.com ), a growing network of website communities. The CRWE Network has reached the 1440th community website in the U.S., associated with 3320 ZIP Codes, and includes coverage of the greater state of California, Northern and Southern Nevada, New York State, Wellington in Florida, Hattiesburg in Mississippi and 10 provinces in Canada.
CRWE has included the City of Plattsburgh, NY ( www.plattsburgh.ny.crwe-pr.com ) to the CRWE Network.
During the Cold War, military functions took a prominent role in Plattsburgh, which was home to Plattsburgh Air Force Base (PAFB) and was the location of the Strategic Air Command's primary wing on the U.S. East Coast due to its geographic desirability. PAFB was closed on September 29, 1995 in a round of national base closures in the early 1990s as the Air Force began to pare down its post-Cold War missions.
Plattsburgh relies largely in part on new industries expanding on the former airbase as well as established manufacturing plants, one being Bombardier and the other the Georgia-Pacific paper plant
With an estimated population in 2013 (U.S. Census Bureau) of approximately 19,898, Plattsburgh, NY represents an important marketplace for the CRWE Network, which business model is based on selling advertising to businesses targeting both locally and nationally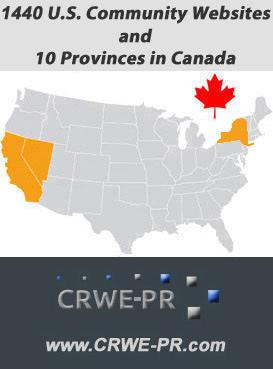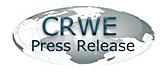 CRWE Press Release ( www.crwepressrelease.com ) offers increased visibility with cost effective solutions through the distribution of information to the entire CRWE Network for both public and private companies.

Online video is gaining strength as a source for content marketing. Globally, according to Cisco Visual Networking Index, IP video traffic will be 79% of all consumer Internet traffic in 2018. Strategic plans are being developed for CRWE's division CRWE Tube ( www.crwetube.com ) to improve the potential future growth for the company.

The CRWE-PR Finance website ( www.finance.crwe-pr.com ) allows CRWE the instant distribution of information to the entire CRWE Network.
More about Crown Equity Holdings Inc. (OTCPK:CRWE) at www.crownequityholdings.com
**
Read Full Disclaimer at CRWE-PR Finance www.finance.crwe-pr.com/disclaimer
Disclosure: The author has no positions in any stocks mentioned, and no plans to initiate any positions within the next 72 hours.