Geron Corporation (NASDAQ:GERN)
Keep a close on GERN. The company reported a multi-million dollar license deal with Janssen Biotech, Inc. to develop and commercialize imetelstat, GERN`s telomerase inhibitor product candidate for oncology, including hematologic malignancies, and other human therapeutics uses.
GERN will receive an initial payment of $35 million and is eligible to receive additional payments up to a potential total of $900 million for the achievement of development, regulatory and commercial milestones, as well as royalties on worldwide net sales.
Imetelstat (GRN163L) is a potent and specific inhibitor of telomerase that is administered by intravenous infusion. This first-in-class compound, discovered by GERN, is a specially designed and modified short oligonucleotide, which targets and binds directly with high affinity to the active site of telomerase. Preliminary data suggest disease-modifying activity by imetelstat is by affecting the malignant clone associated with hematologic malignancies.
Imetelstat is currently in early phase clinical development for myelofibrosis and may have activity in other hematologic myeloid malignancies such as myelodysplastic syndrome and acute myelogenous leukemia.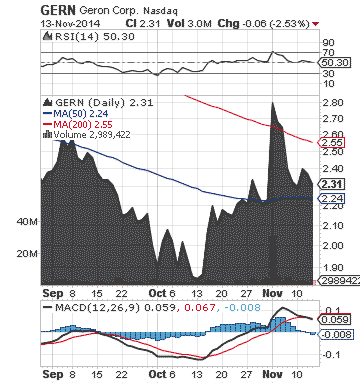 GERN is a clinical stage biopharmaceutical company developing a first-in-class telomerase inhibitor, imetelstat, in hematologic myeloid malignancies.
More about Geron Corporation (GERN) at www.geron.com.
**

Bona Film Group Limited (NASDAQ:BONA)
BONA delivered a solid financial performance that was driven largely by the historic success of its films during the summer box office, as the company's film slate has underscored its ability to reach a wider movie-going audience than ever before.
For the third quarter 2014, BONA posted net revenues of US$100.0 million, a 186% increase year over year, gross profit of US$40.9 million, a 106% increase compared to the same period the prior year, and non-GAAP net income of US$9.3 million, exceeding the high end of the prior guidance range by 16% and representing a 152% increase versus non-GAAP net income of US$3.7 million in the third quarter 2013.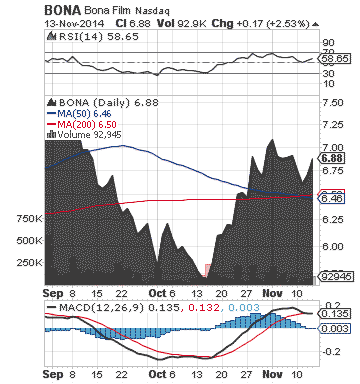 BONA is a leading film distributor in China, with an integrated business model encompassing film distribution, film production, film exhibition and talent representation.
More about Bona Film Group Limited (BONA) at www.bonafilm.cn.
**
Read Full Disclaimer at CRWE-PR Finance www.finance.crwe-pr.com/disclaimer
Disclosure: The author has no positions in any stocks mentioned, and no plans to initiate any positions within the next 72 hours.