Caesars Entertainment Corporation (NASDAQ:CZR)
Keep a close eye on CZR. According to a regulatory filing, the company has approached senior creditors about a plan to convert its largest and most debt-heavy unit -Caesars Entertainment Operating Co- into a real-estate investment trust (typically called a REIT) divided into two companies - one to own the casinos and hotels, and one to manage them.
The move would help CZR restructure billions of dollars in debt.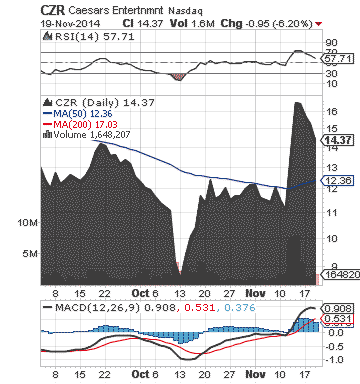 CZR is the world's most diversified casino-entertainment provider and the most geographically diverse U.S. casino-entertainment company. The Company's resorts operate primarily under the Caesars(NYSE:R), Harrah's(R) and Horseshoe(R) brand names.
More about Caesars Entertainment Corporation (CZR) at www.caesars.com
**
Crown Equity Holdings Inc. (OTCPK:CRWE)
CRWE is currently developing its CRWE Network ( www.CRWE-PR.com ), a growing network of community targeted sites.
One of the primary goals of the CRWE Network is to offer business owners the power of consumer targeting advertisements on a local and national scale.
The CRWE Network has reached the 1480th community website in the U.S., associated with 3454 ZIP Codes, and includes coverage in the states of California, Mississippi, Michigan, Florida, Nevada and New York, as well as across 10 provinces in Canada.
CRWE has included the City of Las Vegas, NV ( www.lasvegas.crwe-pr.com ) to the CRWE Network.
Las Vegas, an ever-changing fantasy-land of a city, has seen unbelievable expansion since it emerged from the desert just over 100 years ago. The city bills itself as The Entertainment Capital of the World. Its tolerance for numerous forms of adult entertainment earned it the title of Sin City.
The sights and sounds of Las Vegas, one of the top tourist destinations in the world, are enjoyed by millions of visitors every year. They stay in some of the most glamorous, unique hotels in the world. They eat at five-star restaurants and expansive buffets. They play at casinos, pools, health spas and golf courses. Sometimes (many times, actually) they even marry each other.
Las Vegas had an estimated population in 2013 (U.S. Census Bureau) of approximately 603,488, and represents an important marketplace for the CRWE Network, which business model is based on selling advertising to businesses targeting both locally and nationally

The CRWE-PR Business Directory portal ( www.BusinessDirectory.crwe-pr.com ) is the company's business directory service that is available to all United States and Canada business in the public and private sector. It allows business owners and executives the ability to claim their business listings and provide more detailed information for their potential customers who visit the CRWE Network everyday.
CRWE plans to have full national coverage of all U.S and Canada businesses in the future on its CRWE-PR Business Directory, which will be integrated to the CRWE Network.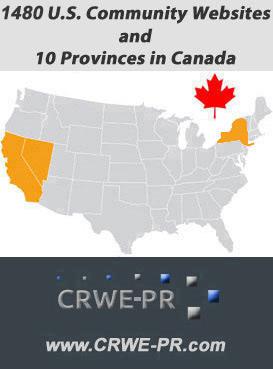 Online video is gaining strength as a source for content marketing. Strategic plans are being developed for CRWE's division CRWE Tube ( www.crwetube.com ) to improve the potential future growth for the company.

The CRWE-PR Finance website ( www.finance.crwe-pr.com ) allows CRWE the instant distribution of information to the entire CRWE Network.
CRWE provides marketing solutions that boost customer awareness and merchant visibility on the Internet.
More about Crown Equity Holdings Inc. (OTCPK:CRWE) at www.crownequityholdings.com
**

Activision Blizzard, Inc. (NASDAQ:ATVI)
ATVI reported that an agreement has been reached to settle the consolidated derivative and class action shareholder case stemming from the October 2013 purchase by the Company and an investor group of 88% of Vivendi SA's shares in ATVI. The settlement is subject to completion of appropriate documentation and approval by the Delaware Chancery Court.
Multiple insurance companies, along with various defendants, will pay ATVI $275 million. ATVI believes the settlement, which acknowledges no wrongdoing by any party, is in the interest of all stakeholders.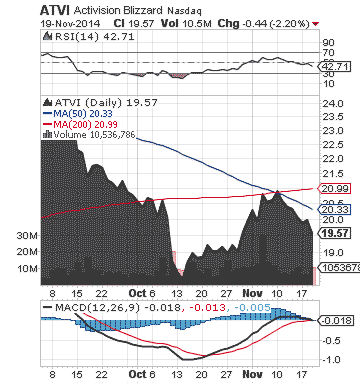 ATVI is the largest and most profitable independent western interactive entertainment publishing company. ATVI develops and publishes games on all leading interactive platforms and its games are available in most countries around the world.
More about Activision Blizzard, Inc. (ATVI) at www.activisionblizzard.com.
**
Disclaimer: This material is for informational purposes only and should not be construed as an offer or solicitation of an offer to buy or sell securities. Investors should always conduct their own due diligence with any potential investment, with independent research and other professional advice. Read Full Disclaimer at CRWE-PR Finance www.finance.crwe-pr.com/disclaimer
Disclosure: The author has no positions in any stocks mentioned, and no plans to initiate any positions within the next 72 hours.