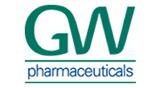 GW Pharmaceuticals plc (NASDAQ:GWPH)
Epilepsy, also known as a seizure disorder, is a neurological condition which affects the nervous system. It is the 4th most common neurological problem - only migraine, stroke and Alzheimer's disease occurs more frequently.
A seizure is a temporary disturbance in brain function in which groups of nerve cells in the brain signal abnormally and excessively. Changes in the brain's electrical activity can cause dramatic, noticeable symptoms or even no symptoms at all. The way a seizure looks depends on the type of seizure a person is experiencing. Some seizures can look like staring spells. Other seizures can cause a person to collapse, shake, and become unaware of what's going on around them. Usually, a seizure lasts from a few seconds to a few minutes.
Anyone can get epilepsy at any age, but the majority of new diagnoses are in kids. About two-thirds of all kids with epilepsy outgrow the seizures that accompany it by the time they're teens.
Dravet syndrome, also known as Severe Myoclonic Epilepsy of Infancy, is a rare and catastrophic form of intractable epilepsy that begins in infancy. Initial seizures are most often prolonged events and in the second year of life other seizure types begin to emerge. Children with Dravet syndrome typically experience poor development of language and motor skills, hyperactivity, and difficulty relating to others.
Lennox-Gastaut syndrome is a rare and often debilitating form of childhood-onset epilepsy. Most children are typically developing normal when first diagnosed, but then begin to lose skills, sometimes dramatically, in association with uncontrolled seizures. Young children with Lennox-Gastaut syndrome may exhibit behavioral issues, personality disturbances, mood instability, and slowing of psychomotor development.
The FDA has granted Fast Track designation to GWPH's investigational cannabidiol product, Epidiolex(NYSE:R), in the treatment of Dravet syndrome.
FDA's Fast Track program facilitates the development and review of drugs intended to treat serious conditions and fill an unmet medical need. A drug development program with Fast Track designation is afforded greater access to the FDA for the purpose of expediting the drug's development, review and potential approval to get important new drugs to the patient earlier.
GWPH is advancing an orphan drug program in the field of childhood epilepsy with a focus on Epidiolex, which is in Phase 2/3 clinical development for the treatment of Dravet syndrome and which is also expected to enter Phase 3 clinical trials in the treatment of Lennox-Gastaut syndrome.
In 2015, GWPH expects to complete much of the Epidiolex development program as well as start to build a U.S. commercial presence in anticipation of future launch.
In parallel with its Epidiolex program, GWPH is progressing towards the conclusion of its U.S. Phase 3 cancer pain trials for Sativex, the world's first plant-derived cannabinoid prescription drug, and the company expects to report data from the Sativex cancer pain trials in early 2015 which, if positive, would enable the filing of NDA in the U.S. during next year.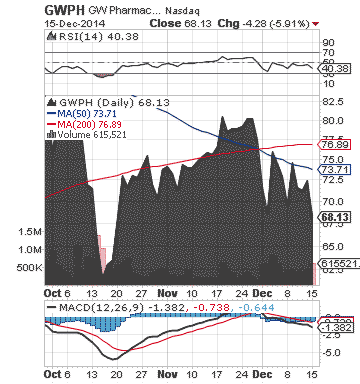 GWPH is a biopharmaceutical company focused on discovering, developing and commercializing novel therapeutics from its proprietary cannabinoid product platform in a broad range of disease areas.
More about GW Pharmaceuticals plc (GWPH) at www.gwpharm.com
**
Crown Equity Holdings Inc. (OTCPK:CRWE)
The company is currently developing its CRWE Network ( www.CRWE-PR.com ), a growing network of community targeted sites.
CRWE has recently included Kamloops, a city in south central British Columbia in Canada ( www.kamloopscanada.crwe-pr.com ) to the CRWE Network.
The City of Kamloops' economy is strong and diverse. Forestry, mining, retail and agriculture have always anchored the economy of Kamloops as core, or driver, industries and now the emerging areas of technology, bioenergy, sustainable industry and tourism are strengthening our economic base and contributing to the city's dynamic growth.
Located at the confluence of the South and North Thompson rivers in British Columbia's semi-arid grasslands, Kamloops is a hotbed of outdoor activities.
Kamloops has long recognized Sport Tourism as an economic generator for the City and to that end has made Canada's Tournament Capital one of its top goals in City Council's Strategic Plan. Sport tourism is now the fastest growing segment of the tourism industry in Canada.
The City of Kamloops had an estimated population of 85,678 in the 2011 census, and represents an important marketplace for the CRWE Network, which business model is based on selling advertising to businesses targeting both locally and nationally
The CRWE Network has reached the 1486th community website in the U.S., associated with 3456 ZIP Codes, and includes coverage in the states of California, Mississippi, Michigan, Florida, Nevada and New York, as well as across 10 provinces in Canada.
The CRWE Network's goal is to facilitate exchanges of goods and services in a manner similar to Craigslist, a classified advertisements website with sections devoted to jobs, housing, personals, for sale, items wanted, services, community, gigs, résumés, and discussion forums, while providing micro community news, information and business directory content.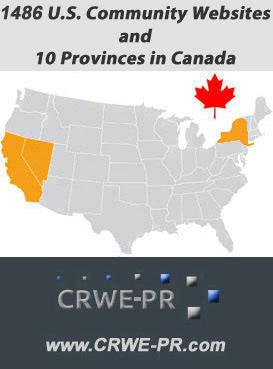 The CRWE-PR Business Directory portal ( www.BusinessDirectory.crwe-pr.com ) is the company's business directory service that is available to all United States and Canada business in the public and private sector. It allows business owners and executives the ability to claim their business listings and provide more detailed information for their potential customers who visit the CRWE Network everyday.
CRWE plans to have full national coverage of all U.S and Canada businesses in the future on its CRWE-PR Business Directory, which will be integrated to the CRWE Network.
CRWE provides marketing solutions that boost customer awareness and merchant visibility on the Internet.
More about Crown Equity Holdings Inc. (OTCPK:CRWE) at www.crownequityholdings.com
**

Prothena Corporation plc (NASDAQ:PRTA)
Amyloidosis is a rare disease that occurs when a substance called amyloid builds up in your organs.
The most common type, AL amyloidosis or primary amyloidosis, involves a hematological disorder caused by plasma cells that produce misfolded AL protein resulting in deposits of abnormal AL protein (amyloid) in the tissues and organs of individuals with this disease. There are no approved treatments for AL amyloidosis that directly target potentially toxic forms of the AL protein.
AL amyloidosis is a rare disorder and it is estimated that about 15,000 patients in the U.S. and Europe suffer from AL amyloidosis.
PRTA said that the U.S. Food and Drug Administration (FDA) granted Fast Track designation to NEOD001, a novel monoclonal antibody for the potential treatment of AL amyloidosis.
This is the first investigational immunotherapy specifically targeting the disease-causing protein in AL amyloidosis to receive Fast Track designation.
NEOD001 is a humanized monoclonal antibody that specifically targets the circulating soluble amyloid and deposited insoluble amyloid that accumulates in both the AL and AA forms of amyloidosis.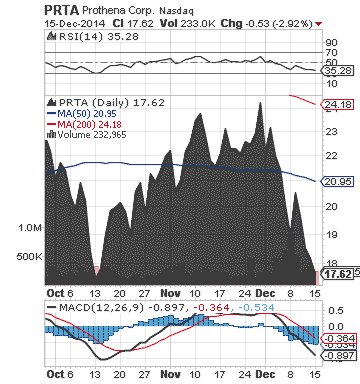 PRTA is a late-stage clinical biotechnology company focused on the discovery, development and commercialization of novel antibodies for the potential treatment of diseases that involve amyloid or cell adhesion. PRTA focuses on therapeutic monoclonal antibodies directed specifically to disease-causing proteins and its antibody-based product candidates target a number of potential indications, including AL and AA forms of amyloidosis (NEOD001), Parkinson`s disease and other related synucleinopathies (PRX002) and novel cell adhesion targets involved in psoriasis and other inflammatory diseases (PRX003).
More about Prothena Corporation plc (PRTA) at www.prothena.com.
**
Disclaimer: This material is for informational purposes only and should not be construed as an offer or solicitation of an offer to buy or sell securities. Investors should always conduct their own due diligence with any potential investment, with independent research and other professional advice. Read Full Disclaimer at CRWE-PR Finance www.finance.crwe-pr.com/disclaimer
Disclosure: The author has no positions in any stocks mentioned, and no plans to initiate any positions within the next 72 hours.