Aratana Therapeutics, Inc. (NASDAQ:PETX)
What if veterinarians could ease the ongoing pain of osteoarthritis in pets while potentially reducing side effects of current treatment options?
Osteoarthritis is a painful and progressive disease involving joint inflammation, cartilage destruction and eventually bone changes. Osteoarthritis is the most common cause of lameness in dogs and is thought to affect up to 1 in 5 dogs.
PETX reported positive results from its pivotal field study of AT-001 (Grapiprant), its innovative drug for treating pain in dogs with osteoarthritis.
In the study, dogs receiving AT-001 demonstrated improvements in pain assessment scores that were statistically significant compared to placebo (p<0.05) at a once-daily oral dose. PETX expects to commence commercialization upon FDA approval, which the company anticipates in 2016.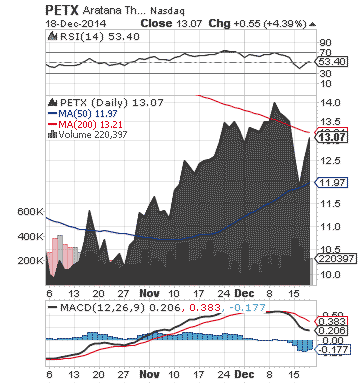 PETX is a pet therapeutics company focused on licensing, developing and commercializing innovative biopharmaceutical products for companion animals. PETX believes that it can leverage the investment in the human biopharmaceutical industry to bring therapeutics to pets in a capital and time efficient manner.
More about Aratana Therapeutics, Inc. (PETX) at www.aratana.com.
**

Red Hat, Inc. (NYSE:RHT)
Keep a close eye on RHT. The company reported a strong performance on its financial results that marked the eleventh straight quarter of mid-to-high teens revenue growth, driven by cloud computing and big data trends that have increased demand for its open-source technology.
For the third quarter fiscal year 2015, RHT posted total revenue of $456 million, a 15% increase year over year in U.S. dollars (or 18% measured in constant currency) and above analysts' estimates of $451.39 million, while the company's non-GAAP net income for the period was $79 million, or $0.42 per diluted share, $0.02 better than the Capital IQ Consensus Estimate of $0.40 a share for the quarter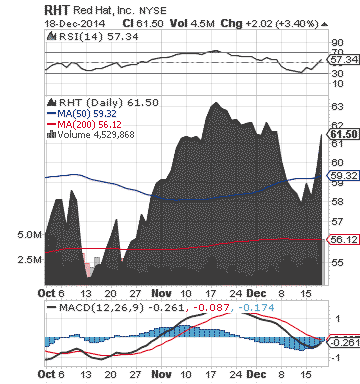 RHT is the world's leading provider of open source software solutions, using a community-powered approach to reliable and high-performing cloud, Linux, middleware, storage and virtualization technologies. RHT also offers award-winning support, training, and consulting services.
More about Red Hat, Inc. (RHT) at www.redhat.com.
**.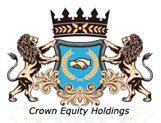 Crown Equity Holdings Inc. (OTCPK:CRWE)
The company is currently developing its CRWE Network ( www.CRWE-PR.com ), a growing network of community targeted sites.
CRWE has recently included Long Beach, a city in Los Angeles County in Southern California, on the Pacific coast of the United States ( www.longbeach.crwe-pr.com ) to the CRWE Network.
The City of Long Beach is recognized as the home of the Queen Mary, the Aquarium of the Pacific, the Long Beach Grand Prix, America's cargo gateway to the Pacific Rim through the Port of Long Beach (the Nation's second business container port), one of the world's most environmentally safe off-shore oil operations and numerous major business and commercial enterprises.
On the "Tech Coast", Long Beach is a main player in the Southern California economy, plus the gateway to the Pacific Rim. Long Beach is the 36th-largest city in the United States and the seventh-largest in California. As of 2013, its population was 469,428 (U.S. Census Bureau), and represents an important marketplace for the CRWE Network, which business model is based on selling advertising to businesses targeting both locally and nationally
One of the primary goals of the CRWE Network is to offer business owners the power of consumer targeting advertisements on a local and national scale.
The CRWE Network has reached the 1486th community website in the U.S., associated with 3456 ZIP Codes, and includes coverage in the states of California, Mississippi, Michigan, Florida, Nevada and New York, as well as across 10 provinces in Canada.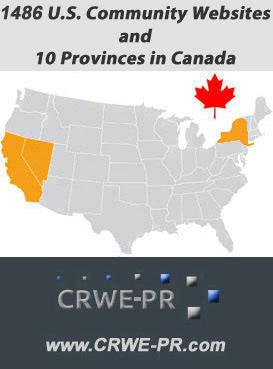 CRWE provides marketing solutions that boost customer awareness and merchant visibility on the Internet.
More about Crown Equity Holdings Inc. (OTCPK:CRWE) at www.crownequityholdings.com
**
Disclaimer: This material is for informational purposes only and should not be construed as an offer or solicitation of an offer to buy or sell securities. Investors should always conduct their own due diligence with any potential investment, with independent research and other professional advice. Read Full Disclaimer at CRWE-PR Finance www.finance.crwe-pr.com/disclaimer
Disclosure: The author has no positions in any stocks mentioned, and no plans to initiate any positions within the next 72 hours.