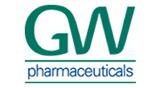 GW Pharmaceuticals plc (NASDAQ:GWPH)
Multiple sclerosis is an unpredictable, often disabling disease of the central nervous system that disrupts the flow of information within the brain, and between the brain and body.
Many people with multiple sclerosis experience spasticity, or muscle stiffness and spasms. It usually affects the muscles of the legs and arms, and may interfere with the ability to move those muscles freely.
With normal muscle function, opposite muscles work in opposite directions, meaning that one muscle pulls while the other relaxes. Spasticity is a condition that occurs when opposite muscles both contract or relax at the same time, causing an increase in muscle tone.
Spasticity may be as mild as the feeling of tightness of muscles or may be so severe as to produce painful, uncontrollable spasms of extremities, usually of the legs. Spasticity may also produce feelings of pain or tightness in and around joints, and can cause low back pain.
In June 2010, GWPH reported the launch of Sativex(NYSE:R), its Oromucosal Spray for the treatment of spasticity due to Multiple Sclerosis. Sativex is the world's first prescription cannabis medicine and the UK was the first country in the world to grant a full regulatory authorization for the product.
The medicine in Sativex is extracted from cannabis plants that have been selected and grown to produce a constant amount of active ingredients. Sativex is made under strictly controlled laboratory conditions and contains a balance of these active ingredients that have been shown to help improve the symptoms of multiple sclerosis spasticity.
Currently, GWPH's Sativex is approved for the treatment of spasticity due to multiple sclerosis in 27 countries outside the United States, and available for use in 15 countries. In-market sales volumes sold by GWPH's commercial partners for the 2014 fiscal year increased by 50% over 2013.
GWPH's Sativex is also in Phase 3 clinical development as a potential treatment of pain associated with advanced cancer. This Phase 3 program is intended to support the submission of a New Drug Application for Sativex in cancer pain with the U.S. Food and Drug Administration (FDA) and in other markets around the world.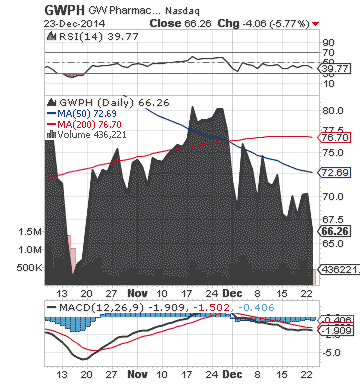 GWPH is a biopharmaceutical company focused on discovering, developing and commercializing novel therapeutics from its proprietary cannabinoid product platform in a broad range of disease areas. GWPH commercialized the world's first plant-derived cannabinoid prescription drug, Sativex. GWPH is advancing an orphan drug program in the field of childhood epilepsy with a focus on Epidiolex(R), which is in Phase 2/3 clinical development for the treatment of Dravet syndrome and which is also expected to enter Phase 3 clinical trials in the treatment of Lennox-Gastaut syndrome. GWPH has a deep pipeline of additional cannabinoid product candidates which includes compounds in Phase 1 and 2 clinical development for glioma, ulcerative colitis, type 2 diabetes, and schizophrenia.
More about GW Pharmaceuticals plc (GWPH) at www.gwpharm.com
**

Novo Nordisk A/S (NYSE:NVO)
The U.S. Food and Drug Administration (FDA) has approved Saxenda (liraglutide [rDNA origin] injection) as a treatment option for chronic weight management in addition to a reduced-calorie diet and physical activity.
Saxenda (liraglutide), manufactured by NVO, is a glucagon-like peptide-1 (GLP-1) receptor agonist
The drug is approved for use in adults with a body mass index (NYSE:BMI) of 30 or greater (obesity) or adults with a BMI of 27 or greater (overweight) who have at least one weight-related condition such as hypertension, type 2 diabetes, or high cholesterol (dyslipidemia).
BMI, which measures body fat based on an individual's weight and height, is used to define the obesity and overweight categories. According to the Centers for Disease Control and Prevention, more than one-third of adults in the United States are obese.
The FDA approved liraglutide in 2010 as a treatment for type 2 diabetes, and NVO sells it under the name Victoza as a treatment for that condition. Saxenda contains a larger dose of liraglutide than Victoza does.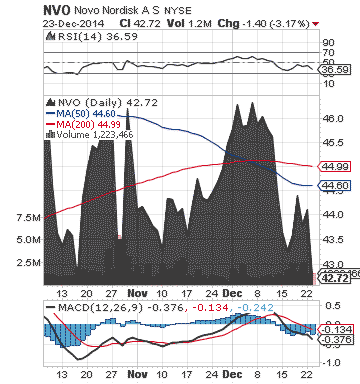 NVO is a global healthcare company with 90 years of innovation and leadership in diabetes care. The company also has leading positions within haemophilia care, growth hormone therapy and hormone replacement therapy.
More about Novo Nordisk A/S (NVO) at www.novonordisk.com
**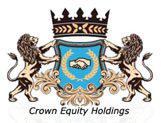 Crown Equity Holdings Inc. (OTCPK:CRWE)
The company is currently developing its CRWE Network ( www.CRWE-PR.com ), a growing network of community targeted sites.
It has recently included the City of Fresno, CA ( www.fresno.crwe-pr.com ) to the CRWE Network.
Fresno is the fifth largest city in the state of California. It is approximately 200 miles (320 km) north of Los Angeles, and 170 miles (270 km) south of the state capital, Sacramento.
Centrally located, Fresno is the financial, industrial, trade, and commercial capital in the Central San Joaquin Valley.
The City of Fresno had an estimated population in 2013 (U.S. Census Bureau) of 509,924, and represents an important marketplace for the CRWE Network, which business model is based on selling advertising to businesses targeting both locally and nationally
One of the primary goals of the CRWE Network is to offer business owners the power of consumer targeting advertisements on a local and national scale.
The CRWE Network has reached the 1486th community website in the U.S., associated with 3456 ZIP Codes, and includes coverage in the states of California, Mississippi, Michigan, Florida, Nevada and New York, as well as across 10 provinces in Canada.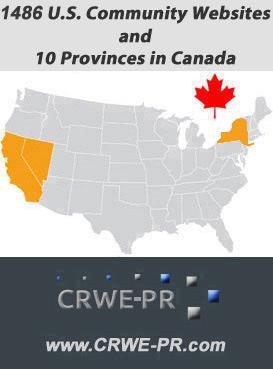 CRWE provides marketing solutions that boost customer awareness and merchant visibility on the Internet
More about Crown Equity Holdings Inc. (OTCPK:CRWE) at www.crownequityholdings.com
**
Disclaimer: This material is for informational purposes only and should not be construed as an offer or solicitation of an offer to buy or sell securities. Investors should always conduct their own due diligence with any potential investment, with independent research and other professional advice. Read Full Disclaimer at CRWE-PR Finance www.finance.crwe-pr.com/disclaimer
Disclosure: The author has no positions in any stocks mentioned, and no plans to initiate any positions within the next 72 hours.