Atossa Genetics Inc. (NASDAQ:ATOS)
Pharmacogenetics tests help doctors prescribe drugs and doses best suited for each person based on an analysis of their genetics.
ATOS recently reported that its subsidiary, The National Reference Laboratory for Breast Health, Inc. (the NRLBH), has begun to offer pharmacogenetics testing. ATOS' NRLBH provided information about this new test, including:
- Since first making the test available in late October 2014, the NRLBH has now processed more than 500 pharmacogenetics tests for U.S. patients with an average retail price of approximately $1,700 per patient. ATOS' NRLBH is also in the process of offering the test in select European markets
- The NRLBH plans to utilize its third-party reimbursement firms, FedMed, MultiPlan and HealthSmart, to maximize the amount and speed of collections and help ensure that insurance companies that are members of these organizations pay for this test for their covered patients. Approximately 20% of Americans are covered by MultiPlan, and FedMed has more than 40 million members.
ATOS expects that the pharmacogenetics testing revenue should add substantially to the company's bottom line and help finance its therapeutic development and device business in a non-dilutive manner.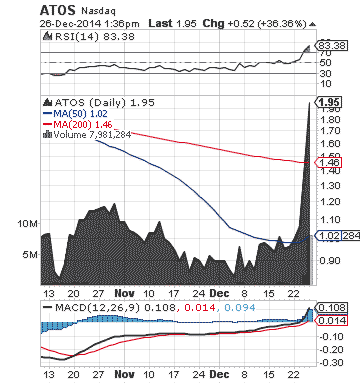 ATOS is focused on improving breast health through the development of laboratory services, medical devices and therapeutics.
More about Atossa Genetics Inc. (ATOS) at www.atossagenetics.com.
**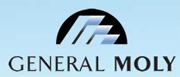 General Moly, Inc. (NYSEMKT:GMO)
GMO said that it has signed definitive agreements with a group of accredited investors related to a private placement of units, consisting of senior convertible notes and warrants, for gross proceeds of $8.535 million. Of significance, one $5 million block was purchased by an investor with significant experience in the molybdenum sector, and GMO's executive management team and board of directors supported the Private Placement by investing over $2 million in aggregate.
The Private Placement is expected to close on or around December 26, 2014 with proceeds from the offering to be used for maintenance of the Mt. Hope Project, the Liberty Project, and general corporate purposes. Read about the terms and conditions at generalmoly.com./news.php?releaseid=2001788
According to GMO, the company remains focused on Mt. Hope financing, and is increasingly encouraged by the progress made, negotiations on investment agreement terms, sponsorship requirements, and indicative loan terms associated with a $700 to $750 million debt and equity package, are continuing to advance, and GMO has strong interest from multiple private Chinese industrial companies and a large Chinese bank in advancing the fully permitted, construction-ready project (these potential Chinese partners take a long term view, and believe as the company does, that the molybdenum price should strengthen by the time Mt Hope will start producing)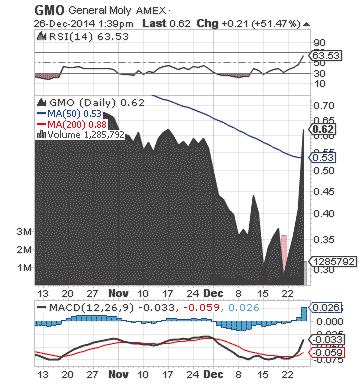 GMO is a U.S.-based molybdenum mineral development, exploration and mining company. the company owns two world-class projects: an 80% interest in the fully permitted Mt. Hope Project and 100% of the Liberty Project, both in Nevada, U.S.A.
More about General Moly, Inc. (GMO) at www.generalmoly.com.
**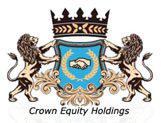 Crown Equity Holdings Inc. (OTCPK:CRWE)
The company is currently developing its CRWE Network ( www.CRWE-PR.com ), a growing network of community targeted sites.
It has recently included Anaheim, a city in Orange County, California ( www.anaheim.crwe-pr.com ) to the CRWE Network.
Situated between Los Angeles and San Diego, in the heart of Southern California, Anaheim has a diverse range of activities that make it one of the nation's most popular destinations. It is the second largest city in Orange County in terms of land area (after Irvine), and is known for its theme parks, sports teams and convention center.
Anaheim boasts a diverse business community that has been established through effective planning, incentives, and business assistance. It has long been a center for industrial and technology companies and provides the right resources for manufacturers to remain competitive.
The City of Anaheim had an estimated population in 2013 (U.S. Census Bureau) of 345,012, and represents an important marketplace for the CRWE Network, which business model is based on selling advertising to businesses targeting both locally and nationally
One of the primary goals of the CRWE Network is to offer business owners the power of consumer targeting advertisements on a local and national scale.
The CRWE Network has reached the 1486th community website in the U.S., associated with 3456 ZIP Codes, and includes coverage in the states of California, Mississippi, Michigan, Florida, Nevada and New York, as well as across 10 provinces in Canada.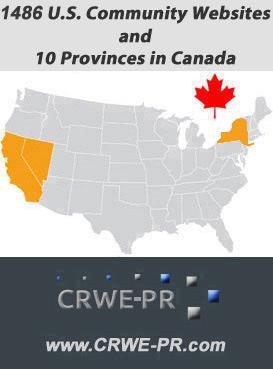 The CRWE-PR Business Directory portal ( www.BusinessDirectory.crwe-pr.com ) is the company's business directory service that is available to all United States and Canada business in the public and private sector. It allows business owners and executives the ability to claim their business listings and provide more detailed information for their potential customers who visit the CRWE Network everyday.
CRWE plans to have full national coverage of all U.S and Canada businesses in the future on its CRWE-PR Business Directory, which will be integrated to the CRWE Network.
CRWE provides marketing solutions that boost customer awareness and merchant visibility on the Internet
More about Crown Equity Holdings Inc. (OTCPK:CRWE) at www.crownequityholdings.com
**
Disclaimer: This material is for informational purposes only and should not be construed as an offer or solicitation of an offer to buy or sell securities. Investors should always conduct their own due diligence with any potential investment, with independent research and other professional advice. Read Full Disclaimer at CRWE-PR Finance www.finance.crwe-pr.com/disclaimer
Disclosure: The author has no positions in any stocks mentioned, and no plans to initiate any positions within the next 72 hours.