PharmAthene, Inc. (PIP)
In December 2006, PIP filed a complaint against SIGA Technologies, Inc. (NASDAQ:SIGA) in the Delaware Court of Chancery, alleging, among other things, that the Company has the right to license exclusively development and marketing rights for SIGA's smallpox antiviral, Tecovirimat, also known as ST-246, pursuant to a merger agreement between the parties that was terminated in October 2006.
PIP reported after the closing bell on Thursday that the Delaware Court of Chancery has entered its Final Order and Judgment in its litigation against SIGA.
The Court's judgment against SIGA totaled $194,649,041.74, including $113,116,985.00 in lump sum expectation damages for the value of PIP's lost profits for SIGA's Tecovirimat, and $81,532,056.74 in pre-judgment interest and attorneys' and expert witness fees. In addition, SIGA will be required to pay post-judgment interest of $30,663.89 per day, beginning today.
The court's determination, along with the decision itself, will remain subject to appeal by SIGA to the Delaware Supreme Court. Because SIGA has filed for protection under the Federal bankruptcy laws, PIP's ability to collect a money judgment from SIGA remains subject to further proceedings in the Bankruptcy Court.
The price of PIP stock rose more than 10% in after-hours trading.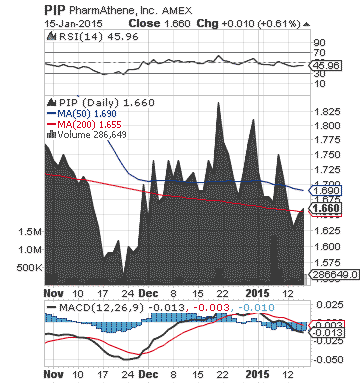 PIP is a biodefense company engaged in the development and commercialization of next generation medical countermeasures against biological and chemical threats.
More about PharmAthene, Inc. (PIP) at www.pharmathene.com
**

DepoMed Inc. (DEPO)
Shares of DEPO surged in extended trading activity on Thursday, following the announcement that the company has entered into a definitive agreement to acquire the U.S. rights to the NUCYNTA franchise from Janssen Pharmaceuticals, Inc. for $1.05 billion. The deal, expected to close in the second quarter of 2015, enhances DEPO's position as a leading pain and neurology focused specialty pharmaceutical company
The NUCYNTA franchise includes NUCYNTA(NYSE:R) ER (tapentadol) extended release tablets indicated for the management of pain, including neuropathic pain associated with diabetic peripheral neuropathy, severe enough to require daily, around-the-clock, long-term opioid treatment, and NUCYNTA(R) (tapentadol), an immediate release version of tapentadol, for management of moderate to severe acute pain in adults. NUCYNTA (tapentadol) oral solution is an approved oral form of tapentadol that has not been launched.
According to DEPO, the transaction is expected to be immediately accretive and to significantly increase its product revenue, cash flow, earnings before interest, taxes, depreciation and amortization (EBITDA) and adjusted earnings per share for 2015, 2016 and beyond.
The NUCYNTA franchise generated U.S. net sales of approximately $166 million for the 12 months ended September 2014. NUCYNTA has composition of matter patent protection to August 2022, a potential pediatric extension into 2023, and additional patents that could extend beyond that timeframe.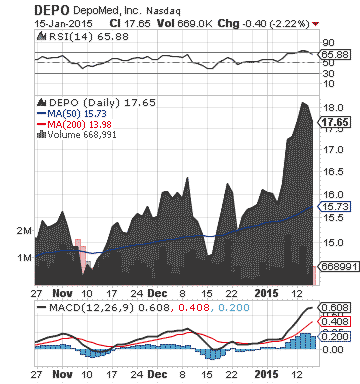 DEPO is a specialty pharmaceutical company that commercializes products for pain and central nervous system (NYSE:CNS) disorders.
More about DepoMed Inc. (DEPO) at www.depomed.com.
**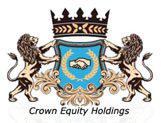 Crown Equity Holdings Inc. (OTCPK:CRWE)
The company has recently included Rancho Cucamonga ( www.ranchocucamonga.crwe-pr.com ), a suburban city in San Bernardino County, California to the CRWE Network.
Rancho Cucamonga is located about 39 miles (63 km) east of downtown Los Angeles and 15 miles west of San Bernardino. As part of one of the fastest growing metropolitan areas, Rancho Cucamonga nonetheless remains one of the safest cities in the country and is a desirable place to live, work, and play.
The City of Rancho Cucamonga had an estimated population in 2013 (U.S. Census Bureau) of 171,386, and represents an important marketplace for the CRWE Network, which business model is based on selling advertising to businesses targeting both locally and nationally
CRWE Network's goal is to facilitate exchanges of goods and services in a manner similar to Craigslist, a classified advertisements website with sections devoted to jobs, housing, personals, for sale, items wanted, services, community, gigs, résumés, and discussion forums, while providing micro community news, information and business directory content.
The CRWE Network has reached the 1487th community website in the U.S., associated with 3456 ZIP Codes, and includes coverage in the states of California, Mississippi, Michigan, Florida, Nevada and New York, as well as across 10 provinces in Canada.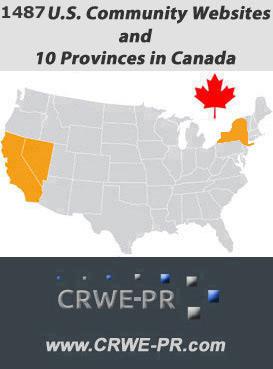 CRWE provides marketing solutions that boost customer awareness and merchant visibility on the Internet. The company is currently developing its CRWE Network ( www.CRWE-PR.com ), a growing network of community targeted sites.
More about Crown Equity Holdings Inc. (OTCPK:CRWE) at www.crownequityholdings.com
**
Disclaimer: CRWE-PR Finance ( www.finance.crwe-pr.com ) is not a registered investment adviser. This material is for informational purposes only and should not be construed as an offer or solicitation of an offer to buy or sell securities. Investors should always conduct their own due diligence with any potential investment, with independent research and other professional advice. Read Full Disclaimer at CRWE-PR Finance www.finance.crwe-pr.com/disclaimer
Disclosure: The author has no positions in any stocks mentioned, and no plans to initiate any positions within the next 72 hours.