Aspen Technology, Inc. (NASDAQ:AZPN)
Keep a close eye on AZPN. The company reported strong performance on its financial results that exceeded expectations from both a revenue and profitability perspective.
For its second quarter fiscal 2015, AZPN posted total revenue of $107.8 million, a 9.1% increase year over year, and non-GAAP net income of $32.8 million, or $0.36 per share, compared to non-GAAP net income of $25.4 million, or $0.27 per share in the same period the prior year, these results better than the Capital IQ Consensus Estimate of $0.30 earnings per share on revenue of $105.52 million for the period
According to AZPN, it is maintaining expense discipline that is driving increased levels of profitability and cash generation.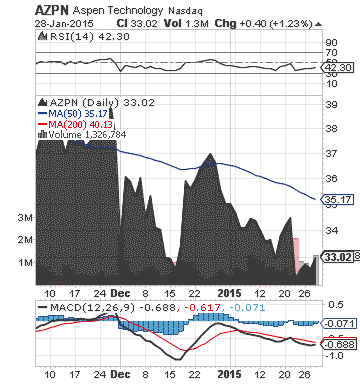 AZPN is a leading supplier of software that optimizes process manufacturing - for energy, chemicals, engineering and construction, and other industries that manufacture and produce products from a chemical process.
More about Aspen Technology, Inc. (AZPN) at www.aspentech.com
**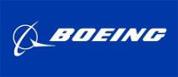 The Boeing Company (NYSE:BA)
BA delivered record 2014 revenue, core earnings per share and backlog on its financial results.
BA's revenue rose 5% in the full year 2014 to a record $90.8 billion and non-GAAP core earnings per share increased 22% to $8.60 on record deliveries. BA said that its backlog is up $61 billion from prior year-end, reflecting $152 billion of net orders in 2014.
Strong operating performance in the final quarter of 2014, highlighted by record revenue of $24.5 billion in the period, propelled BA to some of its best-ever results and sealed a fifth consecutive year of core operating earnings growth.
On Wednesday, Secretary of the Air Force Deborah Lee James, in coordination with the Undersecretary of Defense for Acquisition, Technology and Logistics Frank Kendall, has determined the Boeing 747-8 will serve as the next presidential aircraft, commonly known as Air Force One.
The presidential aircraft is one of the most visible symbols of the United States of America and the office of the president of the United States. Air Force Secretary said the Boeing 747-8 is the only aircraft manufactured in the United States (that), when fully missionized, meets the necessary capabilities established to execute the presidential support mission, while reflecting the office of the president of the United States of America consistent with the national public interest
BA will build a fleet of three aircraft based on the 747-8 to serve as the next Air Force One. President Barack Obama currently travels on planes in the Boeing 747-200B series. He won't get to experience the comfort and luxury of the new ride.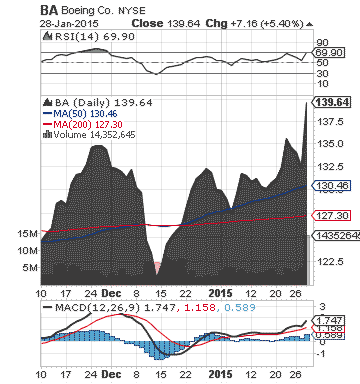 BA is the world's largest aerospace company and the leading manufacturer of commercial jetliners and military aircraft combined.
More about the Boeing Company (BA) at www.boeing.com
**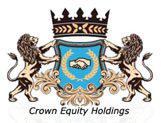 Crown Equity Holdings Inc. (OTCPK:CRWE)
CRWE provides marketing solutions that boost customer awareness and merchant visibility on the Internet. The company is currently developing its CRWE Network ( www.CRWE-PR.com ), a growing network of community targeted sites.
It has recently included the City of Pasadena, CA ( www.pasadena.crwe-pr.com ) into the CRWE Network.
Pasadena is the ninth-largest city in Los Angeles County, California. It is located approximately fifteen minutes northeast of Los Angeles. Pasadena is home to three Fortune 1000 companies. It is also home to the California Institute of Technology.
The City of Pasadena, known for hosting the annual Rose Bowl football game and Tournament of Roses Parade, had an estimated population in 2013 (U.S. Census Bureau) of 139,731, and represents an important marketplace for the CRWE Network, which business model is based on selling advertising to businesses targeting both locally and nationally
The CRWE Network has reached the 1487th community website in the U.S., associated with 3456 ZIP Codes, and includes coverage in the states of California, Mississippi, Michigan, Florida, Nevada and New York, as well as across 10 provinces in Canada.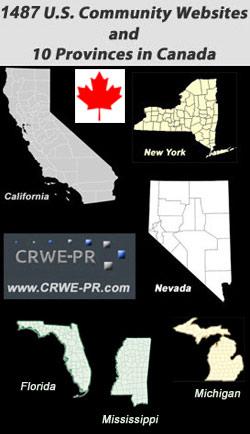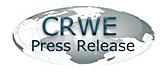 The company's CRWE Press Release ( www.crwepressrelease.com ) offers increased visibility with cost effective solutions through the distribution of information to the entire CRWE Network for both public and private companies.
More about Crown Equity Holdings Inc. (OTCPK:CRWE) at www.crownequityholdings.com
**
Disclaimer: CRWE-PR Finance is not a registered investment adviser. This material is for informational purposes only and should not be construed as an offer or solicitation of an offer to buy or sell securities. Investors should always conduct their own due diligence with any potential investment, with independent research and other professional advice. Read Full Disclaimer at CRWE-PR Finance www.finance.crwe-pr.com/disclaimer
Disclosure: The author has no positions in any stocks mentioned, and no plans to initiate any positions within the next 72 hours.