Intercept Pharmaceuticals, Inc. (NASDAQ:ICPT)
Shares of ICPT skyrocketed more than 20% in after-hours trading on Thursday, following the announcement that the company's obeticholic acid (OCA) has received "breakthrough therapy designation" from the FDA for the treatment of patients with nonalcoholic steatohepatitis (NYSEARCA:NASH) with liver fibrosis
This designation, created by the U.S. Food and Drug Administration (FDA) to speed the availability of new therapies for serious or life-threatening conditions, will enable ICPT to work closely with the FDA to finalize the design of its Phase 3 program
NASH is a serious chronic liver disease caused by excessive fat accumulation in the liver that induces chronic inflammation which leads to progressive fibrosis (scarring) that can lead to cirrhosis, eventual liver failure and death. There are currently no drugs approved for the treatment of NASH.
ICPT's investigational product OCA is a bile acid analog and first-in-class agonist of the farnesoid X receptor, being developed for a variety of chronic liver diseases including primary biliary cirrhosis, NASH and primary sclerosing cholangitis.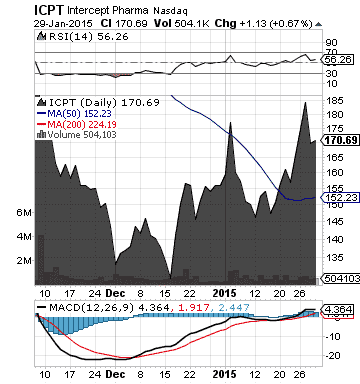 ICPT is a biopharmaceutical company focused on the development and commercialization of novel therapeutics to treat orphan and more prevalent liver and intestinal diseases utilizing its expertise in bile acid chemistry.
More about Intercept Pharmaceuticals, Inc. (ICPT) at www.interceptpharma.com.
**

Gigamon Inc. (NYSE:GIMO)
Keep a close eye on GIMO. The company delivered record quarterly revenue and a second consecutive quarter of non-GAAP profitability on its financial results, driven by continued strong performance in its Enterprise and Federal businesses, as well as a number of larger transactions from new and existing customers.
For the fourth quarter 2014, GIMO posted revenues of $51.3 million, an increase of 31% sequentially and 19% year over year, and non-GAAP net income of $6.1 million, or $0.18 per diluted share, compared to non-GAAP net income of $6.0 million, or $0.18 per diluted share in the same period the prior year, these results better than the Capital IQ Consensus Estimate of $0.08 earnings per share on revenue of $42.9 million for the period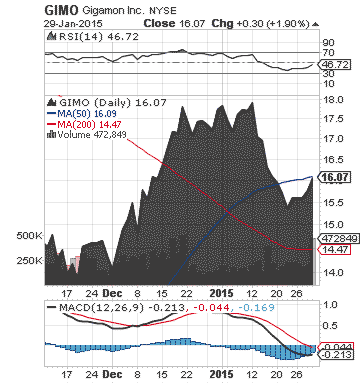 GIMO provides an intelligent Visibility Fabric(NYSE:TM) architecture for enterprises, data centers and service providers around the globe. Its technology empowers infrastructure architects, managers and operators with pervasive and dynamic intelligent visibility of traffic across both physical and virtual environments without affecting the performance or stability of the production network.
More about Gigamon Inc. (GIMO) at www.gigamon.com
**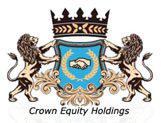 Crown Equity Holdings Inc. (OTCPK:CRWE)
CRWE provides marketing solutions that boost customer awareness and merchant visibility on the Internet. The company is currently developing its CRWE Network ( www.CRWE-PR.com ), a growing network of community targeted sites.
It has recently included the City of Thousand Oaks, CA ( www.thousandoaks.crwe-pr.com ) into the CRWE Network.
Thousand Oaks is the site of numerous corporate and regional headquarters, as well as other diverse retail, industrial and business entities. Major corporations include Amgen, Inc., the Bioscience Division of Baxter Healthcare Corporation, General Dynamics Corporation, Jafra Cosmetics, WellPoint Health Networks, Inc. and Verizon's Regional Office.
The City of Thousand Oaks had an estimated population in 2013 (U.S. Census Bureau) of 128,731, and represents an important marketplace for the CRWE Network, which business model is based on selling advertising to businesses targeting both locally and nationally
The CRWE Network has reached the 1487th community website in the U.S., and includes coverage in the states of California, Mississippi, Michigan, Florida, Nevada and New York, as well as across 10 provinces in Canada.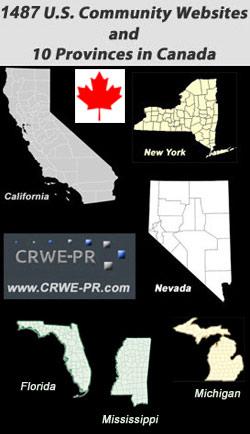 The CRWE-PR Business Directory portal ( www.BusinessDirectory.crwe-pr.com ) is the company's business directory service that is available to all United States and Canada business in the public and private sector. It allows business owners and executives the ability to claim their business listings and provide more detailed information for their potential customers who visit the CRWE Network everyday.
More about Crown Equity Holdings Inc. (OTCPK:CRWE) at www.crownequityholdings.com
**
Disclaimer: CRWE-PR Finance is not a registered investment adviser. This material is for informational purposes only and should not be construed as an offer or solicitation of an offer to buy or sell securities. Investors should always conduct their own due diligence with any potential investment, with independent research and other professional advice. Read Full Disclaimer at CRWE-PR Finance www.finance.crwe-pr.com/disclaimer
Disclosure: The author has no positions in any stocks mentioned, and no plans to initiate any positions within the next 72 hours.