Atossa Genetics, Inc. (NASDAQ:ATOS)
Shares of ATOS soared on Monday's trading session, after the company said that it has signed an agreement with Thermo Fisher Scientific for distribution of ATOS' FullCYTE Breast Aspirator device in the United States through the Fisher HealthCare channel.
ATOS' FullCYTE Breast Aspirator is used by physicians and nurses to collect nipple aspirate fluid from a patient's breasts for cytological analysis.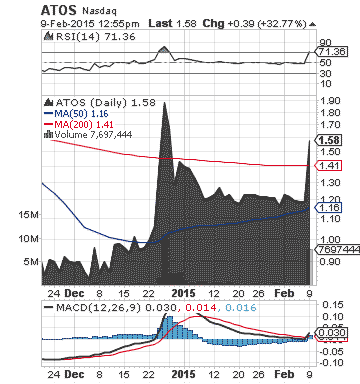 ATOS is focused on improving breast health through the development of laboratory services, medical devices and therapeutics.
More about Atossa Genetics, Inc. (ATOS) at www.atossagenetics.com
**

Conn's Inc. (NASDAQ:CONN)
CONN was upgraded from Hold to Buy with a price target of $33.00 per share by brokerage firm Stifel.
CONN recently reported $93.6 million in total retail net sales for the month ended January 31, 2015, a 16.8% increase year over year. For the three months ended January 31, 2015, CONN's total retail net sales were $350.5 million, a 16.2% increase compared to the same period the prior year.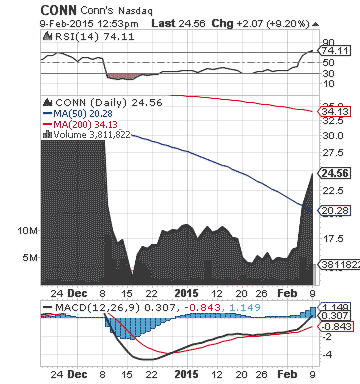 CONN is a specialty retailer of durable consumer goods and related services currently operating approximately 90 retail locations in Arizona, Colorado, Louisiana, Mississippi, Nevada, New Mexico, North Carolina, Oklahoma, South Carolina, Tennessee and Texas
More about Conn's Inc. (CONN) at www.conns.com
**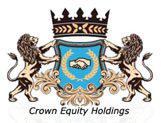 Crown Equity Holdings Inc. (OTCPK:CRWE)
CRWE provides marketing solutions that boost customer awareness and merchant visibility on the Internet. The company is currently developing its CRWE Network ( www.CRWE-PR.com ), a growing network of community targeted sites.
It has recently included the City of Inglewood, CA ( www.inglewood.crwe-pr.com ) into the CRWE Network.
Inglewood is located in Los Angeles County, in Southern California, approximately fifteen minutes from the Pacific Ocean. Inglewood's proximity to the airport, the Los Angeles and Long Beach Harbors, and four major freeways facilitate both domestic and international trade.
The City of Inglewood had an estimated population in 2013 (U.S. Census Bureau) of 111,542, and represents an important marketplace for the CRWE Network, which business model is based on selling advertising to businesses targeting both locally and nationally
The CRWE Network has reached the 1487th community website in the U.S. and includes coverage in the states of California, Mississippi, Michigan, Florida, Nevada and New York, as well as across 10 provinces in Canada.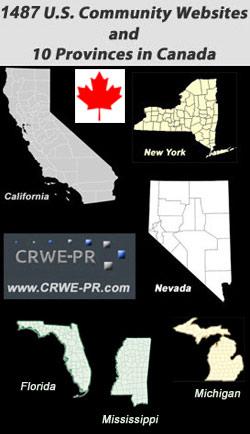 The CRWE-PR Business Directory portal ( www.BusinessDirectory.crwe-pr.com ) is the company's business directory service that is available to all United States and Canada business in the public and private sector. It allows business owners and executives the ability to claim their business listings and provide more detailed information for their potential customers who visit the CRWE Network everyday.
More about Crown Equity Holdings Inc. (OTCPK:CRWE) at www.crownequityholdings.com
**
Disclaimer: CRWE-PR Finance is not a registered investment adviser. This material is for informational purposes only and should not be construed as an offer or solicitation of an offer to buy or sell securities. Investors should always conduct their own due diligence with any potential investment, with independent research and other professional advice. Read Full Disclaimer at CRWE-PR Finance www.finance.crwe-pr.com/disclaimer
Disclosure: The author has no positions in any stocks mentioned, and no plans to initiate any positions within the next 72 hours.