Ballard Power Systems Inc. (NASDAQ:BLDP)
Shares of BLDP soared more than 50% in early trade on Wednesday, following the announcement that the company has entered into a Technology Solutions transaction with Volkswagen Group, a leading global automotive manufacturer, for an aggregate amount of approximately $80 million for the transfer of certain automotive-related fuel cell intellectual property (NYSE:IP) and a two-year extension of an engineering services contract.
BLDP will retain a royalty-free license to utilize the IP transferred to Volkswagen Group in bus and non-automotive applications as well as for certain limited pre-commercial purposes in automotive applications.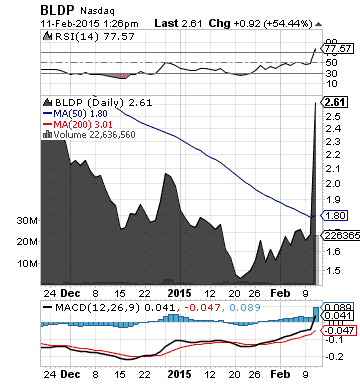 BLDP provides clean energy products that reduce customer costs and risks, and helps customers solve difficult technical and business challenges in their fuel cell programs.
More about Ballard Power Systems Inc. (BLDP) at www.ballard.com
**

USA Truck Inc. (NASDAQ:USAK)
USAK stock reached a new 52-week high on Wednesday's intraday trading, after the company delivered record quarterly earnings per share on its financial report, as a result of its company-wide focus on operational execution, profitable growth and cost effectiveness.
For the fourth quarter 2014, USAK posted total base revenue of $125.8 million, a 10.7% increase year over year, and consolidated net income of $4.2 million, or $0.40 per diluted share, compared to a net loss of ($4.6) million, or ($0.45) per diluted share, better than the Capital IQ Consensus Estimate of $0.18 per share on revenues of $150.07 million for the period
These results represent USAK's ninth consecutive quarter of improved results, its third consecutive quarter of positive operating income, and the Company's highest quarterly earnings per share in more than nine years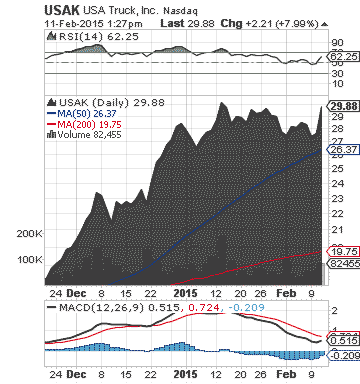 USAK is a transportation and logistics provider. Its Strategic Capacity Solutions and Intermodal service offerings provide customized transportation solutions using sophisticated technological tools and multiple modes of transportation.
More about USA Truck Inc. (USAK) at www.usa-truck.com
**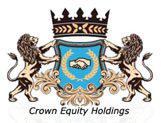 Crown Equity Holdings Inc. (OTCPK:CRWE)
CRWE provides marketing solutions that boost customer awareness and merchant visibility on the Internet. The company is currently developing its CRWE Network ( www.CRWE-PR.com ), a growing network of community targeted sites.
It has recently included the City of Ventura, CA ( www.ventura.crwe-pr.com ) into the CRWE Network.
Ventura (officially the City of San Buenaventura) is the seat of Ventura County, California. It is located about 60 miles north of Los Angeles.
The City of Ventura had an estimated population in 2013 (U.S. Census Bureau) of 108,817, and represents an important marketplace for the CRWE Network, which business model is based on selling advertising to businesses targeting both locally and nationally
The CRWE Network has reached the 1487th community website in the U.S. and includes coverage in the states of California, Mississippi, Michigan, Florida, Nevada and New York, as well as across 10 provinces in Canada.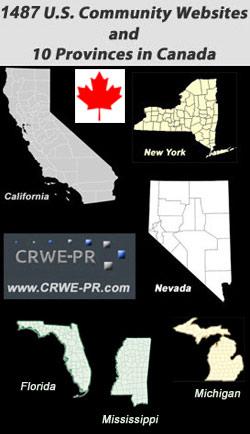 The company's division CRWE Tube ( www.crwetube.com ) is expected to be integrated in all the CRWE Network
More about Crown Equity Holdings Inc. (OTCPK:CRWE) at www.crownequityholdings.com
**
Disclaimer: CRWE-PR Finance is not a registered investment adviser. This material is for informational purposes only and should not be construed as an offer or solicitation of an offer to buy or sell securities. Investors should always conduct their own due diligence with any potential investment, with independent research and other professional advice. Read Full Disclaimer at CRWE-PR Finance www.finance.crwe-pr.com/disclaimer
Disclosure: The author has no positions in any stocks mentioned, and no plans to initiate any positions within the next 72 hours.