Shares of Eagle Pharmaceuticals Inc. (NASDAQ:EGRX) soared to a new 52-week high on Tuesday's trading session, after the company reported an exclusive license agreement for EP-3102, the company's bendamustine hydrochloride (HCl) rapid infusion product for the treatment of chronic lymphocytic leukemia (CLL) and indolent B-cell non-Hodgkin lymphoma (NHL), with Teva Pharmaceutical Industries Ltd. (NYSE:TEVA), a leading global pharmaceutical company
TEVA will be responsible for all U.S. commercial activities for the product including promotion and distribution. EGRX has responsibility for obtaining all regulatory approvals, conducting post-approval clinical studies, if required, and initially supplying drug product to TEVA.
As part of the deal, TEVA will waive its orphan drug exclusivities for NHL and CLL with respect to EP-3102, which should allow the product to come to market more quickly. Under the terms of the exclusive license agreement, EGRX will receive an upfront cash payment of $30 million and is eligible to receive up to $90 million in additional milestone payments. In addition, EGRX will receive double-digit royalties on net sales of the product, assuming FDA approval.
The companies will also settle the pending patent infringement action between them in the United States District Court for the District of Delaware involving TEVA's U.S. Patent No. 8,791,270.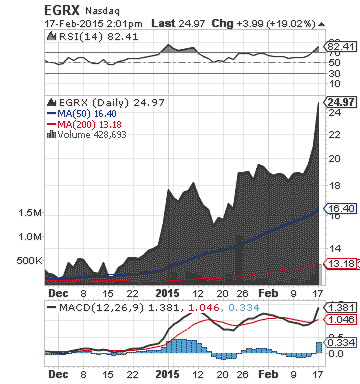 EGRX is a specialty pharmaceutical company focused on developing and commercializing injectable products that address the shortcomings, as identified by physicians, pharmacists and other stakeholders, of existing commercially successful injectable products.
More about Eagle Pharmaceuticals Inc. (EGRX) at www.eagleus.com
**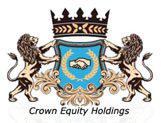 Crown Equity Holdings Inc. (OTCPK:CRWE)
CRWE provides marketing solutions that boost customer awareness and merchant visibility on the Internet. The company is currently developing its CRWE Network ( www.CRWE-PR.com ), a growing network of community targeted sites.
It has recently included the City of Temecula, CA ( www.temecula.crwe-pr.com ) into the CRWE Network.
Temecula is located about 86 miles southeast of Los Angeles and 60 miles north of San Diego, California. Over the past two decades, Temecula has evolved into an innovative, dynamic City and a regional economic center for Southwest Riverside County, all while retaining its small town feeling and character.
The City of Temecula had an estimated population in 2013 (U.S. Census Bureau) of 106,780, and represents an important marketplace for the CRWE Network, which business model is based on selling advertising to businesses targeting both locally and nationally
The CRWE Network has reached the 1487th community website in the U.S. and includes coverage in the states of California, Mississippi, Michigan, Florida, Nevada and New York, as well as across 10 provinces in Canada.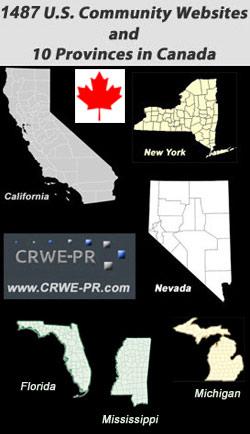 The CRWE-PR Business Directory portal ( www.BusinessDirectory.crwe-pr.com ) is the company's business directory service that is available to all United States and Canada business in the public and private sector. It allows business owners and executives the ability to claim their business listings and provide more detailed information for their potential customers who visit the CRWE Network everyday.
More about Crown Equity Holdings Inc. (OTCPK:CRWE) at www.crownequityholdings.com
**
Disclaimer: DrStockPick.com is not a registered investment adviser. This material is for informational purposes only and should not be construed as an offer or solicitation of an offer to buy or sell securities. Investors should always conduct their own due diligence with any potential investment, with independent research and other professional advice. Read Full Disclaimer at DrStockPick.com www.drstockpick.com/disclaimer
Disclosure: The author has no positions in any stocks mentioned, and no plans to initiate any positions within the next 72 hours.