Xinyuan Real Estate Co., Ltd. (NYSE:XIN)
Shares of XIN soared nearly 22% on Friday's trading session, after the company delivered significant sales and earnings growth quarter-over-quarter on its financial results
According to XIN, its anticipated revenue and profit recognition for 2014 was back-end loaded, with the fourth quarter alone contributing 39%, 39% and 49% to total 2014 revenue, contract sales and net income respectively.
For the fourth quarter 2014, XIN posted total revenues of $362.9 million, a 121.8% increase sequentially, and net income of $23.8 million, or $0.34 per diluted American Depositary Share (NYSE:ADS), compared to net income of $7.8 million, or $0.10 per diluted ADS in the previous quarter.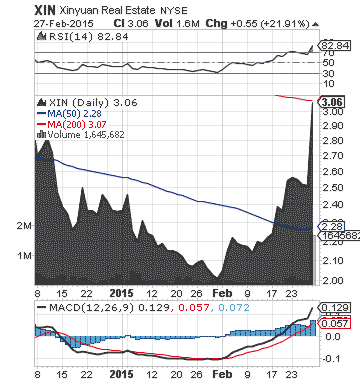 XIN is a developer of large scale, high quality residential real estate projects aimed at providing middle-income consumers with a comfortable and convenient community lifestyle.
More about Xinyuan Real Estate Co., Ltd. (XIN) at www.xyre.com
**

TCP International Holdings Ltd. (NYSE:TCPI)
TCPI stock touched its 52-week lowest level of $2.60 per share in intraday trading on Friday, after the company reported that claims were filed in Cuyahoga County, Ohio against TCPI and its CEO, Ellis Yan, alleging misconduct by the CEO and related matters.
TCPI said that it is currently in the process of evaluating these claims and intends to vigorously defend itself.
TCPI closed at $2.74 per share, down $3.67 (or -57.25%).
TCPI is a leading global manufacturer and distributor of energy efficient lighting technologies.
More about TCP International Holdings Ltd. (TCPI) at www.tcpi.com
**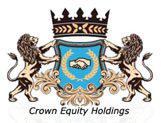 Crown Equity Holdings Inc. (OTCPK:CRWE) is currently developing its CRWE Network ( www.CRWE-PR.com ), a growing network of community targeted sites.
It has recently included the City of South Gate, CA ( www.southgate.crwe-pr.com ) into the CRWE Network.
South Gate is the 59th largest city in California, and the 16th largest city in Los Angeles County. It is located 7 miles (11 km) southeast of downtown Los Angeles.
The City of South Gate had an estimated population in 2013 (U.S. Census Bureau) of 95,677, and represents an important marketplace for the CRWE Network, which business model is based on selling advertising to businesses targeting both locally and nationally
The CRWE Network has reached the 1487th community website in the U.S. and includes coverage in the states of California, Mississippi, Michigan, Florida, Nevada and New York, as well as across 10 provinces in Canada.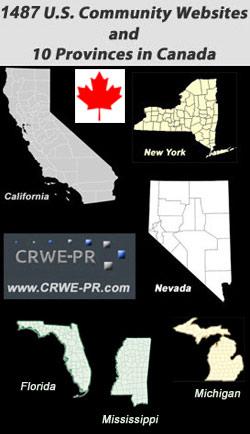 CRWE provides marketing solutions that boost customer awareness and merchant visibility on the Internet.
More about Crown Equity Holdings Inc. (OTCPK:CRWE) at www.crownequityholdings.com
**
Disclaimer: CRWE-PR Finance is not a registered investment adviser. This material is for informational purposes only and should not be construed as an offer or solicitation of an offer to buy or sell securities. Investors should always conduct their own due diligence with any potential investment, with independent research and other professional advice. Read Full Disclaimer at CRWE-PR Finance www.finance.crwe-pr.com/disclaimer
Disclosure: The author has no positions in any stocks mentioned, and no plans to initiate any positions within the next 72 hours.