Novogen Limited (NVGN)
Shares of NVGN touched an increase in value of more than 50% in extended-hours trading on Tuesday, after the company confirmed that its TRXE-009 is showing the potential to become an important new therapy in the fight against adult and pediatric brain cancer, based on findings from studies conducted at the Feinstein Institute for Medical Research, the research branch of North Shore-LIJ Health System.
The latest study looked at the ability of NVGN's TRXE-009 to kill a library of patient-derived cell cultures from subjects with glioblastoma multiform (GBM). These stem-like cancer cells are believed to be responsible for chemotherapy resistance and tumor recurrence, so killing these highly-resistant GBM cancer stem cell is considered to be a fundamental requirement to successfully treating this highly destructive diseas
According to NVGN, all patient derived cancer cells represented in the library responded to TRXE-009 at clinically relevant doses, suggesting a strong therapeutic potential.
These findings, together with other results from recently announced pre-clinical studies, suggest that NVGN's TRXE-009 is a unique drug candidate in preferentially targeting tumors with a common embryonic origin in neural/neural crest cells.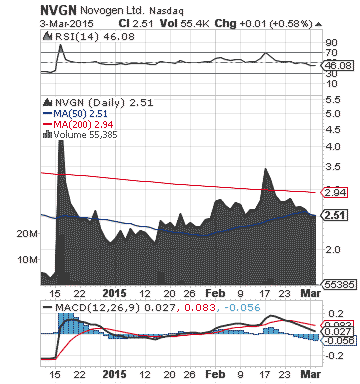 NVGN is engaged in the pharmaceutical research and development business in Australia. NVGN group includes US-based CanTx Inc, a joint venture company with Yale University
More about Novogen Limited (NVGN) at www.novogen.com
**

eFuture Information Technology Inc. (NASDAQ:EFUT)
After the closing bell on Tuesday, EFUT reported a strong performance in its quarterly financial results, with numbers exceeding guidance.
For the fourth quarter 2014, EFUT posted total revenue of RMB129.5 million (US$20.9 million), a 44% increase year over year, and non-GAAP net income of RMB25.2 million (US$4.1 million), or RMB5.85 (US$0.94) earnings per diluted share, compared to non-GAAP net income of RMB6.2 million, or RMB1.45 earnings per diluted share in the same period the prior year
EFUT said that myStore registered user base increased to 1.5 million by the end of December 2014, while its software business returned to growth in the year.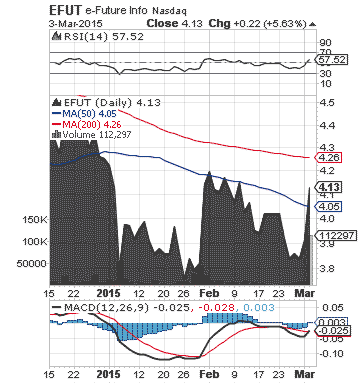 EFUT is a leading provider of software and mobile social shopping network services to China's rapidly growing retail and consumer goods industries. EFUT's myStore is a mobile shopping social network, to connect consumers and physical stores.
More about eFuture Information Technology Inc. (EFUT) at www.e-future.com.cn
**

NeoPhotonics Corporation (NYSE:NPTN)
NPTN delivered record fourth quarter revenue and achieved profitability on both a GAAP and non-GAAP basis in its financial results, as a direct result of the company's focus on cost control and product portfolio optimization
For the fourth quarter 2014, NPTN posted revenue of $79.0 million, a 6.2% increase year over year, and non-GAAP net income of $6.3 million, or $0.19 per diluted share, compared to a non-GAAP net loss of ($1.8) million, or ($0.06) per diluted share in the same period the prior year, these results better than the analysts' consensus estimate of ($0.05) loss per share on revenue of $77.30 million for the period
NPTN expects revenue in the range of $75 million to $81 million for the first quarter 2015.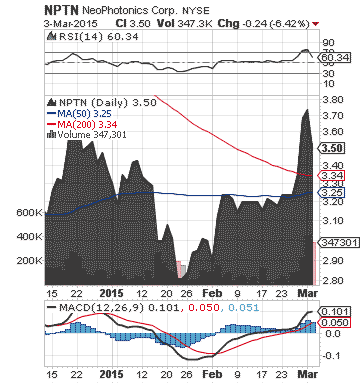 NPTN is a leading designer and manufacturer of hybrid photonic integrated optoelectronic modules and subsystems for bandwidth-intensive, high-speed communications networks.
More about NeoPhotonics Corporation (NPTN) at www.neophotonics.com.
**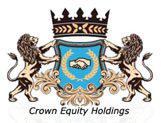 Crown Equity Holdings Inc. (OTCPK:CRWE)
The company is currently developing its CRWE Network ( www.CRWE-PR.com ), a growing network of community targeted sites.
It has recently included the City of Carson, CA ( www.carson.crwe-pr.com ) into the CRWE Network.
Carson is located in Los Angeles County, California, 13 miles south of downtown Los Angeles. While Carson is well known as an industrial center with unparalleled access to transportation and the Pacific Rim, it is also a culturally diverse community that is attractive place to live and work
The City of Carson had an estimated population in 2013 (U.S. Census Bureau) of 92,599, and represents an important marketplace for the CRWE Network, which business model is based on selling advertising to businesses targeting both locally and nationally
The CRWE Network has reached the 1487th community website in the U.S. and includes coverage in the states of California, Mississippi, Michigan, Florida, Nevada and New York, as well as across 10 provinces in Canada.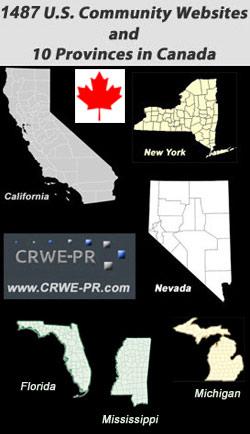 The company's CRWE Real Estate ( www.CRWERealEstate.com ) is expected to be integrated in all the CRWE Network. It will allow people to submit their listings for exposure to visitors searching for homes.
CRWE provides marketing solutions that boost customer awareness and merchant visibility on the Internet.
More about Crown Equity Holdings Inc. (OTCPK:CRWE) at www.crownequityholdings.com
**
Disclaimer: CRWE-PR Finance is not a registered investment adviser. This material is for informational purposes only and should not be construed as an offer or solicitation of an offer to buy or sell securities. Investors should always conduct their own due diligence with any potential investment, with independent research and other professional advice. Read Full Disclaimer at CRWE-PR Finance www.finance.crwe-pr.com/disclaimer
Disclosure: The author has no positions in any stocks mentioned, and no plans to initiate any positions within the next 72 hours.