Roundy's, Inc. (NYSE:RNDY)
After the closing bell on Wednesday, RNDY delivered better-than-expected profit and revenue numbers in its quarterly financial results.
For the fourth quarter 2014, RNDY posted net sales from continuing operations of $1.08 billion, a 26.1% increase year over year, and adjusted net income from continuing operations (excluding non-recurring items) of $3.5 million, or $0.07 per diluted share, exceeding the Capital IQ Consensus Estimate of $0.03 earnings per share on revenue of $1.06 for the period
RNDY said that it remains confident in its ability to implement the company's strategic operational initiatives designed to optimize its long-term performance.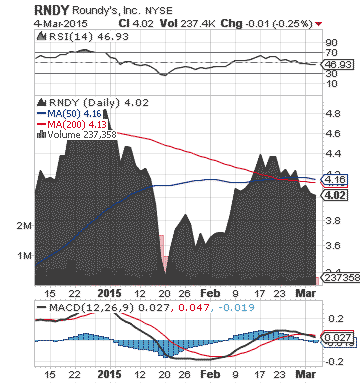 RNDY operates retail grocery stores throughout Wisconsin and in the greater Chicago area.
More about Roundy's, Inc. (RNDY) at www.roundys.com
**

Heritage Insurance Holdings, Inc. (NYSE:HRTG)
Shares of HRTG touched a new all-time high in after-hours trading on Wednesday, following the release of the company's earnings report.
For the fourth quarter 2014, HRTG posted total revenue of $85.4 million, a 158% increase year over year, and net income of $19.7 million, or $0.66 per diluted share, compared to net income of $0.8 million, or $0.05 per diluted share in the same quarter the prior year, topping the Capital IQ Consensus Estimate of $0.43 earnings per share for the period
HRTG's book value per share increased 49.4% at December 31, 2014 compared to the prior year.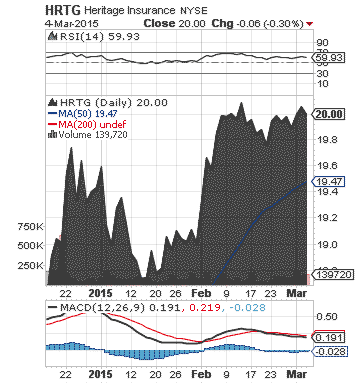 HRTG is a property and casualty insurance holding company.
More about Heritage Insurance Holdings, Inc. (HRTG) at www.heritagepci.com
**

Pacific Ethanol, Inc. (NASDAQ:PEIX)
The price of PEIX stock surged more than 11% in extended-hours trading after the company reported stronger-than-expected quarterly earnings in its financial results
For the fourth quarter 2014, PEIX posted net sales of $256.2 million, a 19% increase year over year, and adjusted net earnings of $10.0 million, or $0.41 per diluted share, better than the Capital IQ Consensus Estimate of $0.18 earnings per share for the period
For the full year 2014, PEIX posted record net sales of $1.1 billion, record operating income of $91.4 million, and record adjusted EBITDA of $95.0 million, these results are a culmination of numerous efficiency and debt reduction initiatives PEIX implemented over the past several years combined with strong market fundamentals
PEIX is looking to become the fifth largest ethanol producer and marketer in the country by reinvesting in its production assets and pursuing a merger with Aventine that will redefine PEIX's competitive position in the ethanol industry.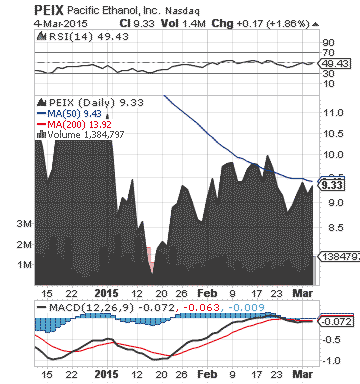 PEIX is the leading producer and marketer of low-carbon renewable fuels in the Western United States.
More about Pacific Ethanol, Inc. (PEIX) at www.pacificethanol.com
**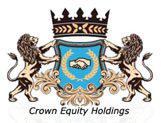 Crown Equity Holdings Inc. (OTCPK:CRWE)
CRWE provides marketing solutions that boost customer awareness and merchant visibility on the Internet. The company is currently developing its CRWE Network ( www.CRWE-PR.com ), a growing network of community targeted sites.
It has recently included the City of Santa Monica, CA ( www.santamonica.crwe-pr.com ) into the CRWE Network.
Santa Monica is a beachfront city in western Los Angeles County, California. It is home to many Hollywood celebrities and executives and is a mixture of affluent single-family neighborhoods, renters, surfers, professionals, and students.
The City of Santa Monica had an estimated population in 2013 (U.S. Census Bureau) of 92,472, and represents an important marketplace for the CRWE Network, which business model is based on selling advertising to businesses targeting both locally and nationally
The CRWE Network has reached the 1487th community website in the U.S. and includes coverage in the states of California, Mississippi, Michigan, Florida, Nevada and New York, as well as across 10 provinces in Canada.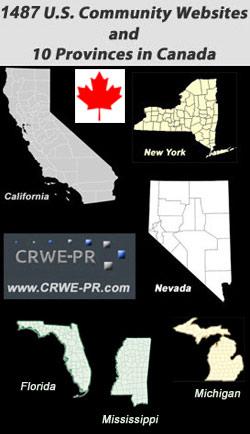 The company's division CRWE Tube ( www.crwetube.com ) is expected to be integrated in all the CRWE Network
More about Crown Equity Holdings Inc. (OTCPK:CRWE) at www.crownequityholdings.com
**
Disclaimer: CRWE-PR Finance is not a registered investment adviser. This material is for informational purposes only and should not be construed as an offer or solicitation of an offer to buy or sell securities. Investors should always conduct their own due diligence with any potential investment, with independent research and other professional advice. Read Full Disclaimer at CRWE-PR Finance www.finance.crwe-pr.com/disclaimer
Disclosure: The author has no positions in any stocks mentioned, and no plans to initiate any positions within the next 72 hours.