Life Time Fitness, Inc. (NYSE:LTM)
Shares of LTM soared to new high levels in early trading on Friday, following media reports indicating that it is in advanced negotiations with private-equity firms regarding a possible bid for the company.
LTM recently reported revenue of $315.3 million and net income (adjusted for non-recurring costs) of $27.0 million, or $0.71 per diluted share for the fourth quarter 2014.
On intraday trading, LTM stock reached a new all-time high of $69.13 per share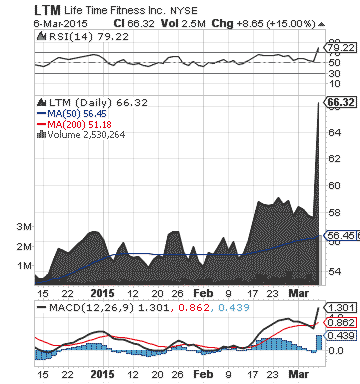 LTM operates over 110 fitness centers around the United States and Canada, most of which operate 24 hours a day. It offers the best features of gyms, health clubs, family recreation centers, sports clubs and spa destinations.
More about Life Time Fitness, Inc. (LTM) at www.lifetimefitness.com
**

Cooper Companies Inc. (NYSE:COO)
COO touched a new lifetime high of $181.98 per share during intraday trading on Friday, after the company delivered stronger-than-expected profit numbers in its quarterly financial results.
For its first quarter fiscal 2015, COO posted revenue of $445.2 million, a 10% increase year over year, and non-GAAP diluted earnings per share of $1.75, up $0.17 or 11% versus the same quarter the prior year, and better than the Capital IQ Consensus Estimate of $1.55 earnings per share for the period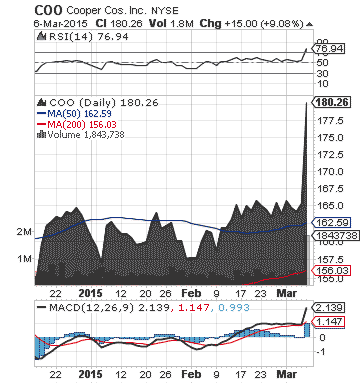 COO is a global medical device company. It operates through two business units, CooperVision and CooperSurgical.
CooperVision brings a refreshing perspective on vision care with a commitment to developing a wide range of high-quality products for contact lens wearers and providing focused practitioner support. CooperSurgical focuses on supplying women's health clinicians with market leading products and treatment options to improve the delivery of healthcare to women.
More about Cooper Companies Inc. (COO) at www.coopercos.com
**

Foot Locker, Inc. (NYSE:FL)
The price of FL stock attained a new all-time intraday trading high of of $59.85 per share in Friday's market activity, following the release of the company's earnings report, highlighted by strong top-line performance.
For the fourt quarter 2014, FL posted total sales of $1.91 billion, a 6.7% increase year over year, and non-GAAP net income of $144 million, or $1.00 per diluted share, compared to non-GAAP net income of $122 million, or $0.82 per diluted share in the same period the prior year, topping the Capital IQ Consensus Estimate of $0.91 earnings per share on revenue of $1.87 billion for the period
In 2014 FL generated its fifth consecutive double-digit percentage increase in annual earnings per share and its fourth consecutive year of record earnings as Foot Locker, Inc.
FL is a leading global retailer of athletically inspired shoes and apparel
More about Foot Locker, Inc. (FL) at www.footlocker-inc.com
**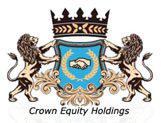 Crown Equity Holdings Inc. (OTCPK:CRWE) is currently developing its CRWE Network ( www.CRWE-PR.com ), a growing network of community targeted sites.
It has recently included the City of Westminster, CA ( www.westminster.crwe-pr.com ) into the CRWE Network.
Westminster is located in Orange County, California. It is bordered by Huntington Beach, Garden Grove, Seal Beach and Fountain Valley.
The City of Westminster had an estimated population in 2013 (U.S. Census Bureau) of 91,739, and represents an important marketplace for the CRWE Network, which business model is based on selling advertising to businesses targeting both locally and nationally
The CRWE Network has reached the 1487th community website in the U.S. and includes coverage in the states of California, Mississippi, Michigan, Florida, Nevada and New York, as well as across 10 provinces in Canada.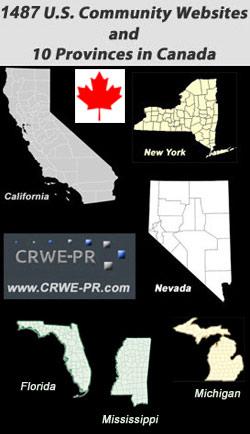 CRWE provides marketing solutions that boost customer awareness and merchant visibility on the Internet.
More about Crown Equity Holdings Inc. (OTCPK:CRWE) at www.crownequityholdings.com
**
Disclaimer: CRWE-PR Finance is not a registered investment adviser. This material is for informational purposes only and should not be construed as an offer or solicitation of an offer to buy or sell securities. Investors should always conduct their own due diligence with any potential investment, with independent research and other professional advice. Read Full Disclaimer at CRWE-PR Finance www.finance.crwe-pr.com/disclaimer
Disclosure: The author has no positions in any stocks mentioned, and no plans to initiate any positions within the next 72 hours.