Red Hat, Inc. (NYSE:RHT)
After the closing bell on Wednesday, RHT reported solid financial results with revenue and profit numbers that exceeded analysts' expectations.
For its fourth quarter fiscal 2015, RHT posted revenue of $464 million, a 16% increase year over year, and non-GAAP adjusted net income of $81 million, or $0.43 per diluted share, compared to non-GAAP adjusted net income of $75 million, or $0.39 per diluted share in the same quarter the prior year, topping the Capital IQ Consensus Estimate of $0.41 earnings per share on revenues of $456.5 million for the period
RHT's strong fourth quarter marked its 52nd consecutive quarter of revenue growth.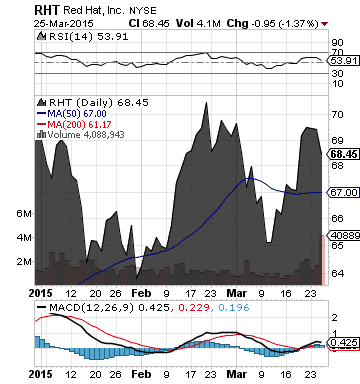 RHT is the world's leading provider of open source software solutions, using a community-powered approach to reliable and high-performing cloud, Linux, middleware, storage and virtualization technologies. RHT also offers award-winning support, training, and consulting services.
More about Red Hat, Inc. (RHT) at www.redhat.com.
**

Five Below, Inc. (NASDAQ:FIVE)
FIVE delivered strong performance and surpassed Wall Street's profit expectations in its quarterly earnings report
For its fourth quarter fiscal 2014, FIVE posted net sales of $263.8 million, a 24.4% increase year over year, and non-GAAP adjusted net income of $33.3 million, or $0.61 per diluted share, compared to non-GAAP adjusted net income of $25.8 million, or $0.47 per diluted share in the same quarter the prior year and better than the Capital IQ Consensus Estimate of $0.60 earnings per share for the period
According to its business outlook for the first quarter fiscal 2015, FIVE expects net sales to be in the range of $150 million to $152 million based on opening 18 new stores and assuming a 1.0% to 2.0% increase in comparable store sales.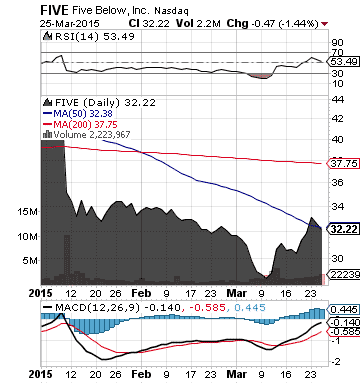 FIVE is a rapidly growing specialty value retailer offering a broad range of trend-right, high-quality merchandise, all priced at $5 and below and targeted at the teen and pre-teen customer.
More about Five Below, Inc. (FIVE) at www.fivebelow.com
**

Vical Incorporated (NASDAQ:VICL)
Shares of VICL surged more than 10% during extended-hours trading on Wednesday, after the company reported that it has added ASP2397 to its infectious disease portfolio.
Astellas Pharma Inc. has granted VICL an exclusive worldwide license to develop and commercialize ASP2397, a novel antifungal that it has demonstrated in preclinical studies faster fungicidal activity than marketed drugs and activity against azole-resistant fungal pathogens, with a low propensity for P450 drug-drug interactions.
In exchange, Astellas will receive approximately 1% stake in VICL and $250 thousand in cash. Astellas will also be eligible for up to $100 million in aggregate milestone payments, the vast majority of which are commercial and sales milestones, and single-digit royalties on net sales.
The agreement between the companies does not impact VICL's cash burn guidance, which remains at between $12 million and $15 million for 2015.
ASP2397 represents a potential new class of antifungal compounds to address invasive Aspergillus infections, which are major causes of morbidity and mortality in immunocompromised patients, including transplant recipients.
VICL intends to develop ASP2397 as a front-line therapy for invasive aspergillosis and as part of combination regimen for preemptive treatment of fungal infections, which may represent a meaningful commercial opportunity within the $4 billion global market for systemic antifungals.
According to VICL, current treatment options have limited efficacy, as approximately 50-60% of allogeneic hematopoietic stem cell transplant recipients with invasive aspergillosis infections die within 12 weeks. Over the past 30 years, only one new class of antifungal drugs (echinocandins) has been introduced.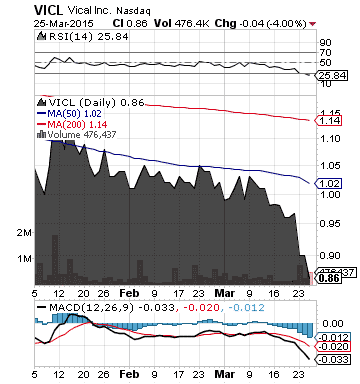 VICL develops biopharmaceutical products for the prevention and treatment of chronic or life-threatening infectious diseases, based on its patented DNA delivery technologies and other therapeutic approaches.
More about Vical Incorporated (VICL) at www.vical.com.
**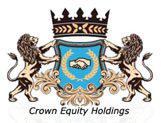 Crown Equity Holdings Inc. (OTCPK:CRWE)
The company is currently developing its CRWE Network ( www.CRWE-PR.com ), a growing network of community targeted sites.
It has recently included the City of Indio, CA ( www.indio.crwe-pr.com ) into the CRWE Network.
Indio is located in Riverside County, California, in the Coachella Valley of Southern California's Colorado Desert region. Two major contributions to the local economy are year-round agriculture and tourism, although the majority of tourist activity is seasonal between October and May
The City of Indio had an estimated population in 2013 (U.S. Census Bureau) of 83,539, and represents an important marketplace for the CRWE Network, which business model is based on selling advertising to businesses targeting both locally and nationally
The CRWE Network has reached the 1487th community website in the U.S. and includes coverage in the states of California, Mississippi, Michigan, Florida, Nevada and New York, as well as across 10 provinces in Canada.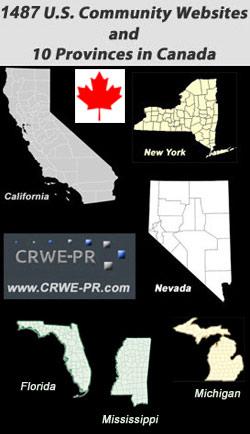 The company's CRWE Real Estate ( www.CRWERealEstate.com ) is expected to be integrated in all the CRWE Network. It will allow people to submit their listings for exposure to visitors searching for homes.
CRWE provides marketing solutions that boost customer awareness and merchant visibility on the Internet.
More about Crown Equity Holdings Inc. (OTCPK:CRWE) at www.crownequityholdings.com
**
Disclaimer: CRWE-PR Finance is not a registered investment adviser. This material is for informational purposes only and should not be construed as an offer or solicitation of an offer to buy or sell securities. Investors should always conduct their own due diligence with any potential investment, with independent research and other professional advice. Read Full Disclaimer at CRWE-PR Finance www.finance.crwe-pr.com/disclaimer
Disclosure: The author has no positions in any stocks mentioned, and no plans to initiate any positions within the next 72 hours.