Glu Mobile, Inc. (NASDAQ:GLUU)
Shares of GLUU soared in extended-hours trading Wednesday after the company delivered quarterly profit and revenue well above analysts' expectations, driven by the ongoing traction of Kim Kardashian: Hollywood, Racing Rivals, Deer Hunter 2014, and Contract Killer: Sniper.
For the first quarter 2015, GLUU posted non-GAAP revenue of $62.4 million, a 33% increase year over year, and non-GAAP net income (excluding non-recurring items) of $2.1 million, or $0.02 per diluted share, down from the same time last year, but better than the Capital IQ Consensus Estimate of ($0.01) loss per share on revenues of $51.7 million for the period.
For the full year 2015, GLUU expects non-GAAP revenues to be in the range of $262.0 million to $287.0 million and projects to have cash and short-term investments at December 31, 2015 of at least $207.0 million with no debt.
It also announced a strategic relationship with Tencent Holdings Limited - arguably Asia's largest internet company and the world's largest gaming company - to drive operating synergies in China and the West for GLUU.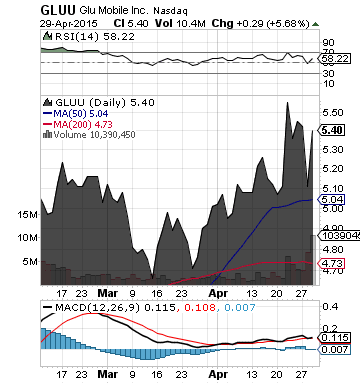 GLUU is a leading global developer and publisher of free-to-play games for smartphone and tablet devices.
More about Glu Mobile, Inc. at www.glu.com.
**

AAC Holdings, Inc. (NASDAQ:AAC)
After the closing bell on Wednesday, AAC reported strong operating metrics in its quarterly financial results
For the first quarter 2015, AAC posted revenues of $42.8 million, a 42.19% increase year over year, and non-GAAP net income of $3.2 million, or $0.15 per diluted share, compared to $1.0 million, or $0.07 per diluted share in the same quarter the prior year, topping the Capital IQ Consensus Estimate of $0.10 earnings per share on revenues of $38.83 million for the period
AAC's revenues for the full year 2015 are expected to be in a range of $175.0 million to $180.0 million and its non-GAAP earnings per diluted share are expected to be in the range of $0.62 to $0.66.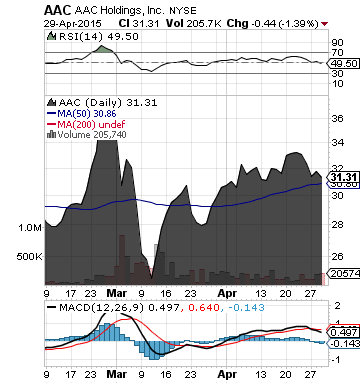 AAC is a leading provider of inpatient substance abuse treatment services. The company treats adults as well as adolescents who are struggling with drug addiction, alcohol addiction, and co-occurring mental or behavioral health issues.
More about AAC Holdings, Inc. at www.americanaddictioncenters.com
**

Salesforce.com, Inc. (NYSE:CRM)
Keep a close eye on CRM. Reports are in the street indicating that the company has hired investment advisors to field "takeover offers" after being approached by a potential acquirer.
Meanwhile, CRM said that its first quarter fiscal 2016 results will be released on Wednesday, May 20, 2015, after the close of the market.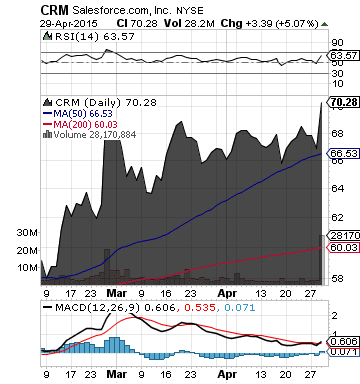 CRM, the Customer Success Platform, empowers companies to connect with their customers in a whole new way. CRM's industry-leading customer platform has become the world's leading enterprise cloud ecosystem.
More about Salesforce.com, Inc. at www.salesforce.com
**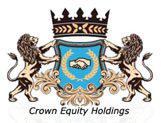 Crown Equity Holdings Inc. (OTCPK:CRWE)
The company is currently developing its CRWE Network ( www.CRWE-PR.com ), a growing network of community targeted sites.
It has recently included the City of La Habra, CA ( www.lahabra.crwe-pr.com ) into the CRWE Network.
La Habra is located in the northwestern corner of Orange County, California. It is conveniently located within an hour's drive of many beaches, mountain, and desert recreation areas.
The City of La Habra had an estimated population in 2013 (U.S. Census Bureau) of 61,653, and represents an important marketplace for the CRWE Network, which business model is based on selling advertising to businesses targeting both locally and nationally
The CRWE Network has reached the 1487th community website in the U.S. and includes coverage in the states of California, Mississippi, Michigan, Florida, Nevada and New York, as well as across 10 provinces in Canada.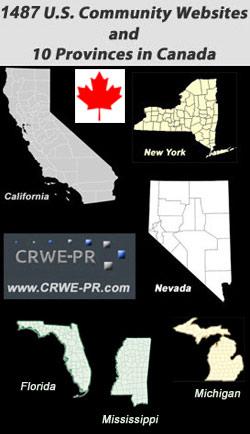 The company's CRWE Real Estate ( www.CRWERealEstate.com ) is expected to be integrated in all the CRWE Network. It will allow people to submit their listings for exposure to visitors searching for homes.
CRWE provides marketing solutions that boost customer awareness and merchant visibility on the Internet.
More about Crown Equity Holdings Inc. at www.crownequityholdings.com
**
Disclaimer: CRWE-PR Finance is not a registered investment adviser. This material is for informational purposes only and should not be construed as an offer or solicitation of an offer to buy or sell securities. Investors should always conduct their own due diligence with any potential investment, with independent research and other professional advice. Read Full Disclaimer at CRWE-PR Finance www.finance.crwe-pr.com/disclaimer
Disclosure: The author has no positions in any stocks mentioned, and no plans to initiate any positions within the next 72 hours.