Ellie Mae, Inc. (NYSEMKT:ELLI)
The price of ELLI stock surged in after-hours trading Thursday to reach an all-time high as the company delivered quarterly profit and revenue numbers that exceeded Wall Street analysts' projections.
For the first quarter 2015, ELLI posted record revenue of $54.2 million, a 68.4% increase year over year, and non-GAAP net income (excluding non-recurring items) of $9.9 million, or $0.33 per diluted share, compared to non-GAAP net income of $4.6 million, or $0.16 per diluted share in the same quarter the prior year, topping the Capital IQ Consensus Estimate of $0.20 earnings per share on revenues of $46.8 million for the period.
According to its business outlook for the second quarter 2015, ELLI expects revenue to be in the range of $59.0 million to $60.0 million and non-GAAP net income to be in the range of $8.6 million to $9.3 million, or $0.28 to $0.30 per diluted share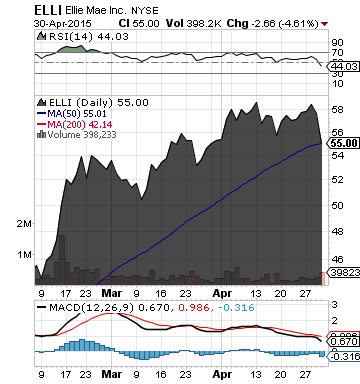 ELLI is a leading provider of innovative on-demand software solutions and services for the residential mortgage industry.
More about Ellie Mae, Inc. at www.elliemae.com
**

Skyworks Solutions, Inc. (NASDAQ:SWKS)
After the closing bell on Thursday, SWKS reported stronger-than-expected quarterly financial results.
For its second quarter fiscal 2015, SWKS posted revenue of $762.1 million, a 58.4% increase year over year, and non-GAAP net income of $224.6 million, or $1.15 per diluted share, exceeding the Capital IQ Consensus Estimate of $1.13 earnings per share on revenues of $751.82 million for the period
SWKS' Board of Directors has declared a cash dividend of $0.13 per share of the Company's common stock, payable on June 4, 2015 to stockholders of record at the close of business on May 14, 2015.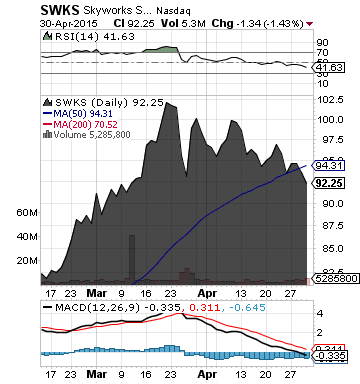 SWKS is empowering the wireless networking revolution, connecting virtually everyone and everything, all the time.
More about Skyworks Solutions, Inc. at www.skyworksinc.com.
**

Syngenta AG (NYSE:SYT)
Shares of SYT soared more than 10% during extended-hours trading Thursday following media reports indicating that it has been approached by the world's largest seed company, Monsanto Co. (NYSE:MON), to discuss a potential takeover deal.
SYT recently reported group sales of $4.0 billion for the first quarter 2015, including revenues from the Lawn and Garden segment.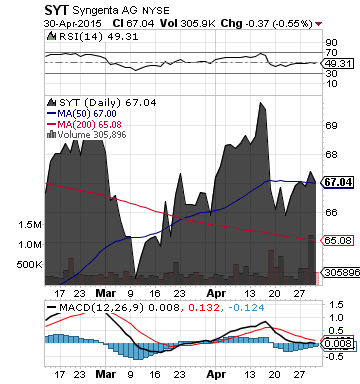 SYT, an agribusiness company, engages in the discovery, development, manufacture, and marketing of a range of products designed to enhance crop yields and food quality worldwide.
More about Syngenta AG at www.syngenta.com
**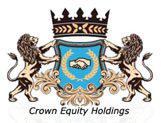 Crown Equity Holdings Inc. (OTCPK:CRWE)
CRWE provides marketing solutions that boost customer awareness and merchant visibility on the Internet. The company is currently developing its CRWE Network ( www.CRWE-PR.com ), a growing network of community targeted sites.
It has recently included Morro Bay, CA ( www.morrobay.crwe-pr.com ) into the CRWE Network.
Morro Bay is a waterfront city in San Luis Obispo County, California. It combines the fishing industry with coastal tourism. A portion of Morro Bay is also designated as a state and national bird sanctuary.
The City of Morro Bay had an estimated population in 2013 (U.S. Census Bureau) of 10,461, and represents an important marketplace for the CRWE Network, which business model is based on selling advertising to businesses targeting both locally and nationally
The CRWE Network has reached the 1487th community website in the U.S. and includes coverage in the states of California, Mississippi, Michigan, Florida, Nevada and New York, as well as across 10 provinces in Canada.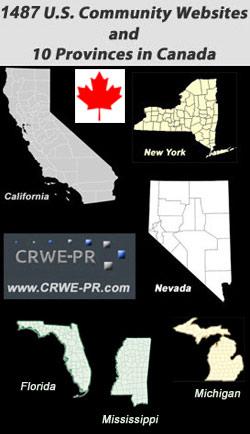 The company's division CRWE Tube ( www.crwetube.com ) is expected to be integrated in all the CRWE Network
More about Crown Equity Holdings Inc. at www.crownequityholdings.com
**
Disclaimer: CRWE-PR Finance is not a registered investment adviser. This material is for informational purposes only and should not be construed as an offer or solicitation of an offer to buy or sell securities. Investors should always conduct their own due diligence with any potential investment, with independent research and other professional advice. Read Full Disclaimer at CRWE-PR Finance www.finance.crwe-pr.com/disclaimer
Disclosure: The author has no positions in any stocks mentioned, and no plans to initiate any positions within the next 72 hours.