Nevro Corp. (NYSE:NVRO)
Keep a close eye on NVRO. The U.S. Food and Drug Administration (FDA) has approved its Senza spinal cord stimulation (NYSE:SCS) system as an aid in the management of chronic intractable pain of the trunk and/or limbs, including pain associated with failed back surgery syndrome, low back pain and leg pain.
NVRO's Senza System can reduce pain without producing a tingling sensation called paresthesia by providing high frequency stimulation (at 10 KHz) and low stimulation amplitudes. The electrical pulses are delivered by small electrodes on leads that are placed near the spinal cord and are connected to a compact, battery-powered generator implanted under the skin.
According to NVRO, the Senza system delivering the company's proprietary HF10 therapy has experienced strong adoption in Europe and Australia over the past 5 years.
NVRO will release its first quarter 2015 financial results on Monday, May 11, 2015, before the market opens.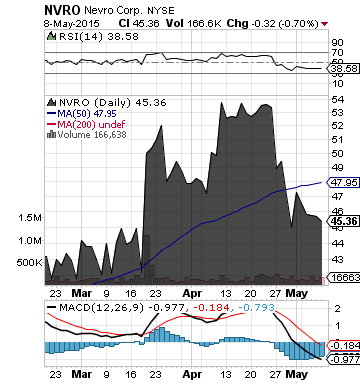 NVRO is a medical device company focused on providing innovative products that improve the quality of life of patients suffering from debilitating chronic pain.
More about Nevro Corp. at www.nevro.com.
**
Zulily, Inc. (NASDAQ:ZU)
China's e-commerce giant Alibaba Group Holding Ltd. (NYSE:BABA) disclosed in a regulatory filing with the Securities and Exchange Commission that it bought during the past week a bit more than 4.81 million shares of ZU.
Alibaba now owns 11.5 million shares of ZU, representing a 9.3% stake in the company.
For its first quarter 2015, ZU recently reported net sales of $306.6 million and non-GAAP diluted earnings per share of $0.01.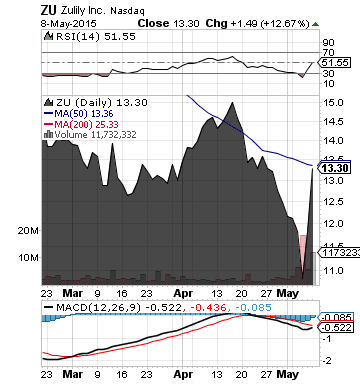 ZU operates as an online retailer in the United States, Canada, Australia, the United Kingdom, and internationally.
More about Zulily, Inc at www.zulily.com
**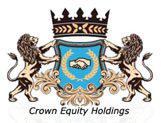 Crown Equity Holdings Inc. (OTCPK:CRWE)
CRWE provides marketing solutions that boost customer awareness and merchant visibility on the Internet. The company is currently developing its CRWE Network ( www.CRWE-PR.com ), a growing network of community targeted sites.
It has recently included Earlimart, CA ( www.earlimart.crwe-pr.com ) into the CRWE Network.
Earlimart is a census-designated place (CDP) located in Tulare County, California, about 38.1 miles from Bakersfield and 65.9 miles from Fresno.
Earlimart had an estimated population in 2010 (U.S. Census) of 8,537, and represents an important marketplace for the CRWE Network, which business model is based on selling advertising to businesses targeting both locally and nationally
The CRWE Network has reached the 1487th community website in the U.S. and includes coverage in the states of California, Mississippi, Michigan, Florida, Nevada and New York, as well as across 10 provinces in Canada.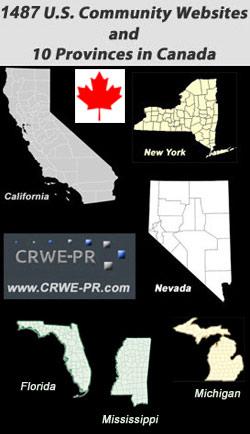 The CRWE-PR Business Directory portal ( www.BusinessDirectory.crwe-pr.com ) is the company's business directory service that is available to all United States and Canada business in the public and private sector. It allows business owners and executives the ability to claim their business listings and provide more detailed information for their potential customers who visit the CRWE Network everyday.
More about Crown Equity Holdings Inc. at www.crownequityholdings.com
**
Disclaimer: CRWE-PR Finance is not a registered investment adviser. This material is for informational purposes only and should not be construed as an offer or solicitation of an offer to buy or sell securities. Investors should always conduct their own due diligence with any potential investment, with independent research and other professional advice. Read Full Disclaimer at CRWE-PR Finance www.finance.crwe-pr.com/disclaimer
Disclosure: The author has no positions in any stocks mentioned, and no plans to initiate any positions within the next 72 hours.