Oncothyreon Inc (ONTY)
Shares of ONTY soared to reach a new 52-week high in pre-market trading Monday, after the company reported positive data from its ongoing trials of ONT-380, an orally active, reversible and selective small-molecule HER2 inhibitor for the treatment of breast cancer.
ONT-380 has been well tolerated in both Phase 1b trials, an important consideration in patients who may need prolonged therapy
According to ONTY, data from the Phase 1b trial of ONT-380 in combination with Xeloda(NYSE:R) (capecitabine) and Herceptin(R) (trastuzumab) in third line treatment of HER2-positive metastatic breast cancer support its plans to initiate a blinded, randomized, placebo-controlled Phase 2 trial in this indication, including endpoints focused on the prevention and treatment of HER2-positive breast cancer central nervous system (NYSE:CNS) metastases. ONTY also said that its trial of ONT-380 in combination with Kadcyla continues to evaluate this combination for the treatment of patients with CNS metastases.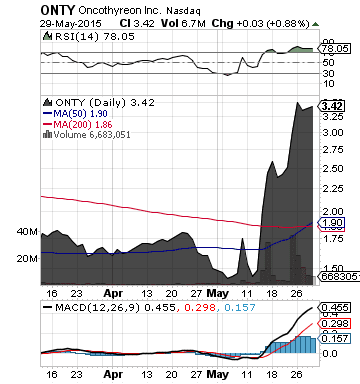 ONTY is a clinical-stage biopharmaceutical company specializing in the development of innovative therapeutic products for the treatment of cancer.
More about Oncothyreon Inc at www.oncothyreon.com
**

Exelixis Inc. (NASDAQ:EXEL)
The price of EXEL stock surged more than 10% before the opening bell Monday as the company announced positive results from the first of a two-stage phase 2 investigator-sponsored trial evaluating cabozantinib in patients with advanced RET-rearranged lung cancers.
EXEL said the study met its primary endpoint with a 38% objective response rate.
Cabozantinib inhibits the activity of tyrosine kinases including MET, VEGFRs and RET. These receptor tyrosine kinases are involved in both normal cellular function and in pathologic processes such as oncogenesis, metastasis, tumor angiogenesis, and maintenance of the tumor microenvironment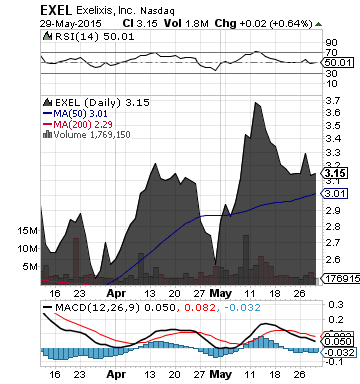 EXEL is a biopharmaceutical company committed to developing small molecule therapies for the treatment of cancer. The company is focusing its development and commercialization efforts primarily on COMETRIQ(R) (cabozantinib), its wholly-owned inhibitor of multiple receptor tyrosine kinases.
More about Exelixis Inc. at www.exelixis.com
**

Tesaro, Inc. (NASDAQ:TSRO)
Brokerage firm Mizuho has raised its price target on TSRO from $65.00 to $67.00 per share, while reiterating its Buy rating.
TSRO announced the successful completion of the rolapitant bioequivalence study. The company said that the results of this study indicate that the exposure for a 185 milligram dose of intravenous rolapitant is similar to the exposure of a 200 milligram dose of oral rolapitant
TSRO continues to expect to submit the New Drug Application for the intravenous formulation of rolapitant following the commercial launch of oral rolapitant.
Separately, TSRO and and Merck (NYSE:MRK) announced a collaboration in a Phase 1/2 clinical trial, planned to evaluate the preliminary safety and efficacy of TSRO's niraparib plus Merck's anti-PD1 therapy, KEYTRUDA(R) (pembrolizumab) in patients with triple negative breast cancer or ovarian cancer.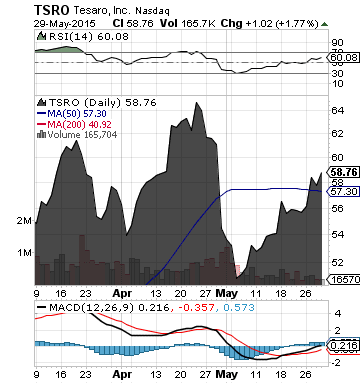 TSRO is an oncology-focused biopharmaceutical company dedicated to improving the lives of cancer patients by acquiring, developing and commercializing safer and more effective therapeutics.
More about Tesaro, Inc. at www.tesarobio.com
**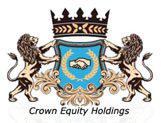 Crown Equity Holdings Inc. (OTCPK:CRWE)
CRWE has updated its business plan ( http://crownequityholdings.com/extras/Business_Plan.pdf )
The company is currently developing its CRWE PR Network, which disseminates community, state, national and global news & information and is also the portal in promoting the company's services, such as its business directory, business-to-business global trading, real estate, press release and video distribution, discounted vouchers and advertising platforms.
CRWE's growing network of community targeted sites is expected to be a one-stop shop for the various needs of consumers.
CRWE provides marketing solutions that boost customer awareness and merchant visibility on the Internet.
More about Crown Equity Holdings Inc. at www.crownequityholdings.com
**
Disclaimer: CRWE-PR Finance is not a registered investment adviser. This material is for informational purposes only and should not be construed as an offer or solicitation of an offer to buy or sell securities. Investors should always conduct their own due diligence with any potential investment, with independent research and other professional advice. Read Full Disclaimer at CRWE-PR Finance www.finance.crwe-pr.com/disclaimer
Disclosure: The author has no positions in any stocks mentioned, and no plans to initiate any positions within the next 72 hours.