Retrophin, Inc. (NASDAQ:RTRX)
Shares of RTRX touched an all-time high in after-hours trading Thursday as the company said that the U.S. Food and Drug Administration (FDA) has granted Fast Track designation for its novel investigational phosphopantothenate replacement therapy RE-024 for the treatment of pantothenate kinase-associated neurodegeneration, a rare, inherited neurological movement disorder characterized by the progressive degeneration of the nervous system, with no approved treatment currently available
Last week, RTRX announced an agreement to sell its FDA-awarded Rare Pediatric Disease Priority Review Voucher (which can be used to obtain priority review for a new drug application or biologics license application submitted later) to Sanofi (NASDAQ:SNY) for a total consideration of $245 million in cash.
RTRX posted net product sales of $17.4 million for the first quarter 2015 versus $27,900 in the same period the prior year.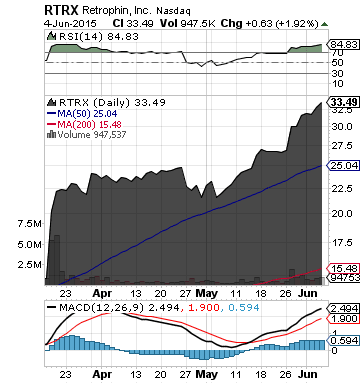 RTRX is a pharmaceutical company focused on the development, acquisition and commercialization of drugs for the treatment of serious, catastrophic or rare diseases for which there are currently no viable options for patients.
More about Retrophin, Inc. at www.retrophin.com
**

Syneron Medical Ltd. (NASDAQ:ELOS)
After the closing bell on Thursday, ELOS said that it has entered into an agreement to settle its patent infringement law suit against Viora Ltd. in the United States and a business litigation in Israel.
As part of the settlement, according to ELOS, Viora acknowledged that its Reaction product infringes the company's U.S. patent No. 6,662,054, and acknowledged the validity of the patent. Viora further agreed that for the next 12 years, it will pay ELOS royalties of 7.5% to 15%, depending on the number of systems sold by Viora on all U.S. sales of products that apply vacuum together with radio frequency energy for body contouring, cellulite reduction, skin tightening and circumferential reduction.
ELOS recently reported revenue of $63.4 million and non-GAAP net income of $0.6 million, or $0.02 per share for the first quarter 2015.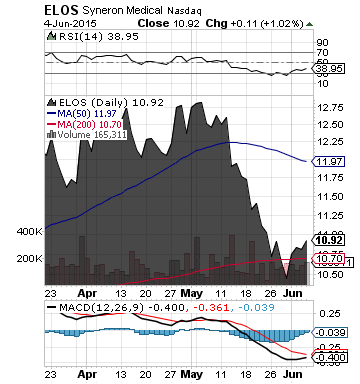 ELOS is a leading global aesthetic device company with a comprehensive product portfolio and a global distribution footprint.
More about Syneron Medical Ltd. at www.syneron-candela.com
**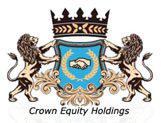 Crown Equity Holdings Inc. (OTCPK:CRWE)
CRWE provides marketing solutions that boost customer awareness and merchant visibility on the Internet.
The company is currently developing its growing network of community targeted sites CRWE PR, expected to be a one-stop shop for the various needs of consumers.

The company's CRWE Real Estate ( www.CRWERealEstate.com ) is expected to be integrated in all the CRWE PR Network. It will allow people to submit their listings for exposure to visitors searching for homes.
More about Crown Equity Holdings Inc. at www.crownequityholdings.com
**
Disclaimer: CRWE-PR Finance is not a registered investment adviser. This material is for informational purposes only and should not be construed as an offer or solicitation of an offer to buy or sell securities. Investors should always conduct their own due diligence with any potential investment, with independent research and other professional advice. Read Full Disclaimer at CRWE-PR Finance www.finance.crwe-pr.com/disclaimer
Disclosure: The author has no positions in any stocks mentioned, and no plans to initiate any positions within the next 72 hours.