Cigna Corp. (CI)
Anthem, Inc. (ANTM) said that it has submitted a non-binding proposal to acquire CI for $184 per share in cash and stock, representing the fourth and highest offer made by the nation's second-largest health insurance company, whose initial move to acquire CI on June 3 was worth $174.
CI confirmed that it has received Anthem's offer and the company's Board has unanimously determined the proposal is inadequate and not in the best interests of its shareholders.
Since implementing its "Go Deep, Go Global, Go Individual" strategy over five years ago, CI has delivered compound annual growth of 14% for revenues and 13% for adjusted income from operations.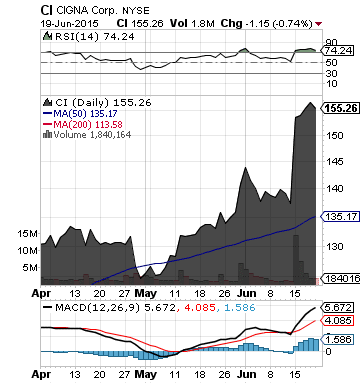 CI is a global health service company dedicated to helping people improve their health, well-being and sense of security.
More about Cigna Corp. at www.cigna.com.
**

AK Steel Holding Corp. (AKS)
After the closing bell on Friday, AKS said that it expects to report a net loss of $0.37 to $0.42 per diluted share of common stock for the second quarter of 2015.
According to AKS, its expected second quarter results continued to be negatively impacted by lower carbon steel prices due to the continued high level of what the company believes are unfairly traded imports.
AKS plans to release its second quarter 2015 financial results before the opening of trading on the New York Stock Exchange on Tuesday, July 28, 2015.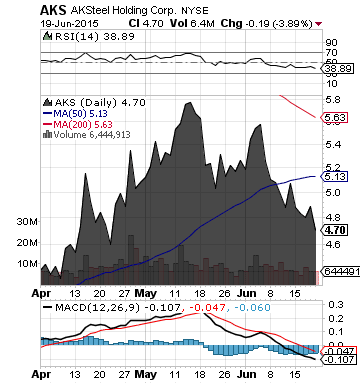 AKS is a world leader in the production of flat-rolled carbon, stainless and electrical steel products, primarily for automotive, infrastructure and manufacturing, construction and electrical power generation and distribution markets.
More about AK Steel Holding Corp. at www.aksteel.com.
**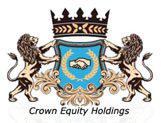 Crown Equity Holdings Inc. (OTCPK:CRWE)
CRWE provides marketing solutions that boost customer awareness and merchant visibility on the Internet.
The company is currently developing its growing network of community targeted sites CRWE PR, expected to be a one-stop shop for the various needs of consumers.
CRWE PR Network's business model is based on selling advertising to businesses targeting both locally and nationally

The company's CRWE Real Estate ( www.CRWERealEstate.com ) is expected to be integrated in all the CRWE PR Network. It will allow people to submit their listings for exposure to visitors searching for homes.
More about Crown Equity Holdings Inc. at www.crownequityholdings.com
**
Disclaimer: CRWE-PR Finance is not a registered investment adviser. This material is for informational purposes only and should not be construed as an offer or solicitation of an offer to buy or sell securities. Investors should always conduct their own due diligence with any potential investment, with independent research and other professional advice. Read Full Disclaimer at CRWE-PR Finance www.finance.crwe-pr.com/disclaimer