Juno Therapeutics Inc. (NASDAQ:JUNO)
Shares of JUNO soared more than 30% in after-hours trading Monday as the company announced a 10-year global collaboration agreement with biopharmaceutical company Celgene Corp. (NASDAQ:CELG) for the development and commercialization of immunotherapies.
As part of the deal (upon closing), JUNO will receive an upfront payment of approximately $150 million, and in addition Celgene will purchase 9,137,672 shares of JUNO's common stock at $93.00 per share, with potential to increase up to 30% its stake over time. Celgene will be responsible for development and commercialization outside of North America, and will pay JUNO a royalty on sales in those territories
JUNO and Celgene will leverage T cell therapeutic strategies to develop treatments for patients with cancer and autoimmune diseases with an initial focus on Chimeric Antigen Receptor Technology (CAR-T) and T Cell Receptor (TCR) technologies.
According to JUNO, its chimeric antigen receptor (NASDAQ:CAR) and T cell receptor technologies (TCR) genetically engineer T cells to recognize and kill cancer cells. The company's CAR T cell technology inserts a gene for a particular CAR into the T cell, enabling it to recognize cancer cells based on the expression of a specific protein located on the cell surface. Its TCR technology provides the T cells with a specific T cell receptor to recognize protein fragments derived from either the surface or inside the cell. When either type of engineered T cell engages the target protein on the cancer cell, it initiates a cell-killing response against the cancer cell.
The partnership with Celgene is a tremendous show of support for JUNO as the company battles Novartis AG (NYSE:NVS), Kite Pharma, Inc. (NASDAQ:KITE), bluebird bio, Inc. (NASDAQ:BLUE) and other companies developing therapies which use re-engineered T cells to identify and kill cancer cells.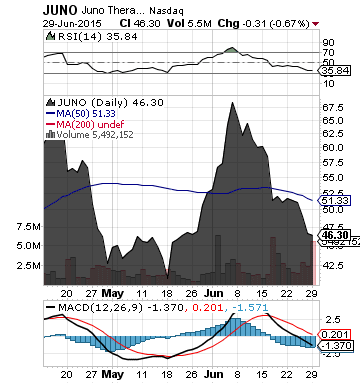 JUNO is building a fully integrated biopharmaceutical company focused on revolutionizing medicine by re-engaging the body's immune system to treat cancer.
More about Juno Therapeutics Inc. at www.junotherapeutics.com
**

Kite Pharma, Inc.
KITE is developing a pipeline of product candidates for the treatment of advanced solid and hematological malignancies using its therapeutic platform - engineered Autologous Cell Therapy (eACT(NYSE:TM)) - in which a patient's own T cells, or white blood cells, are engineered to recognize and destroy their cancer. The patient's immune system, particularly T cells, plays a critical role in identifying and killing cancer cells.
KITE's eACT(TM) technology involves the genetic engineering of T cells to express either chimeric antigen receptors , or T cell receptors (TCRs).
Shares of KITE surged more than 8.5% in the extended session Monday as a result of investors' interest in the potential big-dollar deals that could be inspired by Juno Therapeutics-Celgene mega-agreement for CAR-T/TCR technologies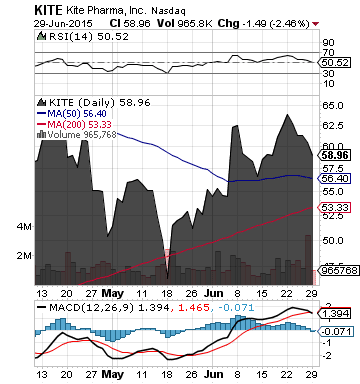 KITE is a clinical-stage biopharmaceutical company engaged in the development of novel cancer immunotherapy products, with a primary focus on engineered autologous T cell therapy (eACT(TM)) designed to restore the immune system's ability to recognize and eradicate tumors.
More about Kite Pharma, Inc. at www.kitepharma.com
**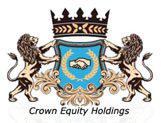 Crown Equity Holdings Inc. (OTCPK:CRWE)
CRWE provides marketing solutions that boost customer awareness and merchant visibility on the Internet.
The company is currently developing its growing network of community targeted sites CRWE PR, expected to be a one-stop shop for the various needs of consumers.
CRWE PR Network's business model is based on selling advertising to businesses targeting both locally and nationally

Roxzu ( www.roxzu.com ) in development stage, is an on-line e-commerce coupon distribution channel and marketplace for merchants to create brand awareness for their business. The geo-location based mobile marketing application Roxzu is expected to be integrated in all the CRWE PR Network.
More about Crown Equity Holdings Inc. at www.crownequityholdings.com
**
Disclaimer: CRWE-PR Finance is not a registered investment adviser. This material is for informational purposes only and should not be construed as an offer or solicitation of an offer to buy or sell securities. Investors should always conduct their own due diligence with any potential investment, with independent research and other professional advice. Read Full Disclaimer at CRWE-PR Finance www.finance.crwe-pr.com/disclaimer
Disclosure: I/we have no positions in any stocks mentioned, and no plans to initiate any positions within the next 72 hours.