Hansen Medical, Inc. (NASDAQ:HNSN)
After the closing bell on Wednesday, HNSN said that it received U.S. Food and Drug Administration (FDA) 510(k) clearance for its Magellan(NYSE:TM) 10Fr Robotic Catheter for use in the peripheral vasculature.
HNSN's Magellan 10Fr Robotic Catheters allows for independent, robotic control of two telescoping catheters (an outer Guide and an inner Leader catheter), as well as robotic manipulation of standard guide wires. It is the latest addition to the family of robotic catheters used with the company's Magellan Robotic System, which is designed to offer procedural predictability, precision, and catheter stability as physicians navigate inside blood vessels and deliver therapy.
The FDA clearance enables HNSN to initiate clinical use of the 10Fr catheter with its customers in the United States. It has already been used to perform procedures in the Germany, the U.K., and Australia, following CE Mark approval in April.
Shares of HNSN climbed more than 10% in the extended session, following the announcement.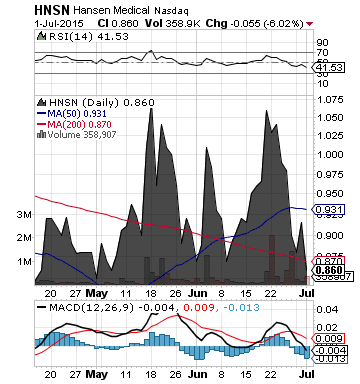 HNSN is a global leader in Intravascular Robotics, developing products and technology designed to enable the accurate positioning, manipulation and control of catheters and catheter-based technologies.
More about Hansen Medical, Inc. at www.hansenmedical.com.
**

Tesla Motors, Inc. (NASDAQ:TSLA)
TSLA said that it delivered 11,507 Model S cars in the second quarter of 2015, which is a new company record for the most cars delivered in a quarter and represents an approximate 52% increase year over year.
According to TSLA, this is only one measure of its financial performance and should not be relied on as an indicator of the company's quarterly financial results, which depend on a variety of factors, including the cost of sales, foreign exchange movements and mix of directly leased vehicles.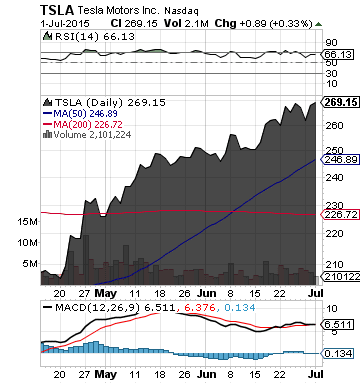 TSLA designs and manufactures electric vehicles, as well as EV powertrain components.
More about Tesla Motors, Inc. at www.teslamotors.com
**

Progress Software Corp. (NASDAQ:PRGS)
PRGS delivered stronger-than-expected quarterly financial results. According to the company, all business units contributed solid results with some key technology releases during the period.
For its second quarter fiscal 2015, PRGS posted non-GAAP revenue of $100.9 million, a 24.87% increase year over year, and non-GAAP net income of $18.1 million, or $0.35 per diluted share, topping the Capital IQ Consensus Estimate of $0.32 earnings per share on revenues of $99.15 million for the period.
PRGS expects non-GAAP revenue to be in a range of $415 million to $425 million for the full fiscal 2015 and the company has raised its non-GAAP earnings per share guidance to a range of $1.45 to $1.52 from the previously reported range of $1.35 to $1.45 for the period.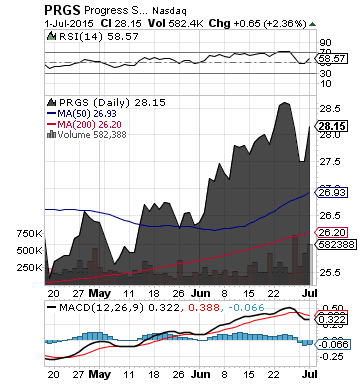 PRGS is a global software company that simplifies the development, deployment and management of business applications on-premise or in the cloud, on any platform or device, to any data source, with enhanced performance, minimal IT complexity and low total cost of ownership.
More about Progress Software Corp. at www.progress.com
**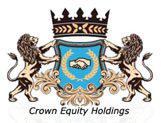 Crown Equity Holdings Inc. (OTCPK:CRWE)
CRWE provides marketing solutions that boost customer awareness and merchant visibility on the Internet.
The company is currently developing its growing network of community targeted sites CRWE PR, expected to be a one-stop shop for the various needs of consumers.
CRWE PR Network's business model is based on selling advertising to businesses targeting both locally and nationally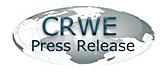 The company's CRWE Press Release ( www.crwepressrelease.com ) offers increased visibility with cost effective solutions through the distribution of information to the entire CRWE Network for both public and private companies.
More about Crown Equity Holdings Inc. at www.crownequityholdings.com
**
Disclaimer: CRWE-PR Finance is not a registered investment adviser. This material is for informational purposes only and should not be construed as an offer or solicitation of an offer to buy or sell securities. Investors should always conduct their own due diligence with any potential investment, with independent research and other professional advice. Read Full Disclaimer at CRWE-PR Finance www.finance.crwe-pr.com/disclaimer
Disclosure: I/we have no positions in any stocks mentioned, and no plans to initiate any positions within the next 72 hours.