"Two Stock Market Spurfowl Investors celebrate a wedding when Pigs are trying to play with Caddle Nuts"
By Jithendra Antonio
July 01, 2013 (LBT) - Despite Sri Lanka's only capital market - Colombo Stock Exchange was only opened its trading for 75 minutes on last Friday the 28th June 2013, a surprising market transaction had taken place that could have been described in the story similar to Sinhala folklore's Idiom "Uran Kekuna Thaladdi Haban Kukulanta Magul" scenario (It's a wedding for Spurfowls when pigs are playing with the Caddle Nuts"
Accordingly at 13:59:56 hours just 44 minutes and 56 seconds after market opened its trading soon after 'the so-called technical glitch' of Colombo Bourse was rectified 1.35 million shares and 2.93 million shares of E-Channelling PLC (NYSE:ECL) had changed hands via normal market trades almost at a 50% drop in market price value at Rs.3.30 per share.
Several stock market sources and analysts in the industry revealed to LBT that the trade took place between two Brothers-In-Law - Ireland based Dr. Muhammed Bafiq Nizar and Mohamed Imtiaz Samsudeen. "Dr.Bafiq Nizar of Ireland had sold nearly 4.5 million shares of E-Channelling to his brother-in-law Imitaz Samsudeen via Online Trading Account through internet" a source from Colombo Bourse told.
As per the latest financials of ECL as at 31 march 2013, Dr.Bafiq Nizar the 5th largest shareholder had 4,731,299 shares of ECL or 3.87% stake and his brother-in-law - Imitaz Samsudeen 8th largest shareholder had 2,285,800 shares of ECL or 1.87% stake.
According to regulator's and Colombo bourse insiders "The regulatory body - Securities and Exchange Commission is yet to commence an investigation of the transaction."
Market data outline that at the same time E-Channelling shares had changed hands before and after the above trade gradually coming down in unusual price bids - almost all other orders had been matched at price ranges between Rs.5, Rs.6 and Rs.6.10 per share apart from the said specific trade that was at Rs.3.30 per share.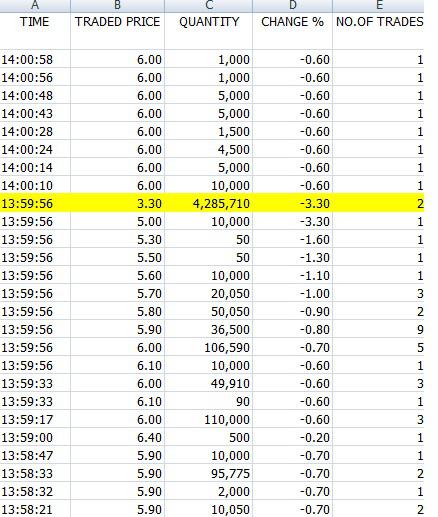 "Only this particular two orders had matched at Rs.3.30 and there seems to be there was no other buyer for that bidding price" a stock market analyst who was clearly analyzing the trade had told reporters. According to him the surprising thing is there was no order for Rs.4 ranges and just before the deal at Rs.3.30 was going to match the earlier order was done at Rs.6.10 with a 10,000 ECL shares. And soon after the order was processed the next order matched at Rs.5 for 10,000 ECL shares and soon again the price topped to Rs.6 levels with next trade at Rs.6 for 10,000 ECL shares.
"The question is, that day the average trading value for E-Channelling was at Rs.6 per share and day's high was Rs.6.60 per share in the morning but in general you find the lowest buy orders further down such a buyer at Rs.3.30 per share and you have to shed your stake in large quantities so that all big buyers get panic and no other higher level order pops up in Automated Trading System" another top stock analyst had said.
"It is a questionable trade that Securities and Exchange Commission should intervene to investigate as the trade happened soon after the market opened after a Trading Systems' technical glitch" a veteran market analyst who is also an investor told that 'Trades of that Nature' indirectly create negative perspectives among investors about the real price value of listed equities.
A total of 5,147,860 of ECL had been traded during the day via 117 trades at an average price ranges of Rs.5 - Rs.6.60 in all other market trades but the major quantity over 4.285 million shares had traded at Rs.3.30 via two trades which was not a 'Negotiated Deal or a 'Crossing'.
On Friday 28th June Country's only capital market Colombo Stock Exchange halted its trading temporarily quoting an Automated Trading System Issue, the second incident to be recorded after the migration to ATS 7 system in 2012 since the market entirely halted trading in September 19th 2011.
CSE Officials said that they found a mismatch that has arisen in certain client balances displayed on the Automated Trading System (ATS) during the pre-open session (9.00 am - 9.30 am) on 28th June 2013," Similarly CSE also issued a statement to market participants and whilst after rectifying the issue market commenced its trading at 1:15 p.m. and closed at 2:30 p.m. as usual.
A total of Rs.265.92 million turnover recorded with 12.7 million shares changing hands via 2,176 trades. All Share Price Index (ASPI) closed at 6135.08 points rising by 23.72 points by a 0.39% and S&P SL 20 closed at 3440.74 points rising by 14.26 points or 0.42%During the day only one crossing was reported with 1 million Aitken Spence Hotel Holdings (AHUN) shares changing hands at Rs.75 per share at 1:18:01 p.m. just after 3 minutes and a second since market commenced trading.
Courtesy - http://lbt.lk/views-and-opinions/expert-advice/4835-ireland-based-drmuhammed-bafiq-nizars-e-channel-transaction-to-be-investigated-sources
Disclosure: I have no positions in any stocks mentioned, and no plans to initiate any positions within the next 72 hours.