> Document Faxed to CSE on 23rd Oct 2013, but Disclosed to Public only on 31st Oct 2013
> Company Delays the Disclosure by over 3 weeks
> Environmental Resources Investments PLC changed name to Lanka Century Investments PLC
> But the Name was changed on 27th Sep 2013, Document Faxed to CSE only on 23rd Oct 2013
By Jithendra Antonio
Nov 01, 2013 (LBT) - Amidst Colombo Stock Exchange's (NYSE:CSE) regulator - Securities and Exchange Commission (SEC) having early disclosure rules for listed companies and their directors and major investors who buy large parcels of stocks in Colombo Bourse, this time industry analysts and investors outline that Colombo Stock Exchange officials had delayed a disclosure about a most controversial stock 'GREG' in the last week.
Meanwhile stock market veteran investors also note that why it had been not disclosed by Environmental Investments PLC (GREG) to Colombo Stock Exchange filing, although in the latest annual report of the company on 26th August 2013 it had been mentioned that company's board of directors resolved to change the name of company to 'Century Lanka Investments PLC' which was hoping to seek shareholder approval at Annual General Meeting (NYSE:AGM) on 27th September 2013.
Accordingly investors and the market analysts are concerned when "Why the Colombo Stock Exchange (CSE) delayed a major disclosure of a name change of Environmental Resources Investments PLC that was faxed to CSE at 10:34 A.M. on 23rd of October 2013 by PW Corporate Secretarial (Pvt) Ltd was disseminated by CSE Officials only on 31st October 2013.
When CSE officials were inquired on the delay of the disclosure CSE officials were not available for comments on the matter.
"This is very absurd they all the time sent us letters, and warn us to disclose early about our transactions and crucial information about companies but this time Colombo Stock Exchange itself had delayed the dissemination of information to shareholders and the general public" a top investor and a director of a listed company told LBT adding that it is indeed questionable since Environmental Resources Investments PLC had come to the eyes of watchdog at several occasions whilst even the company's earlier directors were in the spotlight of the watchdog.
"Regulator has implemented several rules for investors and listed companies but if Colombo Stock Exchange itself is doing such mistakes it arguably questionable whether the regulator have implemented rules for CSE officials to not disclose things that are faxed timely by companies" another investor questioned on the grounds of anonymity.
"We are surprised how Colombo Stock Exchange officials themselves can be such irresponsible although they talk about a disciplined stock market and a disclosure based trading market in the country" another investor from Matara pointed out.
The disclosure released by Colombo Bourse said that Environmental Resources Investments PLC (NASDAQ:ERI) or the famous stock counter GREG that the name of the company had been changed to Lanka Century Investments PLC in order to that accurately reflects its corporate identity. Company further said that the disclosure is being made in terms of the section 8 of the listing rules of Colombo Stock Exchange's Listing Rules.
In the filing company further said that approval from Shareholders were obtained at AGM held on 27th September 2013 and also from the Registrar General of Companies.
Starting from mid November 2012 company underwent an ownership change from United Kingdom based Hedge Fund Lionhart Investments to LOLC-Browns fame led Taprobane group.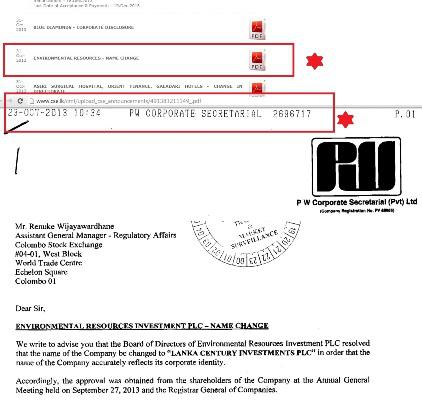 Rules on Disclosures - 'Is there a Loophole?'
However Colombo Stock Exchanges listing Rules notes under the section 8.1 titled 'Immediate Disclosures of Price Sensitive Information' that - 'A Listed Entity shall make immediate disclosure of price sensitive information to the Exchange in order to ensure the maintenance of a fair and orderly securities market'. And further it notes that for the purposes of said section 8.1 'price sensitive information' in relation to any listed Securities of an Entity is a reference to information which - (i) relates to specific matters relating to, or of concern (directly or indirectly) to the Entity and; (ii) is not generally known to those persons who are accustomed or would be likely to deal in those listed Securities but which would if it were generally known to them be likely to affect materially the price of the listed Security.
The rue further says that such information includes, but is not limited to, information known to the Entity, concerning the Entity's property, assets, business, financial condition and prospects; mergers and acquisitions; and dealings with employees, suppliers and customers; material contracts or development projects, whether entered into in the ordinary course of business or otherwise; as well as information concerning a significant change in ownership of the Entity's Securities owned by insiders, or a change in effective or voting control of the issuer, and any developments that affect materially the present or potential rights or interests of the issuer's shareholders.
Further under the Reference Appendix 8A in the Listing Rules lists down of which some events which are likely to require immediate disclosure to the Exchange. And in the appendix it notes under the section 17 highlights that any changes in the corporate purpose and any material alterations in the Entity's activities or the initiation of new activities requires an immediate disclosure.
However according to a legal expert in the industry, "Sri Lanka's stock market listing rules itself has a small loophole in which it enables listed companies to distant themselves releasing any immediate disclosure about a 'Name Change' since the section 8 of the listing rules of Colombo Stock Exchange Directly does not outline 'A Name Change is needed to be immediately disclosed to Colombo Stock Exchange".
Sri Lanka's capital market regulator Securities and Exchange Commission (SEC) had several times convinced to the industry and investors that it is trying to position Colombo Stock Exchange to a disclosure based trading market making listed companies transactions more transparent to the investors.
However, only a handful of listed companies have recently adopted to disclose their material information and directors transactions immediately as it happened whilst it has been evident that there are still blue chip companies and several other listed companies and a few high net worth individuals who disclose their major dealings to CSE much weeks or months later.
Regulator has also warned "if a company or directors disclose major dealings later to CSE it means that they have violated listing rules and that normal sanctions will be applicable for such directors and entities".
Courtesy - http://www.lbt.lk/views-and-opinions/expert-advice/5802-sri-lanka--colombo-stock-exchange-officials-disclose-environmental-resources-disclosure-a-week-later
Disclosure: I have no positions in any stocks mentioned, and no plans to initiate any positions within the next 72 hours.