This is one of the weekly market reviews I publish at my website: SuperchargeRetirementIncome.com. It is based primarily on technical analysis, and is more of a tool for short-term traders than the long-term investor.
Overview: Another horrible week
The markets continued to sell off last week to continue the worst start to a new year in market history. Over $1.7 trillion has evaporated from the market capitalization and there is no end in sight. In fact, many sectors of the S&P have already fallen by over 20% and are in bear market territory (for example, energy, small caps, commodities, transports, and emerging markets). European stocks are also in a bear market with the broad-based Stoxx 600 index down 21% from the highs of last April.
Two major reasons have been postulated to explain this incredible selloff, the collapse of oil prices and the slowdown in China. As mentioned in previous reports, I believe oil prices will have to stabilize before we will see improvement in the overall market.
What a difference a month makes. In December the Fed began raising rates. Now the Fed has to consider that we may be entering a recession (business activity is slowing as evidenced by WalMart laying off 16, 000 employees and closing 270 stores). If the carnage on Wall Street continues, I would not be surprised to see the Fed step in with another Quantitative Easing package.
Since the beginning of the year, the S&P 500 has plummeted 8% and is now 11.8% below the all-time high made last May. We are now officially in correction territory. Let's try to see where we might be headed.
Fibonacci Retracements.
In my book, Protect Your Retirement Nest Egg, I describe why I believe Fibonacci Retracements often mark turning points, as if these levels had magical powers. I don't believe there is any underlying laws that guide the market but traders do look at these levels, and they drive many of the trading algorithms. Take a look at Figure 1 which shows the SPY plot and the 161.8% Fibonacci projection level from the 2009 low. Pretty interesting don't you think?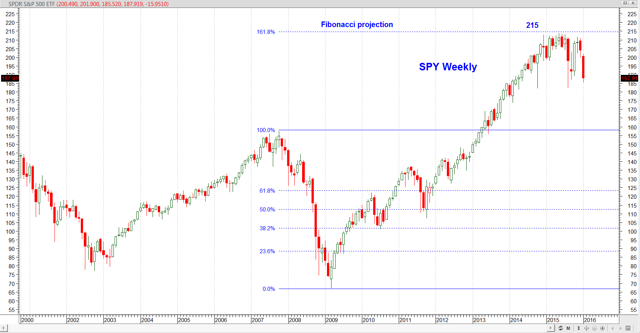 Figure 1: Fibonacci Projections
Now let's look at Fibonacci retracements from the high as shown in Figure 2. We are just approaching the first retracement level at 23.6%. According to Fibonacci theory, support should be at around 180. If this level is broken we will likely fall to the 38.6% level at around 158. Let's hope we bounce off the first level and don't have to worry about the lower levels!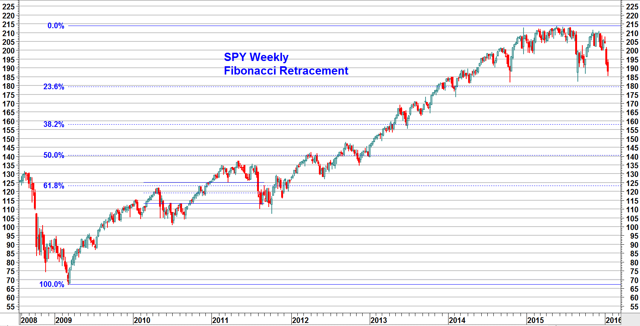 Figure 2 Fibonacci Retracements
Head and Shoulder forming?
Figure 3 depicts the long term "green" weekly channel lines that go back to 2009. As discussed last week, the market may be forming a long term head and shoulder pattern with a neckline at 183. The action this week suggests that the market will decline to the neckline. We could then bounce and if the market can rally above 210, the head and shoulder pattern would be invalidated. However, if we break the neckline in a convincing fashion, then look out below. The measured move target would be 151 (182 minus 31 points). This would be a 29% drop from the all-time high and would put us firmly in a bear market. Note that 151 is just below the Fibonacci 38.6% level. So extreme caution is recommended until the market shows some strength.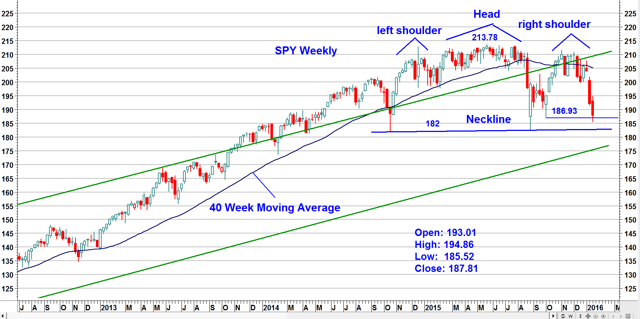 Figure 3: Weekly view of SPY
Some other markets to watch are:
Crude oil continues to crash and burn and closed below $30 per barrel for the first time in 12 years. This was due to anticipation of the Iran deal that allows Iran to export oil. This Iranian oil will add to the glut.
Gold was not viewed as a safe haven last week and the price actually dropped to $1089, down from $1098 the prior week.
The yield on the 10 year note fell, closing the week at 2.03%, down 24 basis points from the 2015 close. So unlike gold, bonds are still the safe haven of choice.
The dollar index stayed strong, closing the week at 99.02.
To gain more insight on where the market may be headed, let's look at the daily action
Daily View: Crash and Burn.
As shown in Figure 4, the market collapsed again last week. After a few tries to rally, the market fell below the September low before bouncing into the close on Friday to end the week slightly above support at 186.9. The good news (if there is any) is that the market is extremely oversold with the stochastic oscillator is at a very low value of 11. So it would not be surprising to see a rally next week. However, market action seems to indicate that we will like test support at 182.3 before a major rally (assuming that we do get one).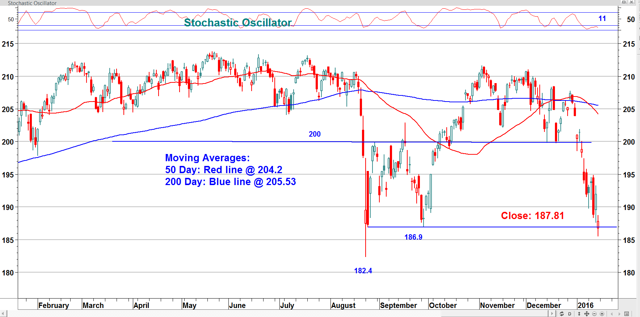 Figure 4: Daily view of SPY
ATR still says to be OUT of the market.
Figure 5 provides another daily view. The ATR system has been OUT of the market since 12/10/15. An ATR buy signal will not occur until the market closes above 202.9.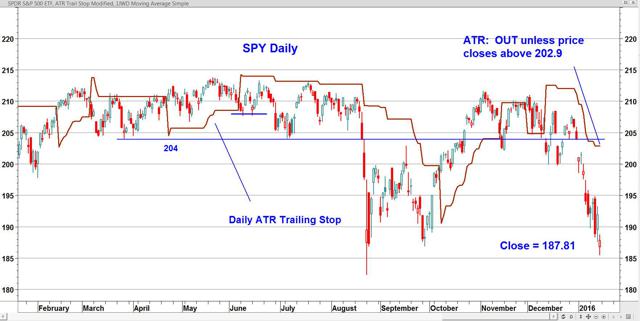 Figure 5: ATR Signals
My game plan.
Based on the action, I am moving to a more defensive position. I will keep by long positions since I believe I have invested in good long term stocks, and there is no use closing the barn door after the horse has escaped. However, I believe it is prudent to begin hedging my portfolio with about a 10% of inverse/bear ETFs.
There are many inverse/bear ETFs that will go up as the market goes down. Here are a few of the most popular:
Short S&P 500 (NYSEARCA:SH). Goes up roughly same daily percentage as the S&P500 goes down
Ultra-Short S&P 500 (NYSEARCA:SDS). Goes up roughly twice the daily percentage as the S&P500 goes down
Ultra-Short QQQ (NYSEARCA:QID). Goes up roughly twice times the daily percentage that the QQQ goes down. The QQQ tracks an index of the 100 largest companies on the Nasdaq,
Short DOW30 (DOG). Goes up roughly same daily percentage as the DOW goes down
AdvisorShares Ranger Equity Bear (NYSEARCA:HDGE). Unlike the ETFs above that track indexes, HDGE is actively managed with the managers free to choose the best candidates to short. The downside is that HDGE has a large expense ratio of 1.75%%.
PowerShares S&P500 Downside Hedged ETF (NYSEARCA:PHDG). This is another actively managed ETF that tries to provide a positive return regardless of market direction. It invests in a combination of equities, volatility futures, and cash. It has a reasonable expense ratio of 0.4%.
PIMCO Enhanced Short Maturity (NYSEARCA:MINT). If you want to move to cash, this is a relatively safe bond fund that invests only in short maturity instruments. It has an expense ratio of 0.36% and yields .86%.
My plan is to hedge by opening positions in SH and HDGE.
My Books.
My books "Supercharge Retirement Income" and "Protect Your Retirement Nest Egg" are available on Amazon in both eBook and paperback editions.
Summary
All in all, the market is short term bearish and the likelihood of a longer term bear market (20% decrease in S&P 500) has increased. Do not panic but be cautious. Keep an eye on the SPY 182 level, where traders will try to defend support. If successful we should get a bounce. A bounce should be considered a selling opportunity or an opportunity to establish hedges.
I have begun opening defensive positions, which works for me. However, each investor must decide how to cope with these corrections. There is no one strategy that fits all and you should choose a strategy that allows you to sleep soundly at night.
Good luck.
Disclosure: I/we have no positions in any stocks mentioned, but may initiate a long position in HDGE, SH over the next 72 hours.