Once in awhile a well thought out plan just goes horribly wrong. Thankfully this doesn't happen very often but in the case of Apple the pain is now and it's severe. In an article written in December titled Listen to The Quiet we laid out a five-step review thesis with the fifth point being "Yes, key metrics have changed. Gross margin is one metric that is critical to assessing fair pricing and profitability. It is declining but not at a level that causes us to question our position. It does add risk to ownership from a share price perspective. If traders key in on gross margin and overweight its importance we could see significant share price decline in the short term." In retrospect we accurately assessed the risk but unfortunately the investments we selected prior to our tactical revision have suffered. The analyst community and then the media jumped o Apple with negative opinions that drove down the share price. There is such a significant level of noise surrounding Apple that the fundamentals of the company seem to be devalued. Although I appreciate technical analysis, and use it. In this scenario calling for price declines down to $320 depending on Fibonacci retracement predictions does not accurately represent the current situation or future earnings and growth potential.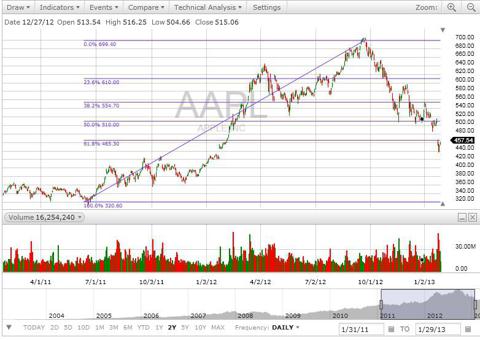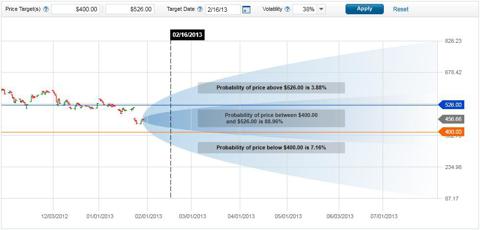 So what happened? In November threatened federal tax increases caused many investors to take profits in 2012. Since Apple has performed so well it was a key stock to sell. As the tax based selling was occurring media pundits were calling for the end of the Apple era due to their opinion that the current product mix wasn't revolutionary or profitable enough. Since when does an opinion on creativity merit selling a stock? Sell stock when you feel that the company is headed for trouble as in balance sheet trouble, or market trouble. If Apple is in trouble, its trouble we want to be involved in!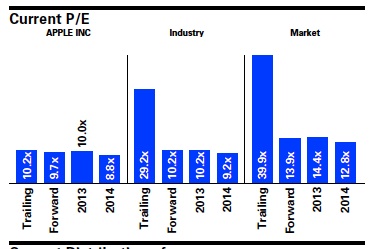 The chart above demonstrates that the PE for Apple compared to both the technology industry and the market is flashing bargain. The chart below reflects the historical PE. As you can see the PE is now back roughly to where it was a year ago.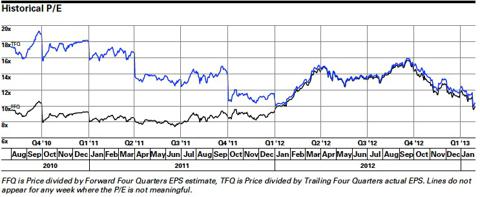 In the case of AAPL the company performance does not synchronize with the markets reaction. The ex-dividend date of February 7th, will likely result in an orderly increase in share pricing. We suspect that many of the previous sellers will re-enter their positions to capture the dividend. Although Apple's dividend yields 2% it brings $2.65 per share back to the portfolio.
We remain long AAPL and committed to our long-term positions. We view selling at the current levels in an attempt to protect further asset erosion working against our longer-term goals. There have been many articles written reviewing last quarter's results and market analysis so restating the data here will not be helpful. There is an excellent article addressing dividends and earnings by Todd Johnson, which we found helpful.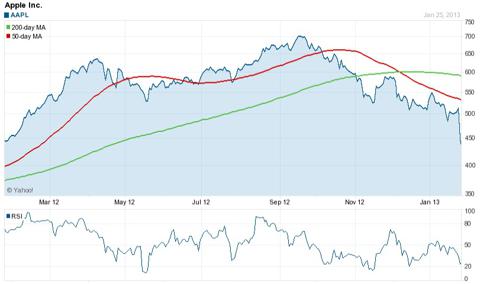 If you feel that AAPL shares will rebound and their business will be worth something more than its current share value in 2014, then now is the time to prosper from the current price decline. We will scale into an increased long position in Apple earning $10.60 per share along the way.
Disclosure: I am long AAPL. I wrote this article myself, and it expresses my own opinions. I am not receiving compensation for it (other than from Seeking Alpha). I have no business relationship with any company whose stock is mentioned in this article.