We are now experiencing a very necessary correction in the silver market. So far we have seen around a 25% correction from the recent high and we very well might the price fall lower down to around the 30 dollar level.

We are experiencing a technical break down due to the COMEX raising margin rates [almost 100% over the last two weeks] while the market was so significantly over-bought. This sell off is very good for the long term health of the market.

Right now we are at a major support area 351/2-36 area on the SLV. See the chart below: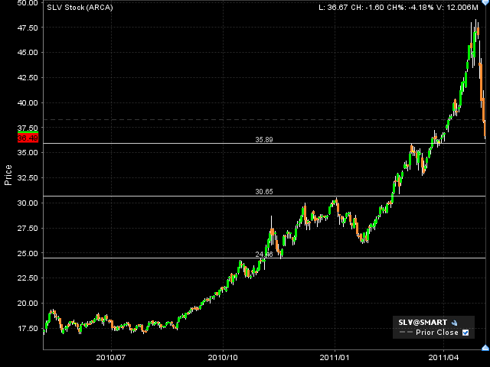 Given the huge downside momentum the market probably will not be able to hold this level and the price could move down to the 30-32 level very quickly.

This break in the market is providing a good buying opportunity for investors who can handle the extreme volatility in this market. If you missed the run up in silver, now you have your chance to build a position at much better price levels.

The long term bull case for silver still remains very much in tact. Strong industrial demand,limited supply and,increased investor interest [especially in Asia]. The world's major economies are still facing a stagnation scenario [see my Feb.27th article -"Stagflation is coming"]. So over the medium to long term the price of silver will continue to rise.

I bought SLV today at 35.75 and will add to this position over the coming weeks on price drops in the 30-35 area. I suggest you do the same.

Disclosure: I am long SLV, GLD.