The new highs in the PowerShares QQQ Trust (QQQ) last week were accompanied by new highs in the broadly based Dow Jones Technology Sector, as well as the Sector SPDR Technology (XLK).
The weekly and daily relative performance indicates that technology will continue to be a market-leading sector. Many of the semiconductor stocks led the market higher and closed the week with sharp gains. Even though the weekly technical readings for the overall market are positive, it is still not a market where you should be chasing prices.
In order to get exposure to the technology sector, one needs to look for stocks in the strong industry groups that have not yet rallied. Alternatively, one can find technology industry groups that are just starting to lead the market. The stock market is often quite volatile during President's week, and therefore, I would not be surprised to see a pullback in some of the market-leading sectors.
Overseas stocks were mostly higher on Monday while the dollar was hit with another round of selling. Many of those on the short side were taken out of the market last week so the averages may have to decline further to trigger some new buying.
These three technology stocks are still range bound but the technical action suggests that they may be ready to break out and join the other market-leading technology stocks.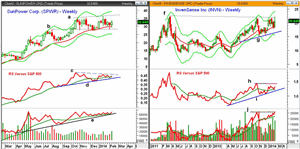 Click to Enlarge
Chart Analysis: SunPower Corp. (SPWR) is a $3.96 billion dollar solar power company that is part of the specialized semiconductor industry group. It reported great earnings last week and positive guidance, though not all were convinced, as it gave back some of its gains Friday, closing down 1.6%.
The weekly chart shows a broad trading range, lines a and b, that has been in effect since last October.
The 20-day EMA was broken with last week's low at $29.34 and SPWR had a low the prior week of $28.12.
There is resistance now at $33.59 and $34.64 with major at $36.82 (line a).
The weekly relative performance shows a flag formation, lines c and d.
The RS moved back above its WMA last week, which is a positive sign and the RS line could break out ahead of prices.
The volume increased last week and the OBV has moved out of its trading range.
The daily on-balance volume OBV (not shown) has completed its bottom formation.
There is minor support now in the $32 to $30.80 area.
InvenSense Inc. (INVN) is a $1.81 billion company that provides motion interface solutions for its multi-axis gyroscope technology.
INVN spiked to a high last week of $22.22 and tested the highs going back to March 2011 before closing well off the best levels.
It has been holding above the 20-week EMA at $18.34 with additional support at $17.76, which is the 2014 low.
The weekly relative performance tested its WMA two weeks ago and then turned up last week.
This is often a bullish sign and the daily RS line (not shown) also appears to have bottomed.
A move in the weekly RS above the resistance at line h would confirm that INVN is a market leader.
The weekly OBV moved back above its WMA at the end of December and closed last week above the October 2012 high.
There is gap support in the $20.30 to $18.89 area with additional at $17.76-$18.


Click to Enlarge
Altera Corp. (ALTR) is a $11.01 billion dollar specialized semiconductor company that broke through its daily downtrend, line a, last week.
ALTR had peaked at $39.18 last September and eventually hit a low of $30.73 before the end of year.
The resistance at $33.68 (line b) was also overcome a week ago and this now becomes support.
ALTR has already reached the 50% Fibonacci retracement resistance from the September high with the 61.8% level at $36.
The daily relative performance moved above its WMA in the middle of January.
The RS line then completed its bottom formation by overcoming the resistance at line d.
The weekly RS line (not shown) has moved back above its WMA.
The breakout in prices was confirmed by the OBV as it surged through resistance at line f.
From last week's high at $35.05, the 38.2%-50% Fibonacci retracement support is in the $33.85 to $33.53 area.
How to Profit: For SunPower Corp. (SPWR), go 50% long at $31.66 and 50% long at $30.74, with a stop at $29.37 (risk of approx. 5.8%).
For InvenSense Inc. (INVN), go 50% long at $20.08 and 50% long at $19.76, with a stop at $18.96 (risk of approx. 4.8%).
For Altera Corp. (ALTR), go 50% long at $33.94 and 50% long at $33.46, with a stop at $31.86 (risk of approx. 5.4%).
Disclosure: I have no positions in any stocks mentioned, and no plans to initiate any positions within the next 72 hours.