The week started off in impressive fashion as the broadly based NYSE Composite closed well above the April highs with very strong readings from the market internals. The NYSE Advance/Decline has also turned sharply higher confirming the price action. The completion of the trading range has targets well above 11,000.
The Spyder Trust (SPY) did make a new closing and intra-day high. The width of its trading range projects a move to the $196-$198 area, which would likely be enough to convince the remaining bears that they are on the wrong side.
The yields on the 10-year T-note also rose as it seems those who have been piling into bonds are questioning how much lower yields can go. In Friday's Week Ahead column I focused on the technical outlook for the bond market and expressed my opinion about a new bond bull market.
The US futures are higher in early trading as the market waits for the Retail Sales report, which may be what the Consumer Discretionary sector needs to move it sharply higher.
A review of the Charts in Play Portfolio (The link to updated portfolio is on page 3.) shows that it has done pretty well during the choppy action of the past month as a number of large-cap high-yielding stocks and ETFs have been added to the portfolio.
I continue to favor this asset class and would not be chasing the momentum stocks. A review of some of my recommendations may help you better understand how I manage a position once it has been established.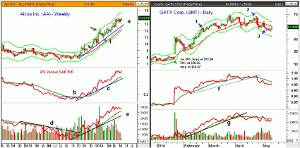 To see chart analysis - go here
Disclosure: I have no positions in any stocks mentioned, and no plans to initiate any positions within the next 72 hours.