The big news over the weekend was AT&T Inc.'s (T) acquisition of DirecTV(DTV) for $49 billion. Though deals of this size are often a plus for the stock market, so far it is not impressed as the futures are showing solid losses in early trading.
There were some signs last Thursday of panic selling, but the rebound late Friday was not strong enough to make one confident that the correction was over. The market needs to continue higher early this week on strong positive market internals to suggest that last Thursday's low was significant.
As I reviewed in Friday's Week Ahead column, there have been some additional signs of deterioration in the technical outlook that need to be reversed if the S&P 500 and Dow Industrials are going avoid a drop back to the lower boundaries of their trading ranges.
In reviewing charts over the weekend, I found three stocks that had completed head-and-shoulder top formations. These formations should be understood by both investors and traders as sometimes they can have important long-term implications. For example, the DJ Home Construction Index (DJUSHB) completed a weekly H&S top in May 2006 and did not make its low until early 2009.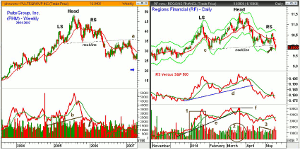 Click to enlarge
Disclosure: I have no positions in any stocks mentioned, and no plans to initiate any positions within the next 72 hours.