As the markets prepare for the ECB decision on rates and the monthly jobs report, more investment professionals are expressing their concerns over the market's upside potential. The new highs in both the NYSE Advance/Decline and S&P 500 A/D lines are bullish for the intermediate term but do not rule out a correction from current levels.
The Spyder Trust (SPY) is 1.4% above its 20-day EMA at $190.44 while a 2.6% drop would take it back to the monthly projected pivot support at $188.19. My analysis of both the technical and sentiment data shows no evidence at this time that we are completing a major top.
For the most part, those who have been fighting the last 100-point move in the S&P 500 have had a rough year but there have been some bright spots. I often look to buy stocks with a high short interest if the technical studies are positive, but when the technical studies are negative, a high short interest can often accentuate a stock's decline. These four stocks rewarded those who were on the short side last month.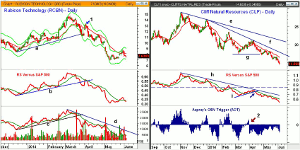 Click to Enlarge
Chart Analysis: Rubicon Technology (RBCN) made a new high of $14.67 in March but has since dropped 48%. It was down over 22% in May.
Cliff Natural Resources (CLF) has been s stock I have been warning investors about for several years as it traded as high as $93.81 in early 2011. In early 2014, the technical studies suggested it would still decline further.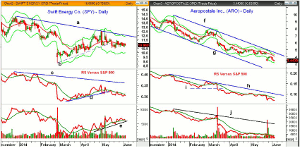 Click to Enlarge
Swift Energy Co. (SFY) is a small-cap independent oil and gas company that rallied up to the major 61.8% retracement resistance and the daily starc+ band in May before closing down 13.7% for the month.
Aeropostale Inc. (ARO) is a mall-based specialty retailer that shows a well-defined downward trading channel, lines f and g.
What It Means: Most investors use options to trade the short side of stocks as the potential of unlimited risk keeps them from selling stocks short. Most options expire worthless and professionals generally favor either option spreads or selling the stock short.
Of course, if you are selling a stock short, you need to have a firm stop in place. Rebounds within a downtrend, such as was the case with Rubicon Technology (RBCN), generally fail below the 61.8% retracement resistance. Stops above retracement resistance or pivot levels are a good way to limit the risk.
How to Profit: No new recommendation