The rally Monday was consistent with Friday's late rally and the market internals were fairly strong. The daily studies on both the market leading PowerShares QQQ Trust (QQQ) and lagging iShares Russell 2000 (IWM) deteriorated last week (see chart).
These indicators turned higher Monday as the McClellan oscillator has risen from -140 to -73 but they have not yet confirmed the new closing highs in the QQQ. The market needs another day or two of equally strong days to reverse the recent deterioration.
The Philadelphia Oil Service index led the market higher as it was up 0.96% while the Dow Utilities lost 1.1%. The market clearly got a boost from the Citigroup, Inc. (C) 3% gain on double the average volume. Now the market is anticipating the pre-opening earnings from JPMorgan Chase & Co. (JPM) and Goldman Sachs (GS) as well as the Retail Sales report, which are out before the opening.
The Select Sector SPDR Financial (XLF) has lagged the Spyder Trust (SPY) by over 2.5% so far in 2014 and it has not been one of my favored sectors. The lagging sectors are being examined closely by many looking for new opportunities but are there any signs that the financial sector can become a new market leader?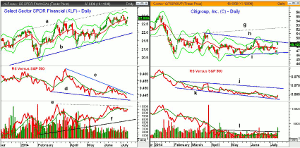 Click to Enlarge
Chart Analysis: The daily chart of the Select Sector SPDR Financial (XLF) shows Monday's gap back above the 20-day EMA with the recent high at $23.07.
Citigroup, Inc. (C) is still down over 7% despite Monday's 3% gain. The stock hit a high of $55 on January 8 and hit a low in early April of $45.17. The stock makes up just over 5% of XLF.
Click to Enlarge
Wells Fargo & Company (WFC) reported a 3.8% increase in 2nd quarter profits last Friday and beat revenue forecasts yet investors sold the stock. It is the largest holding in XLF, making up almost 9%.
JP Morgan Chase (JPM), early this morning, reported their earnings of $1.46 per share well above estimates of $1.29. However earnings were lower than last year's 2nd quarter results.
What it Means: A strong daily close today in JP Morgan Chase (JPM) should turn the daily studies positive and Goldman Sachs (GS) also beat earnings and is up 1.3% in early trading.
Still, it will take more to turn the outlook bullish for the financial sector and Select Sector SPDR Financial (XLF). This sector is likely to be touted by more after these earnings reports.
As I noted in Monday's Let the Late Buyers Take the Risk, my analysis suggests the market is currently in a high risk zone. In this type of environment, I favor selling longs into strength and lowering the overall portfolio risk.
If daily sell signals are confirmed then I will likely raise stops further.
How to Profit: No new recommendation.
Portfolio Updates: There are several corrections from yesterday's Charts in Play Portfolio.
For iShares Dow Jones Home Construction ETF (ITB) should be 50% long at $25.07 and 50% long at $24.72 with a sell stop at $23.67.
For Lennar Corp. (LEN), should be 50% long at $41.44 and 50% long at $40.81 with a stop at $39.44.
Also 50% long the PowerShares QQQ Trust (QQQ) from $86.88 with a stop at $91.19. Sell half at $96.44 or better.
Disclosure: The author has no positions in any stocks mentioned, and no plans to initiate any positions within the next 72 hours.