The surprisingly strong earnings reports from JPMorgan Chase (JPM) and The Goldman Sachs Group (GS) boosted stocks in early Tuesday trading but then comments from Fed Chair Janet Yellen seemed to cut the rally short. The markets closed mixed.
The financials' stocks were able to close strong, led by a 1.35% gain in the KBW Bank Index but the NYSE market internals were 2-1 negative. As I have noted since last week's Should You Reconsider Buying the Dip?, there are signs of deterioration in the technical studies.
The Euro zone markets are showing nice gains in early trading as the data on China's economy was stronger than expected. The US futures are also sharply higher despite the weak earnings from Bank of America (BAC) reported early Wednesday.
So far, the daily sell signals are confined to the iShares Russell 2000 (IWM) so new market highs are still a possibility for the other ETFs that track the major averages. Nevertheless, the market, in my opinion, still appears to have too much risk at current levels even though the highs in the weekly NYSE Advance/Decline are a positive sign for the major trend.
Janet Yellen's comments Tuesday regarding both the biotechnology and social media stocks surprised the market. A look at the charts of some key biotech stocks suggests that the Fed may be using technical analysis. My analysis of the charts and technical indicators does indicate they are vulnerable. Some show potential double top formations, which suggests that the recent rally may just be a pause in the downtrends that began in March. Let's look at some key charts.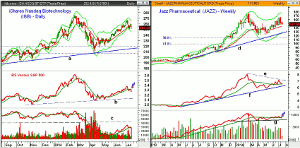 Click to Enlarge
Chart Analysis: The iShares Nasdaq Biotechnology (IBB) peaked at $274.98 before starting a sharp six week slide to a low of $207.16. This was a decline of 24.6%.
Jazz Pharmaceuticals (JAZZ) is an $8.78 billion Irish specialty biopharmaceutical company that reports earnings on August 4. It is up 16.8% YTD leading the S&P 500 and IBB.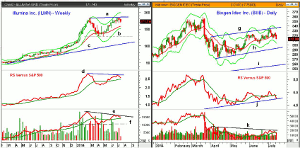 Click to Enlarge
Illumina, Inc. (ILMN) is a $22.05 billion biotechnology company that reports its earnings on July 23.
Biogen Idec, Inc. (BIIB) is a huge $74.01 billion biotechnology company that also reports its earnings on July 23.
What it Means: Even if the S&P 500 can make another new rally high, holders of this biotech ETF or these stocks should watch them closely on any market rally. The weak charts, along with the negative OBV and relative performance analysis, make them especially vulnerable if the market turns lower.
If you stuck with these stocks during their spring slide you should consider taking some profits or hedging your positions. As I noted Monday, I prefer the strategy of selling out weak longs when the market is moving higher.
Disclosure: The author has no positions in any stocks mentioned, and no plans to initiate any positions within the next 72 hours.