Stocks stabilized on Monday with the oversold small-cap and oil service stocks leading the way. This was enough to turn the technical studies higher as the McClellan oscillator rose to -144 from last Friday's low of -278. The A/D lines have also turned up but are still well below stronger resistance and their bearish formations favor a failing rally.
For the near term outlook, the main question is whether the oversold rally will last just another day or two, or whether it will last three-to-five more days before the selling resumes. The futures are lower in early trading and a drop below Monday's low would be a sign of weakness. On the upside, the key levels for the Spyder Trust (SPY) are in the $194.60-$195.20 area with a chance that the 20-day EMA at $196.35 could be challenged before the decline resumes.
Though the crude oil futures have bounced from last week's lows, the October crude oil contract is still $8 per barrel below the late June highs. The Dow Jones Airlines Index (DJUSAR) is one of the best performing industry groups this year as it is up just over 32%. This is despite the recent decline of over 9% in DJUSAR from the early June highs as most of the airline stocks came under selling pressure after beating their earning's estimates last month.
Will lower crude create a new buying opportunity in the airlines and basis the seasonal analysis when is the time to buy?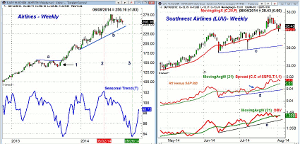 Click to Enlarge
Chart Analysis: The chart of the Airlines index shows that it formed a high close doji buy signal last September (point 1).
The daily chart of Southwest Airlines (LUV) shows the sharp drop in both June and July as the $25.50-$26 area (line c) was tested.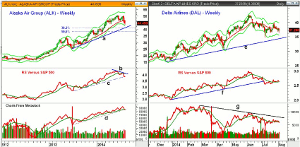 Click to Enlarge
Alaska Air Group (ALK) peaked at $50.47 in early June and has been lagging LUV as it is only up 19.7% YTD. It is down 13.84% from its 52-week high.
Delta Airlines (DAL) has also done very well in 2014, as it is up 36.15% YTD.
What it Means: Even though Alaska Air Group (ALK) and Delta Airlines (DAL) are both well below the year's highs, there are no clear signs yet that they have completed their corrections.
They may be getting close and further weakness this month could take them to stronger support and create a lower risk buying opportunity.
How to Profit: No new recommendation.
Disclosure: The author has no positions in any stocks mentioned, and no plans to initiate any positions within the next 72 hours.