The impressive rebound in both the Euro zone and US markets have caused further improvement in the market's outlook as the A/D ratios were better than 3-1 positive. The volume analysis has continued to lag but nevertheless it appears that the worst of the selling is over.
While there has been a slight pickup in overall market volatility, it has been a tough earnings season for those stocks that disappointed investors with their earnings. It was not only those stocks that missed earnings estimates but also those that were positive but not as good as some expected.
In the most recent trading lesson Three Reasons To Sell, I took a look at some of the technical signs that I look at as a stock is about to report earnings. They can help me decide to reduce the size of my position in any one stock or raise the protective stops. In some instances, there were not clear warning signs and quite a few stocks were stopped out at levels that were lower than I would have liked.
The sharp decline in the Euro zone markets took out the portfolio position in one of the portfolio's core ETF holdings, the Vanguard FTSE Europe (VGK). Those that began a dollar cost averaging program in this and two other large ETFs, as I recommended at the end of May, should stick with their long positions.
Let's take a look at some of the portfolio hits and misses over the last month.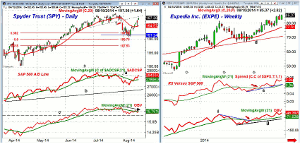 Click to Enlarge
Chart Analysis: The Spyder Trust (SPY) closed back above the $197 level as the former uptrend has been reached.
Expedia, Inc. (EXPE) was recommended in late May and the strategy was reviewed in my trading lesson Advanced Entry Techniques for Any Market.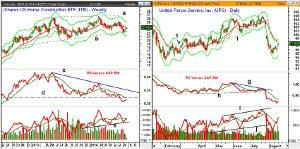 Click to Enlarge
The strong close in the iShares Dow Jones Home Construction ETF (ITB) above $25 in early July was confirmed by the daily OBV. Monday's Housing Market Index was a positive for this industry group.
United Parcel Service, Inc. (UPS) was recommended in early March (point 1) and dropped to a low of $94.17 in early April before it turned higher.
What it Means: The quickness of the decline in the Spyder Trust (SPY) caught me by surprise as my order to sell half at $199.17 was just missed as the high was $199.06. I thought I would get a further chance to take partial profits as clearly a 4.8% profit was not enough.
I am watching Expedia, Inc. (EXPE) closely and hope to take some profits on a move to the quarterly pivot resistance.
The biggest drain on the portfolio since the middle of July has been in the homebuilding sector as these stocks really disappointed the market with their earnings. This has been a good industry group for me in the past but took too large a position.
Though the closed positions resulted in just over a $6000 profit I am not happy with the results.
The good news is there is plenty of cash to invest as we enter the more stock-friendly fall months. Before I become a more aggressive buyer I want to see confirmation of a new uptrend in the A/D lines and improvement in the OBV.
How to Profit: No new recommendation.
Portfolio Update: For the Spyder Trust (SPY), longs established at $185.02, stopped out at $193.90.
For Expedia, Inc. (EXPE) long from $72.41 raise the stop now to $81.88.
Sell 1/3 at 88.77 or better.
Long positions in the iShares Dow Jones Home Construction ETF (ITB) from $24.90 stopped out at $23.67.
Longs in United Parcel Service, Inc. (UPS) from $96.66 stopped out at $99.58.
NEXT PAGE: The Charts in Play Portfolio
Disclosure: The author has no positions in any stocks mentioned, and no plans to initiate any positions within the next 72 hours.