Another day of solid buying and the sharp increase in housing starts gave the homebuilding stocks a boost, which helped the overall market. The A/D lines for the NYSE Composite, S&P 500, Nasdaq 100, and the Dow Jones Industrials have now broken their downtrends. Maybe the Wall Street pros realized that too many of them were bearish or cautious on the stock market and started buying.
The A/D line on the Nasdaq 100 has confirmed the new price highs as the PowerShares QQQ Trust (QQQ) is now close to monthly projected pivot resistance at $99.27 and its daily starc+ band. The McClellan oscillator has risen to +195, which is the highest reading since February 18. The oscillator action is likely a sign of strength so a pullback is likely to be a buying opportunity.
So what should one be buying? In last week's Barron's, there was an interesting interview with Stephen Auth, the investment officer, equities, at Federated Investors whose staff manages about $50 billion of assets.
Mr. Auth was one of the few who was bullish at the end of the 2012 and he "expects the Standard & Poor's 500 to reach 2500 in the next 18 months to two years." This is based on his expectation that "the US economy is poised to grow even faster, possibly at a 3.5%-to-4% clip."
There is an in-depth review of his rationale in the article and he provided Barron's with four stocks he likes: Devon Energy (DVN), Google, Inc. (GOOG), Textura Corporation (TXTR), and LyondellBasel Industries (LYB).
I will concentrate on the three stocks that are closely tied to the strong material sector.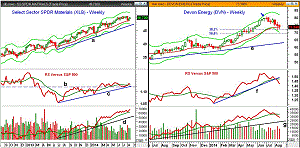 Click to Enlarge
Chart Analysis: The weekly chart of the Select Sector SPDR Materials (XLB) does not reflect Tuesday's new closing high at $50.37. It is up 9.93% YTD versus 8.41% for the Spyder Trust (SPY). It has over 10% in Dow Chemical (DOW) and Monsanto Company (MON).
Devon Energy (DVN) is a multi-faceted energy company that is 8.95% below its 52-week high but still is up over 22% for the year.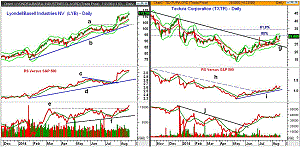 Click to Enlarge
LyondellBasell Industries NV (LYB) is a broad-based chemical company that Mr. Auth believes will benefit from low natural gas prices.
Textura Corporation (TXTR) is a $759 million application software company that facilitates the interaction between owners and developers of commercial real estate. Therefore, it is tied to the construction industry, which is part of the materials sector.
What it Means: I also like the materials sector and the Select Sector SPDR Materials (XLB) is part of the Charts in Play Portfolio.
Of the three stocks, I only have a buying strategy for Devon Energy (DVN) which was featured in last month's Red Flags from Weekly Charts. It appears to be in the process of bottoming but one more new low is possible first.
LyondellBasell Industries NV (LYB) was featured in the January 2013 article 4 Best Next Boom Stocks and, while it still looks positive, it is in a high risk buy area.
Textura Corporation (TXTR) also appears to have bottomed but a stop would need to go below $24 currently, which makes the risk too high. Will be looking for a better risk entry.
How to Profit: For Devon Energy (DVN) go 50% long at $72.42 and 50% long at $70.08 with a stop at $68.57 (risk of approx. 3.7%).
Correction to yesterday's portfolio: The correct stop for Phillips 66 (PSX) should be $78.33.
Disclosure: The author has no positions in any stocks mentioned, and no plans to initiate any positions within the next 72 hours.