The global markets are focusing on the S&P 500's close above 2000 on Tuesday even though the close was near to the day's lows. Given the 22% jump in Durable Good orders-which was consistent with the strong manufacturing data from the Chicago Fed National Activity Index and the Richmond Fed-the Dallas Fed Manufacturing Survey did come in weaker than expected.
The monthly Consumer Confidence reading from the Conference Board hit its highest level since October 2007. Students of the market will recall that the 2007 bull market highs were made on October 11, 2007. Of course, the technical situation now is much different as then the NYSE Advance/Decline Line had been diverging from prices for many months.
The fact that the new highs have been confirmed by the market internals suggests that a pullback as we head into September should create a buying opportunity. Certainly now is not a time to be chasing the major averages or some of the high flying momentum stocks.
Bitauto Holdings ADR (BITA) along with Facebook, Inc. (FB) were reviewed on October 6 as two of IBD's top stocks that looked the best. BITA is up over 57% in the past fourteen days, which is quite amazing.
A short-term reason for caution now is that the Spyder Trust (SPY) closed Tuesday 1.6% above its 20-day EMA. It has also formed two consecutive dojis, which is often a sign of a tired market (Three Reasons to Sell).
Though crude oil prices are currently down over $4 per barrel in August, many of the energy stocks have recorded nice gains. A look at the daily charts of some of the recent energy picks is the basis for a change in strategy and a new material stock looks to be a low risk buy.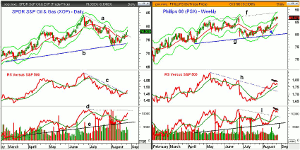 Click to Enlarge
Chart Analysis: The SPDR S&P Oil & Gas Exploration & Production (XOP) has broken its daily downtrend, line a.
Phillips 66 (PSX) is up just over 10% from the doji low on August 1 as a high close doji buy signal was triggered on August 4. It was recommended two days later (see arrow).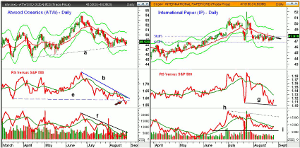 Click to Enlarge
Atwood Oceanics (ATW) was also recommended in Digging for Bargains but has failed to rally with the market as it has drifted lower.
International Paper (IP) is a $20.4 billion paper and chemical company that has a current yield of 2.93%.
What it Means: The action in Phillips 66 (PSX) as well as the overall market favors reducing the size of the position to lower the overall risk.
The failure of Atwood Oceanics (ATW) to rally with the market and the technical deterioration was my reason to close out the position for a small loss.
International Paper (IP) appears to be bottoming and a weekly close above the quarterly pivot will further improve the outlook.
How to Profit: For International Paper (IP) go 50% long at $47.72 and 50% long at $7.33 with a stop at $46.44 (Approx. risk of 2.3%).



Portfolio Update: Should be 100% long Phillips 66 (PSX) at $82.66. Sell 1/3 on the opening and use a stop at $79.79 on the remaining position.
Should be 100% long SPDR S&P Oil & Gas Exploration & Production (XOP) at $74.50 with a stop at $72.31.
For Atwood Oceanics (ATW) was 50% long at $48.44 sold at $48 for a 1% loss.
Disclosure: The author has no positions in any stocks mentioned, and no plans to initiate any positions within the next 72 hours.