Last week's impressive close pushed the major market averages well into positive territory for the month. The S&P 500 made another new record close in October with bullish enthusiasm strong by the end of the day. As noted in last week's technical review Why Stocks Must Get Even Stronger, I pointed out that there were some troublesome signs despite last week's gains.
The top sectors last week were the financials, health care, telecommunications, and industrials as all were up over 3%. Despite last week's strength, most of the global markets did close the month lower unlike the 2.3% gain in the Spyder Trust (SPY).
In one of my many monthly ending scans, I decided to look at some of the top global stocks to determine whether they were overbought or oversold. This is based on my starc band analysis. At the October lows, the Spyder Trust (SPY) dropped below both its monthly and weekly starc- bands, which indicated they were a low risk buy at the lows but a high risk sell.

Click to Enlarge
Those who sold, or even worse, sold short at the October lows are already regretting it. The most overbought of the top ten global stocks is Avago Technologies (AVGO), which is a $21.8 billion dollar Singapore-based semiconductor stock.
It is up 24.8% in the past three months versus just a 4.39% gain in the Spyder Trust (SPY). As the table indicates, it is still 8.1% below its monthly starc+ band at $93.25. This is a sign that it can still move higher in November.
In examining the multiple time frame analysis of these top ten global stocks, these four look the most interesting.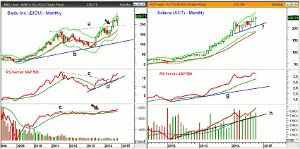 Click to Enlarge
Chart Analysis: Baidu, Inc. (BIDU) is a well known $83.74 billion Chinese Internet provider that reported better than expected profits last week.
Actavis (ACT) is a $64.1 specialty pharmaceutical company based in Ireland. It is up 44.5% YTD and is 12.4% below its monthly starc+ band.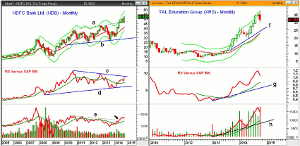 Click to Enlarge
HDFC Bank Ltd. (HDB) is an India-based financial services company that reported a 15% increase in earnings last Friday.
TAL Education Group (XRS) is a $2.51billion Chinese educational and training services company. It is up 44.4% YTD and is the least overbought of the top ten stocks.
What it Means: From their YTD performance it is clear that some emerging global companies can be winners for your portfolio. Several of these stocks are also part of some large mutual funds, which is the lowest risk way to participate.
As for new positions, HDFC Bank Ltd. (HDB) looks the most positive but it does not have the best balance sheet. It is currently too far above support but I will be looking for an entry point.
There are no clear signs that the correction in TAL Education Group (XRS) is over but will be waiting for new weekly buy signals.
How to Profit: No new recommendation.
Disclosure: The author has no positions in any stocks mentioned, and no plans to initiate any positions within the next 72 hours.