The comments by Mario Draghi of the ECB promising further stimulus gave the stock market an additional boost with the 37th record close by the S&P 500 this year. The market internals were just slightly positive again as 1813 stocks advanced versus 1349 declining.
The NYSE Composite continues to lag as Thursday's close at 10,843 was just below the October 31 close and still well below the July 3 record close of 11,104. The McClellan oscillator has been flat for the past few days and is still well below last month's high.
The Dow Jones Utility Average was the big loser, down 1.84% on the day. A technical look at the three key Dow Averages sends a key message to investors but there are also some cautionary notes that should not be ignored.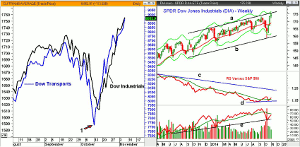 Click to Enlarge
Chart Analysis: The daily close chart of the Dow Transports (in blue) and the Dow Industrials (in black) illustrates that they both made further new closing highs on Thursday.
The SPDR Dow Jones Industrials (DIA) is currently trading just above last week's highs with the weekly starc+ band at 17,666.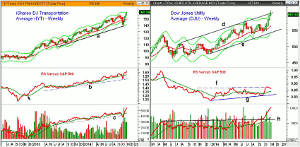 Click to Enlarge
The iShares DJ Transportation (IYT) dropped below its starc- band for two weeks in October as the support at line a, was briefly violated.
The Dow Jones Utility Average (DJU) spiked above the weekly starc+ band Wednesday and early Thursday before closing lower.
What it Means: The weekly and monthly analysis of all three Dow Averages is positive but the Transports and Utilities have reached high risk buy levels. The Sector Select SPDR Utilities (XLU) is up almost 15% in the past three months and that is an impressive gain for any sector. Additionally, the XLU is 4.3% above its 20-day EMA with the EMA Osc at its highest level since late 2009.
The failure of the weekly and daily on-balance volume (OBV) to confirm the new highs for the SPDR Dow Jones Industrials (DIA) is also a concern. This increases the risk for the market at current levels.
How to Profit: No new recommendation.
Disclosure: The author has no positions in any stocks mentioned, and no plans to initiate any positions within the next 72 hours.