The stock market closed mixed Wednesday with slight gains in the Dow Industrials and S&P 500 with the market internals just barely positive. The Dow Transportation and Dow Utilities closed slightly lower but the Philadelphia Semiconductor index lost 0.28%. The futures are a bit higher again in early trading.
For a change, the SPDR Gold Trust (GLD) was up 1.43% and the Market Vectors Gold Miners (GDX) was up an impressive 4.4%. Both are showing double digit losses for the past three months with GDX down over 32%.
The early September monthly OBV analysis favored another drop in these two ETFs. The technical outlook had deteriorated further as the month progressed and I suggested at the end of the month in 3 Things Gold Owners Should Know that investors should have a plan.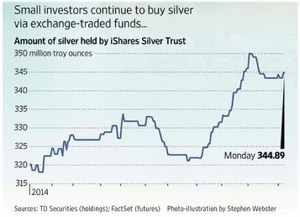 Click to Enlarge
Silver is a market I do not generally write about when the technical outlook for gold is negative. Therefore, I read with interest today's article in the Wall Street Journal Small Investors See Silver Lining, which discussed the sharp rise in the silver holdings of the iShares Silver Trust (SIL).
The chart from the article shows the dramatic rise in the ETF's silver holdings since the start of the year as well as other evidence that suggests the individual investors are buying silver despite its recent sharp decline. Therefore, I thought it was a good time to take a look at both the silver futures as well as two silver focused ETFs to see if they are on the right track.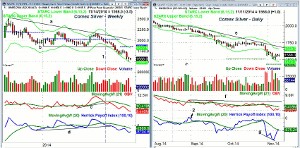 Click to Enlarge
Chart Analysis: The weekly chart of the Comex Silver futures shows the completion of the trading range, lines a and b, in September.
The daily chart of the Comex Silver contract can help one determine the near term path for silver prices.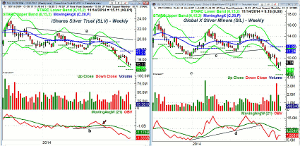 Click to Enlarge
The iShares Silver Trust (SLV) has net assets of $5.55 billion with an expense ratio of 0.50%. It is down 19.24% YTD and 21.2% in the past three months.
The Global X Silver Miners (SIL) has total assets of $185 million with an expense ratio of 0.65%. It has 25 holdings in the portfolio with over 64% in the top ten holdings.
What it Means: The weekly and daily analysis of the silver futures-along with the two silver focused ETFs-is still negative and shows no signs yet of a bottom.
I will be watching the futures closely for signs that indicators like the HPI have turned positive. It does seem that the individual investors are a bit early but several of those that were quoted have a long-term plan.
How to Profit: No new recommendation.
Disclosure: The author has no positions in any stocks mentioned, and no plans to initiate any positions within the next 72 hours.