It took new stimulus comments from the ECB's Mario Draghi to nudge some US stocks to a bit higher close Monday but it clearly was mixed. The A/D ratios were slightly negative as only the Dow Jones Utilities and Philadelphia Gold/Silver Index managed gains of over 1%.
Though the short-term momentum and A/D indicators have continued to deteriorate, until prices break near term support in the $200 area for the Spyder Trust (SPY), more range bound trading seems likely.
Some stocks that are not buyout candidates have continued to make higher highs in the current market environment. If stocks are again able to trend higher, whether it is after a correction or a powerful breakout from the recent trading range, some of these stocks are likely to be new leaders.
Many are likely familiar with the IBD Top 50 list, which is a "weekly computer generated watch list of market leading growth stocks." I have often wondered if one can find new trading opportunities by tracking those stocks that move up from the bottom of the list.
In comparing the Top 50 list from October 27 to that from last Friday, I noted that Valeant Pharmaceuticals (VRX) had moved from last on the list to number 30 in just 15 days. During this period, the stock has gained just over 6%, and on Monday, closed at a new six month high on three times the average volume.
Was this significant or just the market's reaction to the buyout of Allergan (AGN) by Actavis (ACT) for much more than Valeant was willing to pay? Do any of the other stocks that have moved up the IBD Top 50 list in the past three weeks look like new market leaders?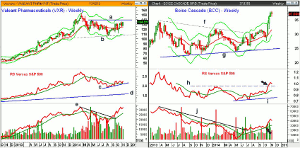 Click to Enlarge
Chart Analysis: Valeant Pharmaceuticals (VRX) is a $45.9 billion specialty pharmaceutical and medical device company that closed Monday 2.5% above last week's close.
Boise Cascade (BCC) is a $1.4 billion wood products company that was down 2.78% on Monday, but is still up over 22% for the year.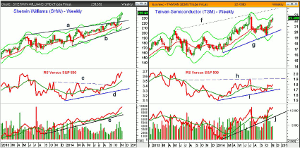 Click to Enlarge
Sherwin-Williams (SHW) is a $23 billion company that has been outperforming the SPY all year as it is up 31.61% YTD. On October 27, SHW was 45th on the Top 50 list and has since moved up to 41st.
Taiwan Semiconductor (TSM) is a huge $113.6 billion dollar company that now yields 1.83%. It has just moved slightly up the list from 44th to 42nd.
What it Means: In addition to my regular weekly scans-like the one I discussed yesterday-the IBD Top 50 list is also a good place to find stocks for your watch list. I will occasionally find a stock on their list that I do not follow which helps me broaden my universe of stocks.
Of the four stocks, Taiwan Semiconductor (TSM) is the only one that is not extremely overextended on the upside and is clearly one of the survivors in this industry group. My second favorite would be Sherwin-Williams (SHW) if it gets a decent pullback.
How to Profit: No new recommendation.
Disclosure: The author has no positions in any stocks mentioned, and no plans to initiate any positions within the next 72 hours.