Monday's market decline was not too surprising after the rally stalled last Friday as even higher crude oil prices couldn't boost stocks higher. In last week's technical review Do Stocks Have Enough Juice to Breakout?, I pointed out that while the majority of daily technical studies were still range bound, the weekly analysis did point higher.
This is still the case and it is why a higher close this week will help resolve the market's outlook. Typically, this would mean that the market's correction should be over soon and the futures are showing nice gains in early trading.
The Dow Transportation and Dow Utility Average were two of the biggest losers last week as they were down 1.03% and 0.96%, respectively. The utility stocks have been hit the hardest recently as the Sector Select Utilities (XLU) is down 6.6% since its yearend close.
In polls of institutional money managers, this sector has been one of the least favorite sectors since 2013. It has had a couple of pretty good years as XLU was up 13.05% in 2013 and 28.73% last week.
Looking back to the early 1930s, the Dow Utilities has a seasonal tendency to peak at the end of January and decline into May. Of course, with a further decline in price, the yields are getting even more attractive so is this correction a buying opportunity in the utilities?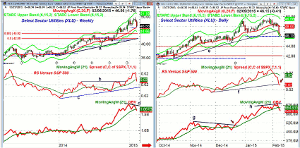 Click to Enlarge
Chart Analysis: For the Sector Select Utilities (XLU), the ETF has total assets of $8.01 billion and a current yield of 3.12%. There are a total of 30 holdings with Duke Energy (DUK) (9.3%) and NextEra (NEE) (7.9%) the two largest. There are 59% of the assets in the top ten holdings.
The daily chart of the Sector Select Utilities (XLU) shows that last Friday's sharp drop violated the daily uptrend, line e.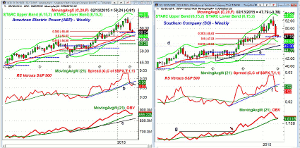 Click to Enlarge

American Electric Power (AEP) is a $28.5 billion public utility holding company that has a current yield of 3.54%. It pays a dividend of $2.12 with a low current ratio of 0.56. Since 2004, it has steadily increased its dividend.
Southern Company (SO) is a $43 billion electric utility that is focused on four southern states. It has a yield of 4.4% with a current dividend of $2.10. It has a current ratio of .90.
What it Means: I think the current correction is a buying opportunity in the utilities but it could take 3-4 weeks or more before the correction is over.
I think the Sector Select Utilities (XLU) is the best bet on a drop to even stronger support where the yield will be even higher. Of the two utilities, Southern Company (SO) looks the strongest, but would wait for new buy signals or a drop to longer-term support.
How to Profit: For Sector Select Utilities (XLU) go 50% long at $45.76 and 50% long at $44.64 with a stop at $43.39 (risk of approx. 4.2%).
Disclosure: The author has no positions in any stocks mentioned, and no plans to initiate any positions within the next 72 hours.