Two popular casino stocks have had hot hands in 2012, and given their positive earnings and business outlooks, the pair is likely to outperform the S&P 500 once the current correction is over.
After a rough five-day slide, stocks stabilized on Wednesday as surprisingly positive earnings from Alcoa Inc. (AA) pushed the stock 7% higher. Most of the major averages closed below their daily Starc-bands on Tuesday, and the short-term McClellan Oscillator was quite oversold at -315. Tuesday's drop did have some signs of panic liquidation.
Stocks are likely to rebound further over the short term, and the Shanghai Composite was up 1.5% on Thursday ahead of the widely watched GDP report, which is due out on Friday. A more impressive market rally is needed to suggest that the worst of the selling is already over.
Some of the casino stocks are holding up much better than the S&P 500, however, and have been outperforming the overall market since the start of 2012.
Moody's is predicting a good year for Las Vegas, as the agency expects over 39 million visitors this year.Las Vegas Sands (LVS) and MGM Resorts International (MGM) are the two best-looking stocks in the casino group, and both are scheduled to report earnings in early May.

Click to Enlarge
Chart Analysis: The comparative performance, or percentage-change chart, clearly shows how well these two gambling stocks have done in 2012.
Las Vegas Sands (LVS) was up 3.5% on Wednesday amid heavy volume, and the stock is up almost 36% so far in 2012
As of Wednesday's close, the Spyder Trust (SPY) is up only 7.45%, so LVS is outperforming SPY by more than 28% in just over three months
MGM Resorts International (MGM) has also done much better than the S&P, as it is up 22.4%. This is well below its highest levels, however, as the stock was up by more than 32% in early March
While MGM is down almost 10% from its highs, SPY has lost only about 4%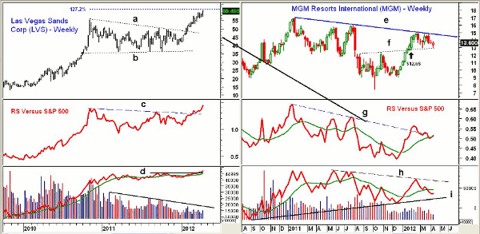 Click to Enlarge
The weekly chart of Las Vegas Sands (LVS) shows that it completed a major continuation pattern, lines a and b, in late January.
The 127.2% Fibonacci price-projection target at $61.80 has almost been reached
The width of the flag formation has upside targets in the $67-$69 area
The relative performance, or RS analysis, has also broken through major resistance at line c, suggesting that LVS will continue to outperform the S&P 500
Though the volume has been declining since early 2011, the on-balance volume (OBV) indicates that LVS is being accumulated because OBV has broken through resistance at line d
LVS has minor support at $58-$59 with stronger support now at $56.50
There is good monthly chart support in the $50.50-$52.50 area
MGM Resorts International (MGM) rallied to a high of $14.94 in February and again tested the long-term downtrend, line e, in late Mach. The sideways pattern over the past three months could be a double top, but it is more than likely a continuation pattern instead.
On a strong close above $15, the next major resistance from 2011 is at $16.94
MGM peaked in October 2007 at $100.50, and the major 38.2% resistance is now just below $40
MGM has very good support at line f, and the late-January low is at $12.65
Weekly relative performance broke its downtrend, line g, in early January and is now testing its weighted moving average (WMA)
A strong close in the RS line within the next week or so would support the bullish case
Weekly OBV failed to move through its long-term downtrend, line h, in February, and it is now back below its weighted moving average
There is good weekly OBV support at the uptrend, line i. The daily OBV (not shown) is still negative
There is initial support now at $13-$13.20 with stronger support at the October 2011 high of $12.41
What It Means: The long-term price action in Las Vegas Sands (LVS) indicates that after the current market correction is over, it is likely to continue to lead the S&P 500 higher.
The chart of MGM Resorts International (MGM) also looks quite interesting, as the major support levels can be well identified. I will be watching for a move in the weekly OBV back above its weighted moving average to turn the outlook for the stock more positive.
How to Profit: There are no clear signs that the broad market correction is over, and the Spyder Trust (SPY) is likely to have trouble overcoming the chart and retracement resistance in the $138.20-$139 area.
For Las Vegas Sands (LVS), watch for a pullback to the $52.50-$53.50 area.
More: View the Updated "Charts in Play" Portfolio